Section Branding
Header Content
Percentage Of Children Infected With COVID-19 Has Tripled In Georgia
Primary Content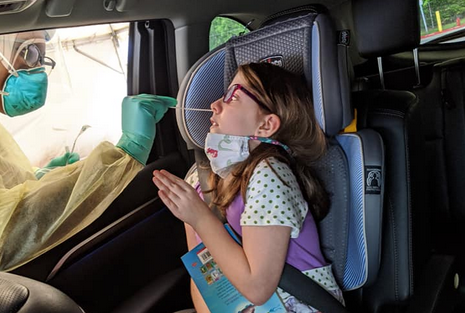 Cases of coronavirus continue to rise in children and overall infections struck a new record-high over the weekend in Georgia.
The state saw 4,689 positive results on Saturday, breaking the previous record of 4,484 new cases set July 10.
For children under the age of 11, the total percent positive has gone from less that 1% in May to more than 3% in July, according to the Georgia Department of Public Health.
As parents, students and school districts make important and tough decisions about education, the hospitals and local ICUs are filling up.
MORE: Georgia Hospital Worker Sounds Alarm: 'I have never ever seen anything like this. Ever!'
Children's Healthcare of Atlanta said there were 12 positive COVID-19 patients as of Friday, July 17. 
"The number of children with COVID-19 has fluctuated throughout the pandemic and continues to do so on a daily basis," CHOA said in an emailed statement. "As the illness circulates more in the community, we should look at overall pediatric hospitalization rates instead of inpatient numbers."
Of those hospitalized in Georgia, the 0-17 age group comprises less than 2%, CHOA said, and the hospitalization rate of pediatric patients compared to total number tested has remained consistent at Children's since the beginning of the pandemic.
Between Feb. 1 to May 2, the percentage of children under age 11 who tested positive for COVID-19 in Georgia was less than 1%, according to DPH data.
From Feb. 1 to July 17, that percentage grew to 3.13%.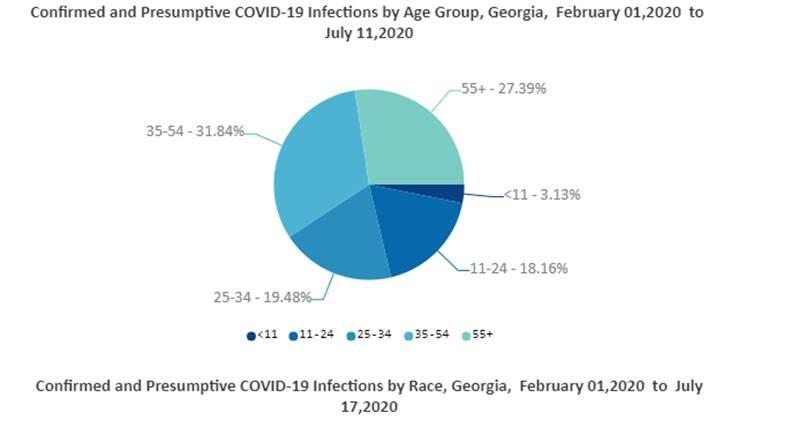 CHOA said the majority of their ICU patients have underlying medical conditions that put them more at risk. The hospital did not divulge how many of the 12 children were in intensive care.
RELATED: 9-Year-Old Girl Reports 52-Day Fever Associated With COVID-19
Kira Johnson is a 9-year-old with underlying mitochondrial and metabolic medical conditions. She also has epilepsy.
But doctors didn't think she could possibly have COVID-19 in mid-March. When Kira continued running a low-grade fever and complaining of fatigue, her mother took Kira to CHOA in April, where an emergency room doctor ordered a chest X-ray to look for possible fluid in her lung.
"They ran labs," her mother Jeannie Johnson said. "The ER doctor said she can't possibly have COVID and sent us home."
Doctors did treat Kira for pneumonia in April, but Johnson said since Kira still didn't fit the criteria for COVID-19 testing at the time, they paid $185 for a private test.
Kira Johnson received a positive test result for COVID-19 on April 7 and fought the virus for several more weeks.
"Oh, I'm feeling so icky about this virus it's just that my brain's going like wacko at night," Kira Johnson said after about 52 days of continued low-grade fever. "I just can't sleep properly."
The vast majority of children and teens testing positive at Children's come through the Emergency Department and are sent home otherwise healthy, CHOA said.
The novel coronavirus disease does not appear particularly fatal — especially in prepubescent children, according to a study published in April in the Journal of Public Health Management and Practice, and long-term effects are not known, but some research indicates serious and possibly permanent heart and lung damage is possible.
Dr. Heval Kelli, a cardiologist based in Atlanta, cited one study that showed 46% of patients with no history of cardiac problems presented with abnormal ultrasound after having COVID-19.
"Please keep in mind that COVID-19 is a new disease for the medical community and we still do not understand or know the long-term impact," Kelli said on Facebook.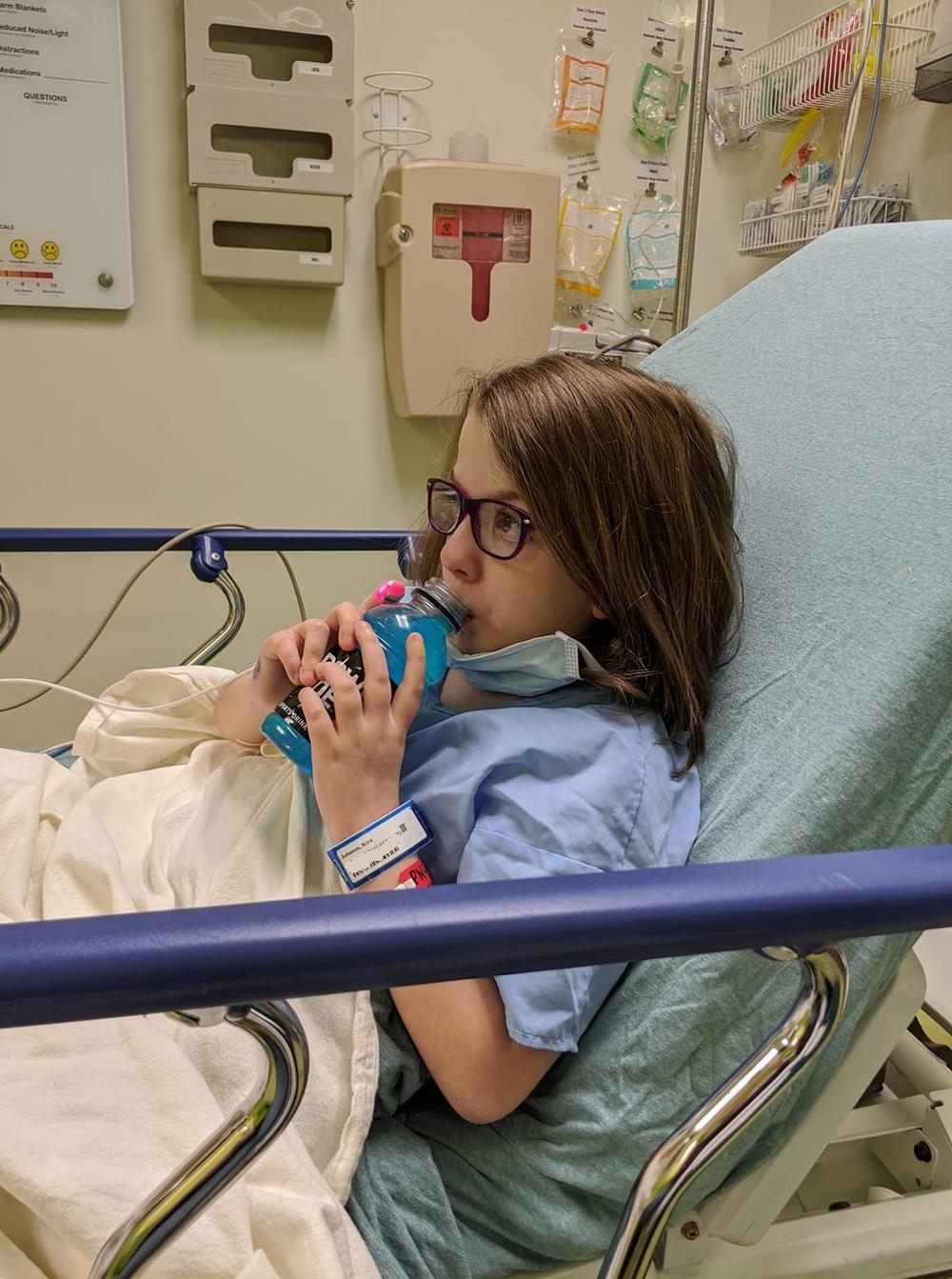 Kira Johnson continues as of July 20 to experience extreme fatigue.
"She struggled with inflammation and her eyes kept getting bloodshot," Jeannie Johnson said. "She had headaches and stomachaches and was super fatigued and she had a fever every day for over 80 days."
Johnson worried her daughter might have pediatric inflammatory syndrome or what is now known as multisystem inflammatory syndrome in children or MIS-C.
MORE: CDC Confirms Link Between Pediatric Inflammatory Syndrome And COVID-19
Children with MIS-C can have problems with their heart and other organs and need to receive medical care in a hospital.
Former head of the Food and Drug Administration Dr. Scott Gottlieb warned there could be a surge in these types of reports of post-viral syndromes that may be tied to the coronavirus, according to CBS News.
In a Sunday interview with Face the Nation, he said pediatric multisystem inflammatory syndrome is still being investigated in the United States, and that one study from the Centers for Disease Control and Prevention estimated the illness occurred roughly 25 days after children displayed symptoms for the coronavirus.
"Given the fact that we've seen a spike in infections among kids, we would expect in about two or three weeks we might see a surge in these kinds of cases getting reported," he said. "That will be right about the time that we're looking at sending kids back to school. So that could cause a lot of districts to become wary."
CHOA reported a small number of cases over the last several months, but emphasized the syndrome is extremely rare.
Despite that her mother says Kira still sleeps about 12 to 14 hours a night, doctors have not re-scanned Kira's lungs or offered any advice.
"All the doctors just throw their hands up like, 'We don't know. We don't know enough about it. We don't know what to tell you. Her labs look OK.'"
Secondary Content
Bottom Content