Section Branding
Header Content
Kemp: Georgians Don't Need A Mask Mandate
Primary Content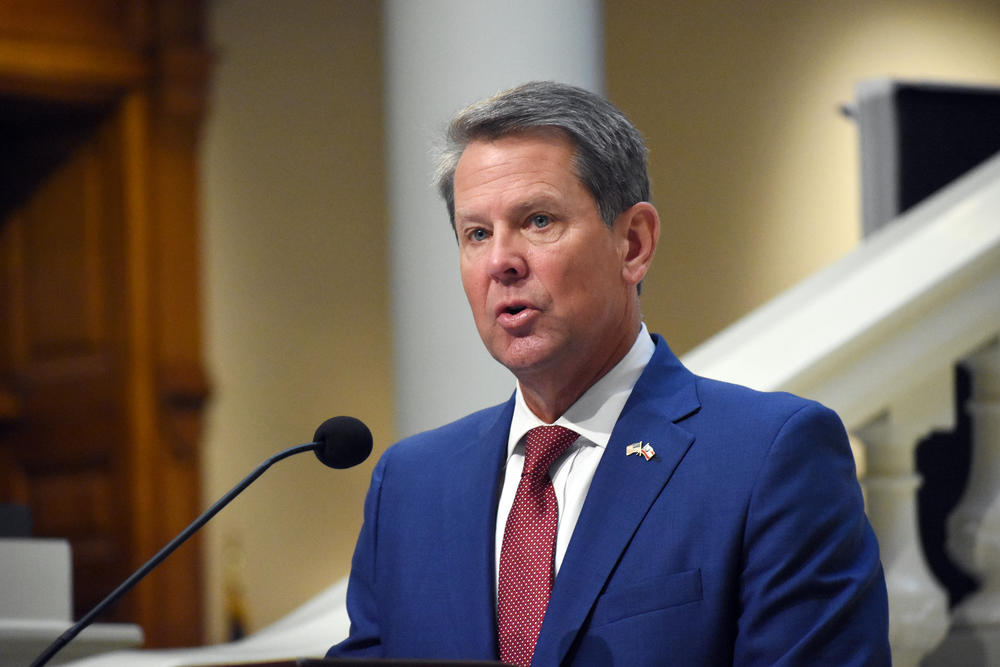 Gov. Brian Kemp still does not believe Georgians need to be mandated to wear a mask amid a steadily rising number of coronavirus infections in the state, but also says mask-wearing is one of four recommended things to curb the virus' spread.
"I know many well-intentioned and well-informed Georgians want a mask mandate," Kemp said Friday. "And while we all agree that wearing a mask is effective, I'm confident that Georgians don't need a mandate to do the right thing. ... I know Georgians can rise to this challenge and they will."
If those words sound familiar, that's because they are. On July 1, Kemp embarked on a statewide tour urging -- but not requiring -- Georgians to wear a mask, acknowledging that Georgians let their guards down and were "lackadaisical" in following precautions.  
"We shouldn't get to that," Kemp said about a mask requirement that had just taken effect in Savannah. "We shouldn't need a mask mandate for people to do the right thing."
Nearly 40% of Georgia's total cases have come in the 16 days since the governor's push for voluntary mask-wearing, adding nearly 50,000 new COVID-19 cases, 300 deaths and 3,000 hospitalizations as the state quickly developed into one of the country's hotspots.
"Right now, we are seeing an increase in COVID in communities throughout the state in many settings -- not just in urban Atlanta, but also suburban and rural areas," said Dr. Kathleen Toomey, the state's public health director. "Our test positivity rate on average is 13.6%, which reflects community spread at this time, and hospitalizations have increased 39%."
With these rising numbers, mayors around Georgia have enacted mask mandates that are more severe than Kemp's statewide orders in recent weeks, including Savannah, Augusta and Kemp's hometown of Athens. 
The state's orders have always disallowed stricter, or looser, COVID-19 restrictions at the local level, but escalating tensions between Atlanta Mayor Keisha Lance Bottoms and Kemp have now resulted in a lawsuit filed by Kemp to block Atlanta's mask order.
The suit claims that the Democratic mayor overstepped her authority and the "contradictory executive orders, press releases, and statements to the press, creates uncertainty and confusion among Atlanta City business owners and the citizenry of this State."
Kemp also said the city's rollback of voluntary guidelines to "phase one" harmed the city's economic health and present a high potential for "irreparable harm," including lost wages, business closures and opportunities for economic growth.
Bottoms blasted the lawsuit as a waste of money and said mandating masks in Atlanta was what she felt was the right thing.
"To be sued based upon issuing voluntary advisory recommendations is really a waste of taxpayer money in our state," the mayor told CBS This Morning. "I think a better use of taxpayer money would be to expand testing and contact tracing in our state."
Bottoms, who has been mentioned as a potential vice presidential contender for former vice president Joe Biden, has regularly lambasted Kemp's response to the coronavirus.
In turn, Kemp has torched the mayor's handling of an uptick in violent crime in the city, including a spate of deadly shootings over the Fourth of July weekend. 
But both the mayor and the governor agree that wearing a mask is the best solution to stop the spread of COVID-19, although they differ on the necessity of a mandate. 
Kemp said Friday that if Georgians did four things for four weeks, it would make "incredible progress" against the virus: Wear a mask, keep your distance from people, wash your hands with warm, soapy water and follow the state's public health guidelines and executive orders.
Secondary Content
Bottom Content