Section Branding
Header Content
Pandemic Pastries: 'Rage Baking' Author and NPR Chef Kathy Gunst On Quarantine Cooking
Primary Content
"On Second Thought" host Virginia Prescott speaks with Kathy Gunst.
One of the ways that people are coping with coronavirus anxiety is by baking. Maybe you're noticing friends whom you never thought of as "bakers" posting photos of homemade goodies with hashtages like #QuarantineCookies and #IsolationLoaves.
Over the past three weeks, flour, yeast, sugar and eggs have been flying off supermarket shelves like so many rolls of toilet paper.
That's not a surprise to Kathy Gunst, resident chef for NPR's Here & Now, perhaps because she and former Food Network executive Katherine Alford wrote about the power of baking to process emotions in their new cookbook. It's called Rage Baking: The Transformative Power of Flour, Fury and Women's Voices. 
Gunst joined On Second Thought from her home in Maine to talk about the resurgence of baking during these strange times.
"For many people, cooking for a young family or just cooking alone is not joyous," she said. "And, if ever there were a time when we can slow down and pay attention to the process of cooking and pay attention to the joy of creating someting delicious, it's now."
And even though shelter-in-place orders and social distancing measures may feel like they separate us right now, Gunst argues that baking can be used as a way of building community, even in quarantine.
She recommends sharing baked goods with someone who might need it, like an elderly or struggling neighbor, or as a thank you for a friend who has helped you. All, of course, in safe, socially distant ways, with clean and sterile hands.
"There are different ways where we can leave a plate of cookies in front of someone's door," she explained. "Don't touch the doorknob, but let these people know: I baked for you; I'm thinking of you. So it's a different way of building community, but it is still going back to that original idea of baking as a way of showing love, and building a sense of a neighborhood or a community."
Need some new inspiration for what kind of cookies to give to a neighbor or friend? Check out Gunst's recipe for Tahini Chocolate Chip Cookies, from Rage Baking, below.
TAHINI CHOCOLATE CHIP COOKIES
Makes about 24 cookies
1 cup plus 2 tablespoons (130 grams) all-purpose flour
¾ teaspoon baking soda
A generous pinch of Maldon or other sea salt, plus more for sprinkling
1 stick unsalted butter, at room temperature
½ cup tahini, well stirred
⅓ cup granulated sugar
⅓ cup packed light brown sugar   
1 large egg, at room temperature
1 large egg yolk
1 teaspoon pure vanilla extract
1 (10- to 12-ounce) bag bittersweet or semisweet chocolate chunks, chopped, or  chocolate  chips (about 1¾ cups)
About ¼ cup white sesame seeds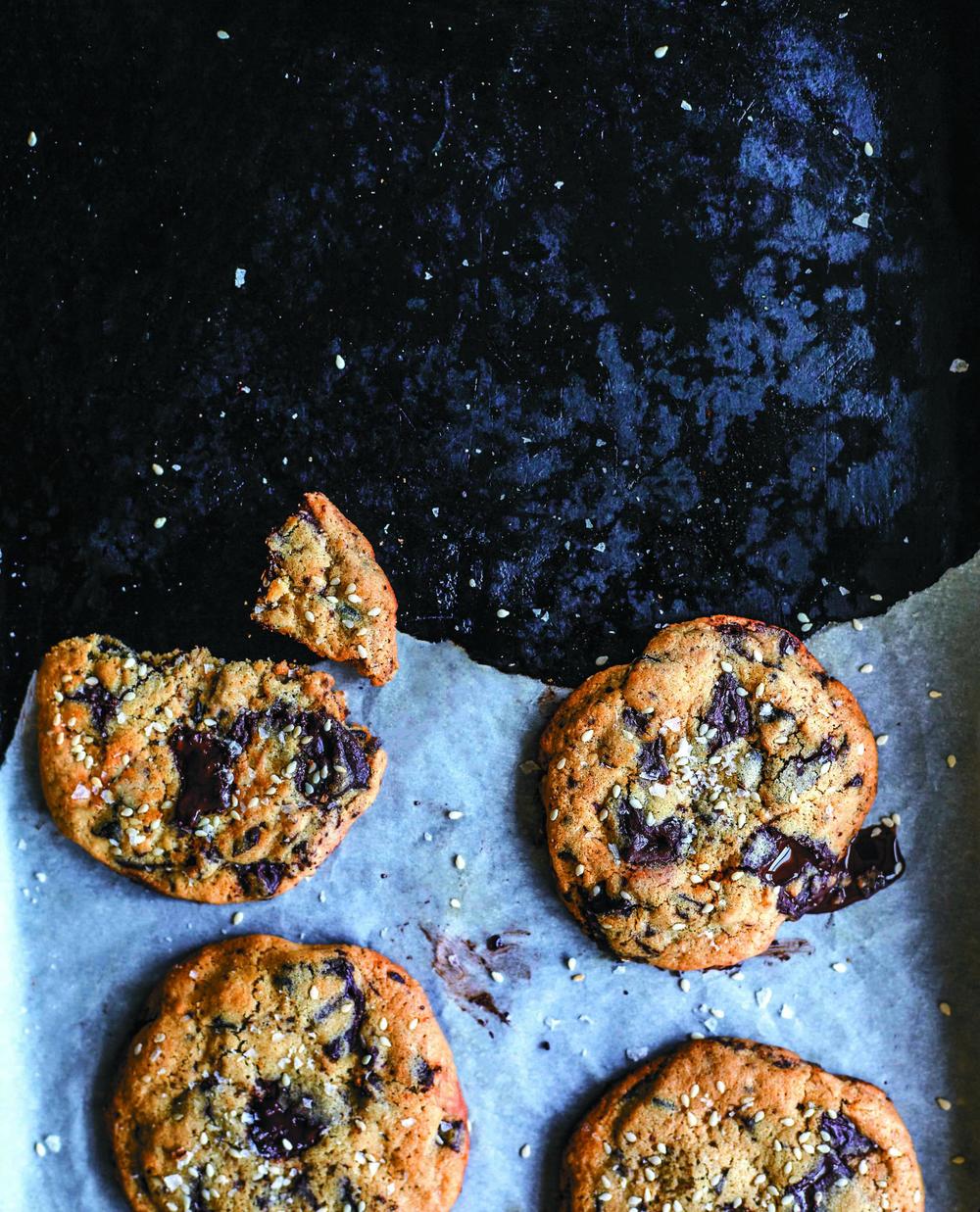 Chocolate chip cookies are everywhere. And while I never tire of a good chocolate chip cookie, I wanted to take this classic to the next level. So I added tahini (roasted ground hulled sesame paste) and it hit the perfect note. The cookies are not overly sweet, and the tahini gives them a rich, nutty flavor, much like peanut butter but far more interesting. A sprinkling of crunchy toasted white sesame seeds and coarse sea salt is the perfect finishing touch.  The dough can be refrigerated for at least four days or frozen for up to two months.
Mix the flour, baking soda, and salt together in a small bowl. 
Beat the butter, tahini, granulated sugar, and brown sugar on medium speed in an electric mixer or in a stand mixer fitted with the paddle attachment for about 3 minutes, until fluffy and fully incorporated, stopping and scraping down the sides of the bowl a few times as needed. Add the egg, egg yolk, and vanilla and mix for 1 minute more.
With the mixer on low speed, gradually add the flour mixture and mix until just combined. Remove the bowl from the mixer and, using a rubber spatula, fold in the chocolate, being careful not to overmix. Cover the dough and refrigerate for at least 1 hour or up to overnight. (This might sound fussy, but the cookies are honestly better after the dough has had a chance to rest.)
Position two racks evenly in the oven and preheat the oven to 325°F. Line two baking sheets with parchment paper or silicone baking mats.
Scoop out a generous tablespoon of the dough, roll it into a ball, and place it on the prepared pan, making sure not to place the cookies too close together. Repeat with the remaining dough, dividing the cookies between the prepared pans. Lightly moisten your palm and gently push the cookies down to flatten them. Sprinkle with the sesame seeds and press them lightly to make sure they adhere to the dough.
Bake for 6 minutes, then rotate the pans 180 degrees and switch their positions from top to bottom and bottom to top. Bake for 6 to 8 minutes more, until the cookies are almost deep golden brown around the edges, but still somewhat pale in the center. Remove from the oven and sprinkle the cookies with the sea salt, gently pressing it into the cookies to adhere.
Let the cookies cool for at least 5 minutes on a wire rack then serve slightly warm or at room temperature. Store in a tightly sealed container at room temperature for up to 2 days.
From "Rage Baking" by Kathy Gunst and Katherine Alford, published by Tiller Press, an imprint of Simon & Schuster. Copyright © 2020 by Kathy Gunst and Katherine Alford. All rights reserved.
INTERVIEW HIGHLIGHTS
On the sudden shift to baking homemade goods during quarantine
If you follow any kind of social media, it seems like every other picture is of someone standing proudly with their loaf of sourdough or whatever type of bread they're making.
Sometimes beautiful and sometimes not so beautiful — but really, who cares? I think there's several factors at play here. I think first and foremost, we have a new sense of time. Most all of us are home. [...] We're not dealing with the myriad of things that made up normal life as we knew it just a few short months ago. Suddenly we're thinking about food and eating in a new way because there are limited resources. We often go to the grocery store with a list in our hand and find out, "Wait, I can't get half those things." As you mentioned, flour and yeast have been disappearing from supermarket shelves.
They now have limits on how much you can buy if they have it in stock. [...] There is a new passion for baking that we've never seen in this country. And the other thing, of course, is that almost all bakeries across the country are shut down. So if you want fresh bread, if you want a cake, if you want cookies, you have to learn to make it yourself.
On the lessons of Rage Baking and how they apply to the current pandemic
The message of the book is not, hey, ladies, get back in the kitchen in your rage and your anger and all the things that you're going through will be fine. It's actually more about using baking as an activity that can help ground us. I think this relates back to the pandemic and this rise of interest in baking [...] Baking a loaf of bread entails enormous patience. You have to start it; you have to let the yeast bubble. You then add your flour. Then there's a first rising, where the dough doubles in size, and it's this completely exciting activity of watching something become alive.
And then — talk about "rage baking" — you get to take your fist and punch that dough down, and the release in your body and the release in the dough is so deeply satisfying. But then what happens is that it rises again. And it becomes this great metaphor for women, when you think about how many centuries women have found a safe place in the kitchen and women have used the kitchen as a place to express themselves — their joy, their rage, their anger, their passion. And suddenly, a loaf of bread becomes this great metaphor for rising again and again.
On balancing health and body positivity while "emotional baking"
The big joke is none of us will be able to get out of the front door, when it's all over. I have to say, there's so many things that we're worried about right now and there's so much anxiety. I guess I want to urge people not to beat up on themselves if they're cooking more and eating more and baking more and perhaps eating more sugary sweets. Just the idea of having dessert every night is not a normal thing, at least for me.
So I think in the scheme of things, it's not a big deal, but I also urge people to dance and listen to music and get out and walk, if they can, and move their bodies, because we are more sedentary now that we're not going about life in a normal way. So the weight gain is kind of a joke and kind of not. But again, we just want to stay healthy. 
On the rise of home cooking during the pandemic
One of the things that's happening in this country is that there is a resurgence or, perhaps, a rise for the first time in home cooking. There are so many Americans who have lived on takeout and microwave food and frozen food and restaurant food for a good part of their lives and, suddenly, that's not available. We still can get takeout in some cities, but if you don't know how to cook, you are really in a position right now where your choices are very limited.
There is an enormous rise in YouTube cooking videos; in baking tutorials; people getting online, trying to teach people some of the fundamentals of cooking. I was recently sent to a chainmail thing about sending recipes around. You know, it's one of those things you send a recipe to the first person on the list and then you put your name next, and I've received about 20 really interesting recipes since I sent it out. And for many people, cooking for a young family or just cooking alone is not joyous. And, if ever there were a time when we can slow down and pay attention to the process of cooking and pay attention to the joy of creating something delicious, it's now.
Get in touch with us.
Twitter: @OSTTalk
Facebook: OnSecondThought
Email: OnSecondThought@gpb.org
Phone: 404-500-9457
Secondary Content
Bottom Content