Section Branding
Header Content
Francine Bryson's Recipe For Aunt Thelma's Peanut Butter Balls!
Primary Content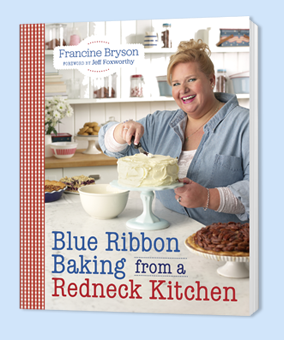 Francine Bryson joined this show this week and also brought in samples of her Aunt Thelma's Peanut Butter Balls (which which AH-MAZING!) Plus, it's a secret recipe she will reveal in her new book for the verry first time! 
Ingredients:
2 cups creamy peanut butter (I use Jif)
¹⁄₂ cup plus
2 tablespoons
(1¹⁄₄ sticks) unsalted butter, at room temperature
2 teaspoons pure vanilla extract
¹⁄₈ teaspoon salt
2 cups confectioner's sugar
2 cups chopped pecans
2 to 2¹⁄₂ cups graham cracker crumbs (28 to 35 crackers; see Blue Ribbon Tip)
2 cups semisweet chocolate chips
Directions:
Blue ribbon tip:
If you end up using one of those natural peanut butters which have a lot of extra oil, use that extra ¹⁄₂ cup of graham cracker crumbs; if not, you're probably fine with just those 2 cups. And while I usually suggest heating your chocolate in a microwave, on account of how easy it is, with this recipe it's best to use a double boiler so you don't have to keep reheating that chocolate, as it may harden a bit.
Using an electric mixer, beat together the peanut butter, ¹⁄₂ cup of the butter, the vanilla, and salt. Stir in the confectioner's sugar, pecans, and 2 cups of the cracker crumbs.
Using your hands, roll the mixture into 1-inch balls. Set the balls in a single layer on a small wax paper– lined baking sheet and refrigerate until firm.
Melt the chocolate chips and remaining 2 tablespoons butter in the top half of a double boiler over simmering water, stirring until the chocolate has melted. Turn off the heat, but leave the chocolate over the hot water to prevent the chocolate from hardening. Insert a toothpick into a chilled peanut butter ball and dip into the melted chocolate until coated. Return the ball to the baking sheet, removing the toothpick.
Repeat with the remaining balls and then chill in the refrigerator until hardened. Store in an airtight container in the refrigerator.
Makes about 40 balls
Secondary Content
Bottom Content