Section Branding
Primary Content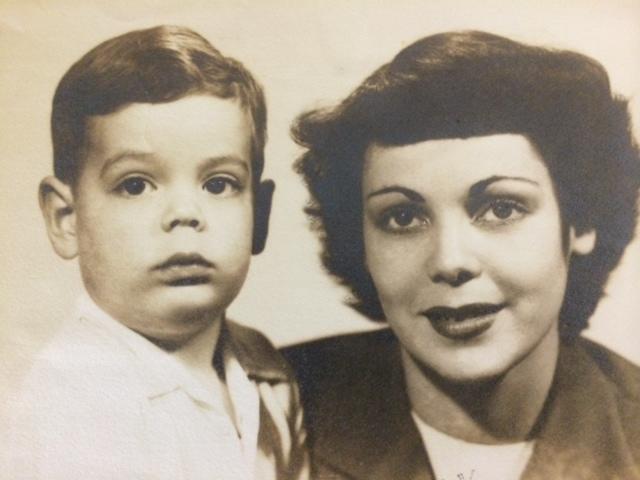 Our terrific show writer Lisa Clark is working on an essay about mothers that we'll air on the Thursday night edition of On the Story. It's about her sister, who over the years has fostered dozens of infants and young children, and it is a lovely tribute.
My mother has been dead for a number of years now, but for some reason I can't explain, as Mother's Day approaches I'm thinking more specifically than ever about what I remember most about my mom. Sure, she fed and clothed me, cared for me when I was sick, protected me from the sterner nature of my father, as many mothers have done for their children. But it's easy for me to identify what I remember and appreciate most about what I received from her. She gave me the gift of music, and to be even more specific, Broadway show music.
Her days were filled with listening to show music on our living room record console, and as a very young boy, I learned to love the songs that gave her joy. Our house in Skokie, Illinois, resonated with the voice of Richard Kiley singing the sinuous melodies of "Kismet" - "Stranger in Paradise," and "Baubles, Bangles and Beads." We listened to Alfred Drake proclaim the optimistic opening notes of the classic "Oklahoma:" "There's a bright golden haze on the meadow…" and laughed as the long forgotten Lee Dixon told his Oklahoma farm pals that "everything's up to date in Kansas City." A little later we eagerly tore the plastic off the album cover to listen for the first time to Lerner & Lowe's "My Fair Lady," a huge sensation on Broadway. We heard Rex Harrison, who couldn't sing a note, but was given lyrics to read like poetry as he told us "I've grown accustomed to her face…" And there was the then unknown Julie Andrews, on Broadway for the first time, as she sang that she "could have danced all night."
There was "South Pacific" with the great Mary Martin and Enzio Pinza. (I didn't learn until much later that because he was a classically trained opera singer, Mary Martin, a song and dance kind of girl, didn't want to sing duets with him, and so when you listen to the score, you hear how ingeniously Rogers & Hammerstein kept their singing parts separated in songs like "Soliloquy.") But perhaps greatest of all, there was Robert Preston singing Professor Harold Hill in "The Music Man:" "Well you've got trouble my friends…"
I learned every single lyric to the songs in those shows and more. My mom and I would sing together and imagine what the numbers we were hearing would look like on the Broadway stages where they were being performed.
And then, we did go to Broadway because mom thought it was important for the whole family to see a Broadway show. It was the original cast performing in "Sound of Music" at the Lunt Fontanne Theatre. Mary Martin was on stage with Theodore Bikel and all those young children performers and I was hooked for life.
Joan Nigut, my mom gave me all of that, and for that I'll be forever grateful because I still sing the old songs and now the new. I've taken our children to see the more modern classics – "Rent," "Les Miserables," "Ragtime." And they've embraced the music, too. Nowadays I prefer the complexities of Stephen Sondheim and Adam Guettel over the jukebox musicals which dominate so many Broadway houses. But I continue to seek out great scores.
As Mother's Day approaches this year, my wife Janece Shaffer, a talented playwright and wonderful mother herself, is in New York, working on her first musical. She won't be with me and her children to celebrate on Sunday, but she knows we love her. And somehow Janece's project feels for me as if life has come full circle. It was my mother who brought music to my life, and now it is my wife who keeps all of us in our family singing with joy. Happy Mother's Day Joan and Janece!
Secondary Content
Bottom Content