Section Branding
Header Content
Dragon Confidential: Meet the Faces Behind the Convention
Primary Content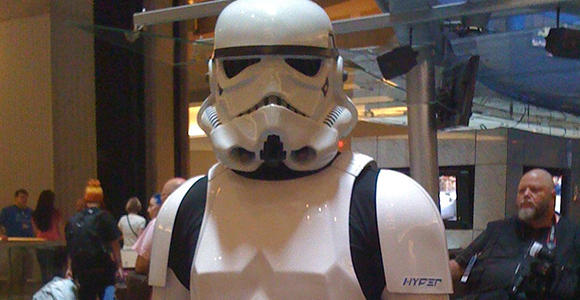 Dragon Con descends upon Atlanta in just two days. (The Daily Jog team will be there covering the weekend events like the parade on this blog, Facebook and Twitter. Plus GPB member and Desperate for Downton guest blogger, Rachel Buchman and I are speaking on a "Downton Abbey" panel on Saturday at 5:30 p.m. at the Marriott Marquis.)
Geeks like us attending a sci-fi, literature, gaming and comic book convention: predictable. Lawyers, health administrators and teachers: not so much. But those are the alter egos of many of the volunteers and regular participants.
Four of them are revealing their non Dragon Con identities in order to share some of their most memorable moments and how they are involved in the convention. Their in depth profiles, that include photo slideshows, appear in the September/October edition of Your GPB iPad magazine. You can download it here.
Here are some excerpts.
Cliff Tunnell: Lawyer by Day, Green Lantern by Night
Listen to an audio feature on Tunnell on Thursday during the "All Things Considered" broadcast from 4 p.m - 6 p.m. and during Friday's "Morning Edition" from 6 a.m. - 8 a.m.
Cliff Tunnell is a patent attorney for Anderson Daily, a business litigation firm in Dunwoody. At Dragon Con, he'll be a member of the Justice League: He is dressing up or cosplaying as that practice is called, as Green Lantern. That costume is one of more than 20 wardrobe changes he has made since he started attending the convention in 2006.
He came at the suggestion of a friend and has been coming ever since. One year he volunteered on the media relations team, wrangling journalists and bloggers.
Tunnell says close encounters with celebrities are typical at Dragon Con. One of his coolest brushes with the famous was with Alessandro Juliani, Lieutenant Gaeta from the "Battlestar Galactica" show.
Juliani heard Tunnell's girlfriend Katie speaking in an Alabama accent and invited her up to his hotel room to "read lines" from a script for him.
Tunnell was skeptical. But when he accompanied Katie to Juliani's room, the actor greeted them with a recorder and script for the "The Miracle Worker."
After Katie recorded several lines for Juliani, he took her and Tunnell out to dinner with other members of the cast.
M. Leigh Bennett-Conner: Government Employee and Head of Paranormal Activities
M. Leigh Bennett Conner has been a health advisor for a federal agency for close to nine years. She trains field staff and handles administrative duties.
But for Dragon Con, she is the X Track Director, the category that explores the paranormal.
In that position, she oversees a staff of six, ensures panels start on time, moderates panels and introduces celebrities.
Speaking of celebrities, she has been lucky enough to interview actress Gillian Anderson, Leonard Nimoy and met William Shatner "when he crashed the Nimoy" interview.
Some of her family members deem her interest in sci-fi "odd". But her son and nephew are impressed.
"The boys really like it when I'm doing something where they get to meet someone they really think is cool," says Conner. "I got major Mom/Aunt points when I was able to introduce them to Adam Savage (from "Mythbusters.")
Brandy Roatsey: The Student/Star Wars Commander
Brandy Roatsey has multiple vocations. She is a lawyer, a teacher and is currently pursuing dual Masters degrees at Georgia State University.
Somehow she finds time to produce Dragon Con's "Star Wars" programming. She and a small team come up with over 50 hours of activities that include Q & A's with stars, parties, contests and light saber school for kids. She also takes care of social media and pr strategies, something she wishes could be her full-time job.
Her most memorable moment was when Carrie Fisher came to speak.
"Carrie walked onto the stage, climbed up on the table on the stage and stood there, arms spread wide as though she was hugging the entire room," Roatsey remembers.
Stephen Granade: Dragon Con's Science Guy
Call Stephen Granade Dragon Con's science guy. He is the Director of Dragon Con's Science Track. These panel discussions and events cover the real science in the fiction.
Granade is a physicist for Dynetics, an engineering and scientific company in Huntsville, Alabama.
Leading this track gives him the chance to share his love and knowledge of science with the masses.
Granade has a background in theater too. He typically acts in the film skits that play on the hotel television monitors. One time he was recognized by a "fan".
He was riding in an elevator with Scott Adsit, an actor from the tv show "30 Rock."
"I was determined to play it cool," he recalls. "Then someone got on the elevator, recognized me from the skits and said 'Hey, I know you! You're famous!'"
Secondary Content
Bottom Content