Section Branding
Header Content
Who Needs Comic Con When Atlanta Has Dragon Con?
Primary Content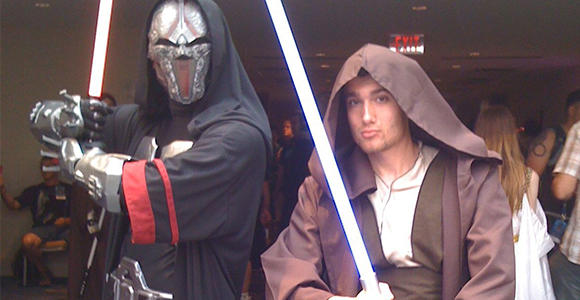 Over the next three days, my fellow geeks are swarming San Diego for the 2014 Comic Con International, the annual confab of comic books, tv shows, movies and pop culture.
I don't envy them anymore. Who needs Comic Con when Atlanta has Dragon Con, the southeast's largest multimedia, sci-fi/fantasy, literature, gaming, comics, tv show, movie, music and pop culture convention?
Dragon Con happens August 29 - Sept 1, 2014 in downtown Atlanta. Those who have attended both Comic and Dragon cons say there are stark differences.
Cliff Tunnell, an intellectual property rights attorney, noticed that at Comic Con there is an emphasis on entertainment companies previewing their latest and greatest toys, films and tv shows. In contrast, at Dragon Con, the focus is on fans mixing and mingling with each other and celebrity attendees. Convention goers can mill around in the hotel lobby or go to a scheduled party.
At Comic con, most of the parties are sponsored by movie and tv companies said Tunnell. Without an invite or connection, attendees are out of luck.
At both conventions, attendees roam around dressed as their favorite sci-fi fantasy or superhero characters. (This is known as cosplay.) But Tunnell observed that after 5 p.m., the costumes come off.
Not so at Dragon Con. Tunnell notes people cosplay all weekend long 24/7 and change into different outfits depending on the occassion or time of day. Tunnell, who has been attending and volunteering since 2006, estimates he'll bring five outfits this year.
So like Tunnell, I have a soft spot for Dragon Con. If you are a newbie interested in attending or a veteran, sniffing out a preview, here is a primer.
What is Dragon Con?
As mentioned, Dragon Con is a multigenre pop culture, entertainment (sci-fi fantasy), gaming, literature and science convention. It takes place annually Labor Day Weekend, atfive downtown Atlanta host hotels. This is an event where geeks can be "open about their nerdiness" as Cliff Tunnel says and feel completely at home.
The convention generates at least 42 million dollars for the city and is put together is put together by an army of 2300 volunteers. More on the faces behind the convention coming soon.
Attendees purchase memberships (not tickets) that gives them access to all events. (Some events require the purchase of additional event tickets.) Attendees can buy memberships for the entire convention, one day or a couple of days.
Do I Need to Wear a Costume?
Dressing up or cosplay is not required. But you definitely feel underdressed if you don't wear something. If you don't feel comfortable donning a cape or Storm Trooper suit, bring your camera. The artistry, detail and creativity put into costumes worn by fans are breathtaking and photoworthy.
What do I do There?
In addition, to stopping every five minutes to take pictures of the elaborate "Avengers" and "Star Wars" costume wearers, check out several of the many panels. The panels are categorized by "tracks" that cover specific subjects. (Here is a full list of the tracks. The exact panels are still being finalized.)
There is a subject for everyone. From Apocalypse Rising, that covers zombie and alien invasions), to the Paranormal, (that covers busting ghosts) to Star Wars and the "Avengers" and "Buffy the Vampire" director Joss Whedon, dubbed Whedonverse.
Tracks also cover Science, Robotics, Writing, Acting and digital rights (Electronic Frontiers Forums). There is also a track called Kaleidoscope centered on children's programming. And a BritTrak. Yours truly will be speaking about "Downton Abbey". Stay tuned on the details!
Meet Celebrities
There is a good chance you'll run into a celebrity at Dragon con. I agree with the AJC'sRodney Ho's assessment that the list of stars coming this year is a bit lackluster. But to be fair, there is a cross section of classic and new scifi show stars coming. Gil Gerad from "Buck Rogers";  Walter Koenig, "Anton Chekov" from the original "Star Trek" tv show and movies and Richard Hatch from the old school "Battlestar Galactica" are scheduled to attend.
Several actors from the TNT sci fi hit "Falling Skies" are supposed to come. Meanwhile Patrick Stewart, Jon Luc Picard from the new "Star Trek" and Professor X from the "X-Men" movies is a headliner. See the full list.
If you don't happen to run into these celebs in an elevator or at a bar, you can walk up to them and take a photo and get an autograph - for a fee - at the Walk of Fame or schedule a professional photo with them through a celebrity Photo Op.
Love a Parade
Dragon con's signature event is the parade held on Saturday. (Mark your calendar for Saturday August 30.) It starts at 10 a.m. Make sure you get there an hour and a half early to reserve a good spot. The parade route is the same as last year which is new. It begins on Spring Street, snakes down West Peachtree Place and continues on Peachtree Street. Check out the Parade's Facebook page for more info.
Secondary Content
Bottom Content