Section Branding
Header Content
MomoCon + Dragon Con: Collaboration, Not Competition, Is The Future Of Geek Conventions
Primary Content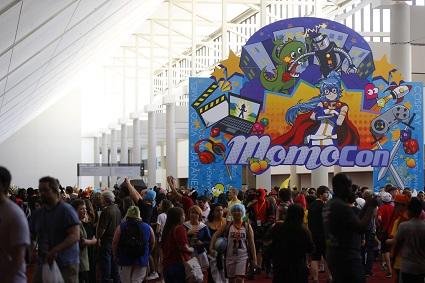 If you're a geek convention attendee in Georgia, it was difficult to miss it on your social media feeds. Dragon Con and MomoCon are now partners. Reps for the conventions recently announced that the two popular Atlanta events will now be sharing resources, strategies and partnerships. But will that leave for little variety between MomoCon's all ages Memorial Day weekend event and Dragon Con's older Labor Day crowd?
MomoCon's representative assures that the conventions are working together but are separate events. And for resources alone, it makes sense. Conventions use lots of supplies, though infrequently, such as computer systems. With a partnership between Dragon Con and MomoCon, these resources can be used more efficiently and leave money to spare for bigger, better guests and events. If Dragon Con outgrows its current hotel space, they'll likely have a chance to expand to the Georgia World Congress Center, the current home for MomoCon, leaving competing conventions unable to afford or unable to book the space.
Likewise, contact information and connections for guests can also be shared, allowing both conventions to have access to guests that they haven't been able to invite before.
MomoCon is one of the fastest growing conventions in the country, with 22,000 attendees in 2015 and is poised to grow and evolve further. Obtaining experience from the Dragon Con veterans in handling big guests and big crowds is invaluable. But the real success for both conventions lies in the fans: conventions no longer focus on a single medium.
The Growth and Strength Of Fans
If you look around at a geek convention, you'll likely be overwhelmed with the amount of titles represented not only in the formal programming, but brought to the convention by fans in terms of costumes and fan-produced art. Anime conventions are no longer reserved only for Sailor Moon, but you'll see costumed fans of Disney princesses, Marvel superheroes and Cartoon Network favorites Steven Universe and Adventure Time gathering en masse for a photoshoot.
Visit an Artists' Alley, where fans are allowed to sell their original art and you'll see fans excited to purchase a poster of Doctor Who drawn in manga style or the new heroes of Star Wars: The Force Awakens in collectible keychain form.
I remember attending Dragon Con in 2009 dressed as Misato Katsuragi from the popular anime series Neon Genesis Evangelion and few attendees knew who I was. Fast-forward to 2015 as I donned a costume of Nico Robin from the hit anime One Piece and I couldn't keep up with the amount of times I was complimented on my costume with a photo or an excited comment from a fellow fan. I've been attending conventions, putting on panels and costuming for nearly 15 years and anime conventions are no longer just for anime. Anime, comics, science fiction and fantasy are present not only at their respective conventions, but at all conventions. And fans love it!
The convention scene is only expanding, with no chance of slowing down in the future. What changes is the gap between events who refuse to change and evolve to meet the demand of their fans and conventions like Dragon Con and MomoCon, who are preparing for the future of Georgia fandom.
Secondary Content
Bottom Content