Section Branding
Header Content
Future Perfect Podcast: Atlanta's Zombie Fans Bite Into Walker Stalker Con
Primary Content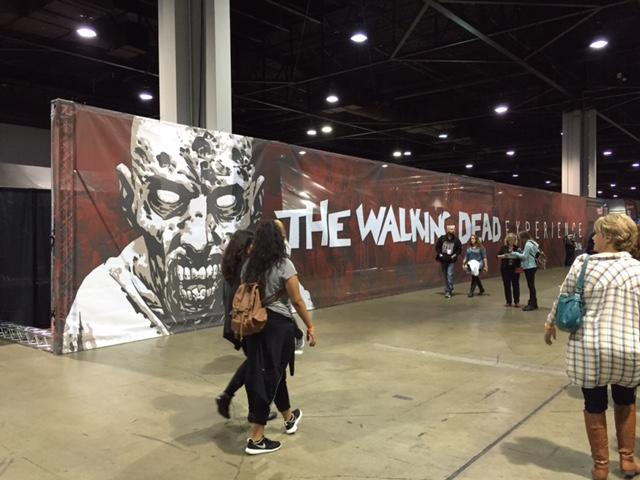 You know what frightened me the most about attending the Walker Stalker Con at the Georgia World Congress Center over Halloween weekend?
It certainly wasn't the hordes of people dressed up in extra-gooey zombie makeup. This news just in: It's a convention celebrating the hit AMC TV show The Walking Dead. If you aren't expecting zombie worship in all its fake blood and hanging-skin glory, you should have stayed home.
It also wasn't the mile-long line to hear Andrew (Rick Grimes) Lincoln speak in an adjoining ballroom, or the equally long lines to get autographs from Norman (Daryl) Reedus, Melissa (Carol) McBride and the show's other stars. Nor was it the strict warning from Walker Stalker Con officials to not talk about the current sixth season of the TV show - a warning that extended to fans, media and celebrities.
It wasn't even the sight of little boys who couldn't have been older than 5-6 years walking around with toddler bandoliers and pretend Daryl crossbows, or little girls of the same age also decked out in zombie hunter attire. My only hope is that the parents of those kids aren't letting them watch a TV show that has redrawn the boundaries regarding blood, gore and guts on national television. If they are, I hope they have plenty of money set aside for therapist visits.
No, what sent me into a state of panic was seeing more proof of my advanced age.
Hidden away on autograph row were Judith O'Dea and Russ Greiner, the very first couple you see in George Romero's 1968 zombie horror classic, Night of the Living Dead. I was way too young to see it when it first came out (the original TV ads were nightmare-worthy) so I had to wait until it came to my neighborhood drive-in for a revival run nearly 10 years later. It scared me then, and it retains its power to this day. But I'm betting I was in the Walker Stalker Con minority that actually remembers the publicity surrounding its initial release, with some critics blasting its gore and frights, while others called it the scariest movie ever made.
Even though zombies have been a staple of horror movies since the 1940s, Romero gave them new undead life with his low-budget, black-and-white triumph, shot near Pittsburgh. Zombies didn't try to eat the living before that film. They've been shambling after us, and gnawing on us, ever since.
What Romero started, Robert Kirkman, Frank Darabont and the creators of The Walking Dead have brilliantly continued while taking the "zombie apocalypse" theme into compelling new directions. That particular brand of creativity is what is celebrated at the Walker Stalker Cons, which got their start in Atlanta thanks to a fan podcast dedicated to the TV show.
In this Future Perfect podcast, I interview Michael "Gooth" Guthas, Walker Stalker Con's media relations specialist about what was expected to be its biggest crowd yet; the new, immersive Walking Dead Experience section of the show, where fans can get their own scary taste of the zombie apocalypse (the Walking Dead Experience moves to Atlantic Station Nov. 4-29); and the dedication and passion of those zombie-lovin' fans.
Remember: kill the dead, fear the living. And sleep soundly knowing that Atlanta is now the official capital of zombie culture.
Secondary Content
Bottom Content