Section Branding
Header Content
Future Perfect Podcast: AT&T Mobility Pres./CEO Glenn Lurie On Negotiating The First iPhone
Primary Content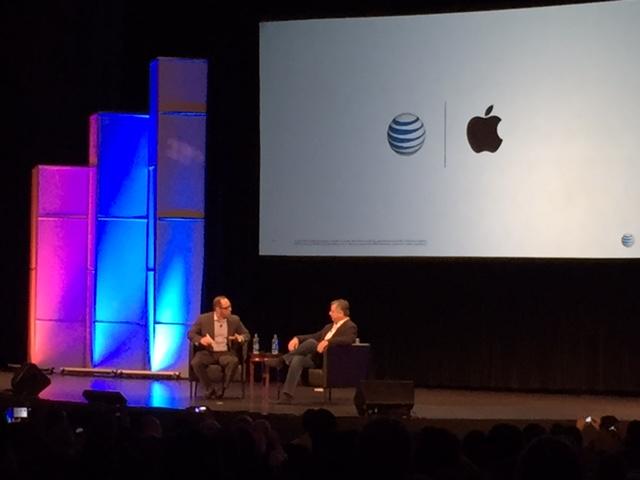 Imagine that you're a major phone company/wireless carrier, and you've got a chance to exclusively sell the Next New Thing from an iconic technology company. The catch? You don't get to see that thing, much less play with it, until you agree to the terms of the deal.
And one of the people you're supposed to trust from said iconic tech company is known to be a volcanic Type A personality used to getting his way with everyone.
That was the situation that Glenn Lurie was facing when his company - then known as Cingular - was given the chance to offer the first iPhone to its customers in 2007. Lurie, now the president/CEO of AT&T Mobility, shared those memories with one of his Apple negotiating counterparts at the time, Eddy Cue, during a Thursday keynote appearance at the recent Mobility Live 2015 conference at the Georgia World Congress Center. (Cue would go on to help build iTunes and the App Store.)
Of course, one of the other negotiators in Cupertino was Apple CEO Steve Jobs. As irony would have it, Jobs was always a phone call away as Lurie, Cue and others in Atlanta were haggling over a product that would change phones forever. "We had to learn how to trust each other," Lurie said on stage.
Once the deal was done, and Lurie and others within the company finally got a chance to handle the then-2G iPhone, the prospect of "wild success made us nervous." Lurie recalls those days in this Future Perfect podcast, including his memories of the role that various Atlanta locales played in those negotiations. He also gives AT&T's vision of the Internet of Things, the all-connected-devices world that is on the horizon thanks in part to the advances and opportunities generated by the iPhone-led mobile revolution.
One last note from the Mobility Live conference: Lurie asked Cue, a 28-year veteran of Apple, his thoughts on the new Steve Jobs movie that's generating a lot of criticism from those within Jobs' circle of family, friends and colleagues. "It was difficult to watch," Cue said. "If you're going to do a movie about history, it should be accurate." He mentioned the "outpouring of love and support" when Jobs died in October 2011. "He truly was an Edison or Bell of our time."
Secondary Content
Bottom Content