Section Branding
Header Content
2004: Best.DragonCon.Ever
Primary Content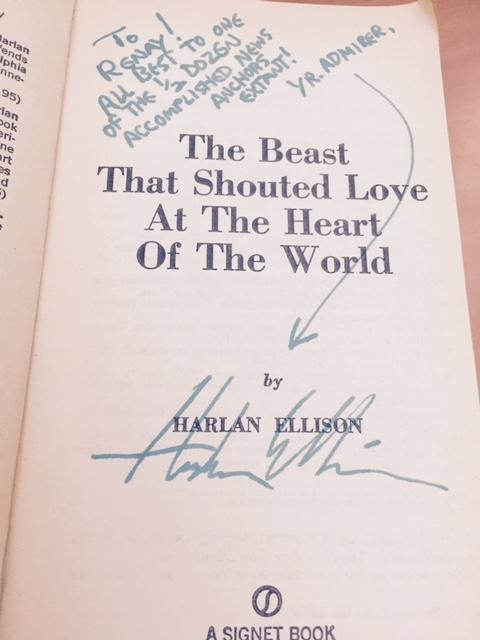 Science fiction officially became an obsession for me in 1969 with the story "A Boy And His Dog" from a collection called The Beast That Shouted Love At The Heart Of The World. The author was Harlan Ellison, and the story really was about a boy and his dog...who just happen to communicate via telepathy while they travel a world savaged by nuclear war. The boy, Vic, uses his dog, Blood, to find surviving females for a little you-know-what. Instead he finds an underground society that's a very warped version of the Eisenhower era, along with a startling education on the real meaning of love.
Pretty heady and extremely inappropriate stuff for a 9-year-old to digest (sorry Mom), but it nonetheless launched a series of campouts in the science fiction section of the nearest library that would stretch into the mid-1970s. I quickly vacuumed up everything by Ellison, along with works by Bradbury, Heinlein, Anderson, Norton, Sturgeon, Blish, Asimov, etc. Once summer jobs entered the picture, this scene moved to a favorite bookstore where I was finally able to purchase my own copy of "The Beast That Shouted Love At The Heart Of The World," a Signet paperback published in 1974.
That was the book I had in my hands 30 years later as I stood in line in the hallway of a downtown Atlanta hotel, waiting to get it signed by Ellison himself during the 2004 DragonCon. I was nervous; Ellison's reputation for crankiness and speaking his mind is well-documented. (Seek out the excellent 2008 documentary Dreams With Sharp Teeth to learn more about this.) Would he suffer fools and this particular starstruck fan gladly?
What happened next made it my best DragonCon ever. Ellison actually recognized me from my cable news work, and was very complimentary. He not only provided the most gracious inscription for my copy of his book, but I bought the expanded graphic novel version of "A Boy And His Dog" and he signed that too. He said that the next time I was in Los Angeles, I should visit him at his legendary abode, Ellison Wonderland. "We'll stuff some cheeseburgers down our throats," he said.
It's become one of my favorite not-so-humblebrag/name-dropping moments, not to mention my all-time best geek culture convention memory. It's more proof that as you wander the crowded hotel hallways and vendor rooms of DragonCon 2015 this weekend - navigating costumed Stormtroopers, Wolverines and the Walking Dead - you shouldn't forget about the science fiction authors, comic book writers/artists and fanzine/fansite editors in attendance who provide the content and support for current science fiction obsessives.
Geeks have indeed inherited the earth, if by "earth" you mean Every Single Mainsteam Media Outlet. The best show on TV is a gore-filled zombie fest; runners-up include Black Mirror and Mr. Robot. Eight of the top 10 highest-grossing movies of all time are science fiction/fantasy blockbusters, and three have the word "Marvel" attached to them. The year in movies not only gave us an awesome new Mad Max, but the wonder and deep thought of Ex Machina. Hey, kids, Dr. Who is still around!
Ellison played his part in this timeline in the 1960s, when he was writing scripts for legendary episodes of Star Trek ("The City At The Edge Of Forever") and The Outer Limits ("Demon With A Glass Hand.") His stories about time traveling androids influenced James Cameron's Terminator films.
We won, my fellow geeks. A direct line can be drawn from the lonely libraries and comic book stores of my youth to the mobile games and YouTube videos that consume my children's' leisure time. So while most geek culture conventions like DragonCon have become cosplay celebrations (not that there's anything wrong with that; some of my best friends are cosplayers, yada yada), keep in mind the authors and artists patiently waiting for their fans to seek them out and sign their dog-eared memories - just like Harlan Ellison did for me in 2004.
Science Fiction Authors I'll Be Seeking Out At DragonCon 2015:
* Kevin J. Anderson - Not only has Anderson written bestsellers set in the Dune and Star Wars universes, he's also (like your humble narrator) a top-level fan of Rush and has written two books with Rush drummer/lyricist Neil Peart based on the band's 2012 Clockwork Angels album. This automatically raises his coolness quotient to 11.
* Peter F. Hamilton - DragonCon's Literary Guest of Honor writes big, bold space operas like The Pandora Star and the Reality Dysfunction.
* Cherie Priest - Drop what you're doing right now and go buy Boneshaker, Priest's first entry in her Clockwork Century series. It's a clever mashup of steampunk and zombies that was nominated for a Hugo and won the Locus Award.
* Mike Resnick - The current record holder for most Hugo Award nominations (37) has won the honor five times, mostly for his short fiction.
* S.M. Stirling - Yes, he's mostly known for his Change series of books set in a world where all technology is rendered useless. But I really liked The Peshawar Lancers, an alternate history/steampunk thriller with lots of cool action and swordfights.
Secondary Content
Bottom Content