Section Branding
Header Content
"We Needed Jeezy": Atlanta's Trap Music Maestro Marks 10th Anniversary
Primary Content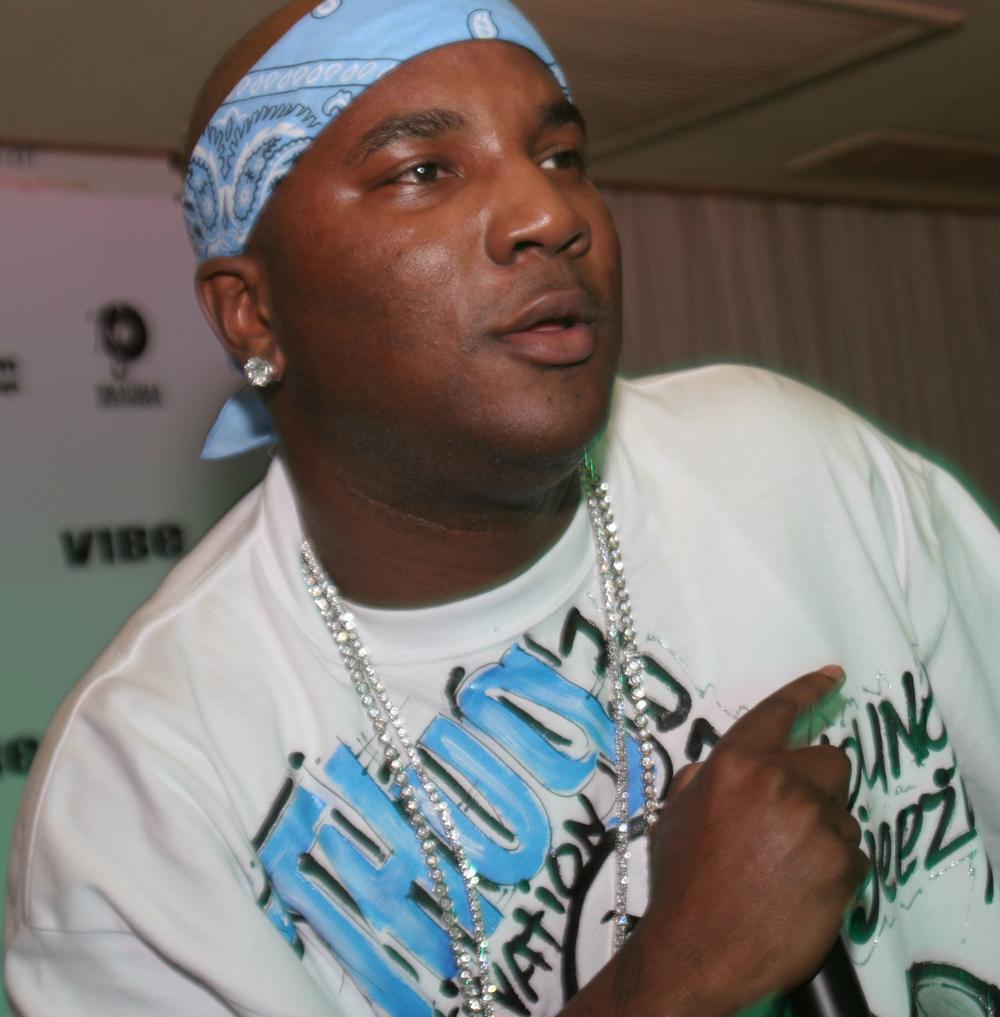 Atlanta rapper Jeezy is throwing a big party at the Fox Theatre on Saturday to celebrate the tenth anniversary of his debut album: "Let's Get It: Thug Motivation 101." On Second Thought decided to celebrate, too. We asked some of the album's biggest fans to listen again and discuss how well Jeezy's early work holds up track-by-track.


Senior Producer, "On Second Thought," Georgia Public Broadcasting
Jeezy Song: "And Then What" (Track 5)

I'm the rarity you never cross paths with these days: an Atlanta native, born and bred. But in 2005, I wasn't living in the A. I'd made my way to Manhattan for grad school. And I was mourning what felt like a loss at the time.

I could almost see the tombstone in my mind:

Atlanta Hip-Hop
Trill Til The End
1992-2003

"Speakerboxxx/The Love Below," also known as OutKast's final album, was released two years earlier and I was concerned (yes, concerned!) that we'd met the end of Atlanta's long reign as a hip-hop capital. I spent a lot of time thinking about who would carry on the legacy of the city and whether or not this mythical Rap Hero could do it without being carbon copies of the Mighty O.

The year before I left, I was working as a producer for a very different kind of radio show, "Frank Ski and Wanda In The Morning" on Atlanta's V-103. One day Frank played this song called "And Then What" by Young Jeezy (who, like me, was still Young at the time). I was instantly hooked by how Jeezy's raspy vocals kickboxed alongside famed New Orleans producer Mannie Fresh's beat and bass line. It was an instant hit. Frank knew this and so he played that song every morning until the music director couldn't ignore it anymore and put it into heavy rotation. That wasn't my first time at the trap rodeo with Jeezy, though. My ears first met him on fellow trap rapper Gucci Mane's "So Icy," perhaps the finest ode to a necklace ever recorded.

But I never considered Jeezy as a contender to be the next global torchbearer of Atlanta hip-hop -- someone who could really draw folks from outside the South to listen -- until I heard that song. I erroneously assumed a rapper whose lyrics talked about drug dealing, hustling and poverty couldn't be that person. To me, Atlanta hip-hop had moved beyond that. OutKast, Goodie M.O.B., Killer Mike and others were talking about finding love, raising children, Black Power and positive self-image. Rap music that was about the streets, or "the trap," was so played out, right? Not the way Jeezy presented it. He put in work returning Atlanta hip-hop to its roots – to those streets where you wore white tees and ran from the police and earned money for your family by any means necessary – and even though that wasn't my experience (trap life is just a fantasy I can safely play out through my speakers) I later understood that it's a blessing for Atlanta's rap scene to not be defined by one thing. Platinum wigs and Patti LaBelle breakbeats are cool and all, but Atlanta as a whole can't be represented by a single sound or style. We needed Jeezy.

Jeezy juxtaposes his easy-paced delivery (you could almost call it a drawl) with aggressive rhythms to motion to you that, for the length of this song, it's okay to come over and peek behind the curtain for a glimpse at the good, the bad and the ugly of life as a dope boy in the South. And yes, there is good in that life. There is purpose in that life, tied to those you love -- family, friends and your community. There's also a message in the music: reward comes to those with focus, motivation and goals they're willing to wake up every day and work toward. I can't say that's me every day, but if it were, I'd probably have achieved a Jeezy- level of success by now. But I appreciate the pep talks I hear in Jeezy's music. "And Then What" is the ultimate song for not settling until you're satisfied. Always have a next move in your pocket. And yes, you should celebrate the postive steps along the way, but after that...then what?


Freelance Writer
Jeezy Song: "Bang" (Track 12)

Jeezy's debut album was instant trap vintage that made a statement. For me, no other track says it better than "Bang."

By now, we all know what to expect from a Jeezy track: It'll open with a sick beat that builds anticipation before his trademark gravelly voice barks a seriously addictive hook and unforgettable opening line. "Bang" was no different, and it only gets better from there.

On "Bang," Jeezy is backed up by two ATL favorites, TI and Scrappy -- who has perhaps my favorite line in the song, "I don't rep The A by mistake; I do this s--- on purpose." This song is basically the trap equivalent of Coca-Cola, Delta and Chick-fil-A making a baby.

WARNING: THIS SONG CONTAINS GRAPHIC LANGUAGE.



It is not hyperbole to say that this trifecta is still enough to send most people into an otherworldly frenzy. Here's an experiment: Play "Bang" anywhere in Atlanta today and see what happens. Someone, somewhere will forget themselves. This song comes on and you don't know whether to dance or slap somebody.

The importance of the arrival of Jay Jenkins to the soundtrack of my home city in 2005 cannot be overstated, as he basically represented everything it meant to be young and black in The A. I had just moved back to Atlanta earlier the same year and my friends and I were making the most of the last of our twenties. That summer, Jeezy was often along for the ride -- literally. In any given week, I could blast "Bang" to hype me up to go to work, or peeling out of my office parking lot to kick off my weekend. The song is an announcement: You hear it, and you know something is about to happen.

"Bang" is also a call to arms to every corner of the city. Jeezy united Atlanta. Stop at a red light on Marietta Street, and "Bang" could just as easily be thumping from the speakers of a Mini Cooper as a Chevrolet Impala.

Speaking of thumping, I ask you: Is there a better opening 30 seconds to a song? The unforgettable fife and drum that crescendos with the cadence of a military march into a simple, yet haunting refrain always brings a smile to my face. I tell you, you have not lived until you have been in a crowd full of native Atlantans chanting in unison, "Peace up, A-Town dowwwwwwwwn…"

The message is clear: You're not from here. This is our city. We run this. Get out of our way.

Ten years later, it remains a glorious feeling. Bless the day Atlanta got the trap star we never knew we needed. After that, nothing was the same.


Writer and Yoga Instructor
Jeezy Song: "Standing Ovation" (Track 2)

Young Jeezy makes hip-hop for the working class. This fact is mostly ignored, since he had the bad luck of releasing his debut TM101 just as 'trap music' was exploding in popularity. 'Trap' started as slang for a place where drug deals happen, and now refers to a wildly popular and southern-minded subgenre of rap that focuses on the grim, near-dystopic lives of street hustlers slinging cocaine and heroin. As someone who has spoken publicly about his drug-dealing past, trap suited Jeezy to a T, so he embraced it.

"Serious" rap fans treat trap like an epithet, since most trap rappers out there have no experience selling drugs. But those who paid attention could see that Jeezy had already pre-empted this shallow criticism – he gave us his secret decoder ring with 'Standing Ovation," the second track on TM101. It starts with cannon fire, and then a stormy brass synth that rises and falls in thirds, seemingly ripped from the soundtrack of an early-90s computer game. (This may or may not be why I immediately took to the album.)

WARNING: THIS SONG CONTAINS GRAPHIC LANGUAGE.



It's impeccable scene-setting, and it's hard not to hear Jeezy as some kind of regal-yet-sinister figure. And he keeps doubling down, snarling lines like "Who me? I emerge from the crack smoke," as if he's a hip-hop Randy Savage making his grand entrance into the WWF ring. But unlike Macho Man, Jeezy's story is the furthest thing from fake – he really did live the life of a dope boy, staring down death while toting enough guns and drugs to be put away for life.

It's a fact that makes the chorus of 'Standing Ovation' seem all the more like a thesis statement: "These are more than words, this is more than rap / This is the street, and I am the trap." For all our cherished talk of the American Dream, Jeezy reflects the ugly reality: The haves and have-nots live in different worlds. If you're a have-not, the only way out is to hustle, taking (or stealing) every unfair advantage until all your friends are dead or in jail, while you've somehow managed to soldier on.

'Standing Ovation' is testament to the vital importance of Jeezy's art – he is telling a story that otherwise would not be told, let alone heard. Jeezy speaks to the streets, to every man who joined the drug game because he felt boxed in by life and left with no alternatives. He reminds us that no matter where you were born, or how harsh your surroundings are, a better world is possible. It's the sort of sentiment that deserves a round of applause.

Press play to hear reflections on three more tracks from "Let's Get It: Thug Motivation 101"



Jeezy has also been thinking a lot about his own legacy, ten years down the line. He recently penned the following open letter on Instagram:

They say you have your whole life to make your first album, and they might be right.

Some call it poetry, others call it the ghetto gospel, but the industry calls it "trap music." Go figure. Either way it's the voice of the streets, and we all know that when the streets talk, we listen.

I find it odd when people use a negative connotation like "trap music," when the message (lyrics) clearly states: make it out of your surroundings and be the best man and provider you can be. We call that being a boss where I'm from — a self made individual that refuses to let his environment dictate his or her outcome in life. This body of work you see before you is just that.

Every experience, every up, down and close call. All the nights that you prayed you could make it to see another day. All the sacrifices you made for friends and loved ones you lost to the street life. I can't help but to think of all the obstacles I had to dodge and the times I was unsure. But I continued to keep my faith and hustle strong. I kept pushing!

When I said that the roaches were in the kitchen, I meant that! So now when I tell you the floors look like bowling balls, I mean that too. You can call it rags to riches, but I like to call it a boy becoming a man and believing in his dreams, goals and expectations. I never thought of "fame" or being accepted in this industry; my only thoughts were to represent and speak for every man, woman and child that was in the struggle and just wanted to make a better way of life, without taking no for an answer. With every song, verse and adlib on this body of work, you can hear that determination, that ambition and that drive in every word. If the album touched you in any way, just know that it was all for you.

I'd like to thank my fans and anybody that was a part of my journey. Here I am, 10 years later, doing what I love –motivating the people.


Do you have a personal connection to the songs on Jeezy's debut album "Let's Get It: Thug Motivation 101"? Tell us. Leave a comment below, Tweet @OSTtalk or call 404-500-9457.

Secondary Content
Bottom Content