Section Branding
Header Content
Georgia Renaissance Festival's Foolish Side
Primary Content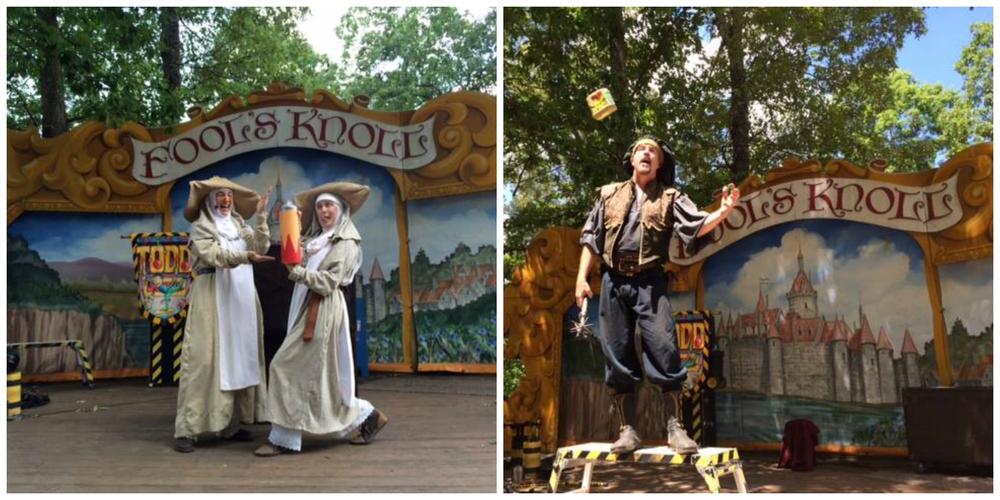 On Second Thought sent producer Jessica Metzger on a fun assignment: to travel (way) back in time and find some funny characters in the past. She happily accepted.

Just outside Atlanta, off I-85, is a little community that opens its doors for only two months a year: the Georgia Renaissance Festival.
Fans of the medieval era have gathered here for the past 30 years to re-create the atmosphere of a 16th-century European village.
The festival is packed with entertainment.  Over 20 acts perform every weekend in a dozen venues spread across the grounds. Just to the left of the jousting grounds, you'll find the Fool's Knoll Stage where crowds gather, turkey legs in hand, for the comedy acts of Cirque du Todd and Hey Nunnie Nunnie. Each act performs eight shows a weekend, rain or shine.


CIRQUE DU TODD
"The audience will give you energy," says comedic juggler Todd Key. Key has performed at the festival for 28 years, most of them as part of a juggling duo called the Zucchini Brothers. Key now entertains as a solo act, which includes balancing on ladders, juggling Spam and machetes and almost lighting himself on fire.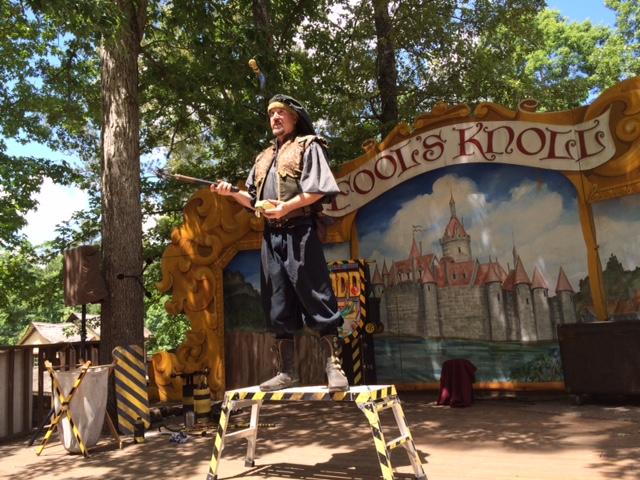 Key studied acting and initially pursued a career in entertainment through the more traditional route. Then he tried out for the Minnesota Renaissance Fair and made the cut. "I was horrible.  My show was horrible," Key says. "But you spend a few years doing this and you really learn a lot. And suddenly I stopped auditioning for regular shows or commercials."
Key's favorite act at the Georgia Renaissance Festival? The other show at the Fool's Knoll Stage, Hey Nunnie Nunnie. "They're two nuns, and they're just as goofy as anything," Key says.
HEY NUNNIE NUNNIE
Decked out in full medieval habits, Dana McCain and Shannon O'Brien are a seasoned duo on the Renaissance circuit. This is their fifth year performing in Georgia, but they've traveled the country as Sister Philomena Claire and Mother Redempta for over 20 years.
"We started working together at Disney World doing characters at the MGM studios," O'Brien explains. "When our contracts were up a year and a half later for Disney and they didn't renew us, Dana said, 'Well I have this idea for a nun show,' and I said 'well, I have unemployment so that works out perfectly!'"  This is now a full-time gig for both performers, and they travel most of the year.
Their act plays out like a variety show: song-and-dance numbers, jokes, physical comedy, and even commercial breaks advertising fake products like "Damn it All" spray to help rid the self of sin and "Nazarene's Loaves and Fishes" frozen dinners.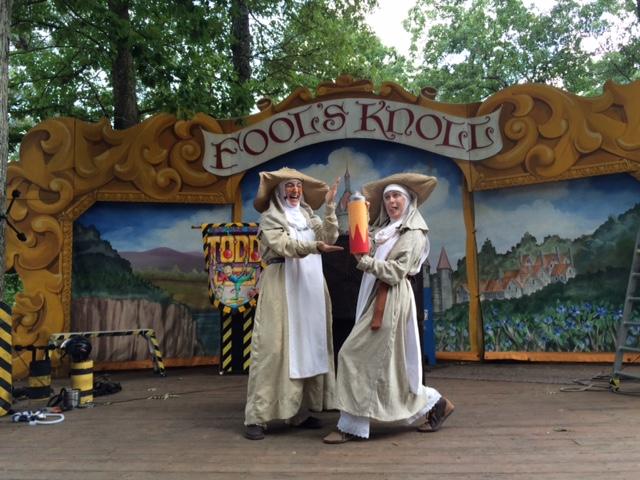 The show ends with a song that's hard to get out of your head, even after you've left the festival: "The Five Constipated Men in the Bible." 
"It's an old Jewish camp song of some sort, somebody maybe can let us know what it is." says McCain. It was that song that created the framework for their entire act. 


Press play below to hear an audio postcard from the Renaissance Festival with Cirque du Todd and learn which five men (spoiler alert: one is a woman) had their intestinal issues captured in song.

Secondary Content
Bottom Content