Section Branding
Header Content
A Sneak Peek At The Newest Route To The Port Of Savannah
Primary Content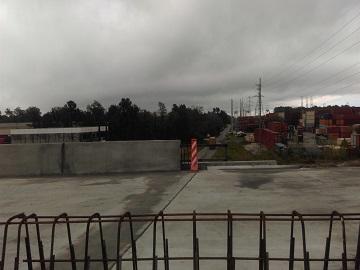 (This story also appears on Medium.)

As GPB takes a look at transportation throughout Georgia, we're not just interested in what moves you (that is, #WhatMovesYouGA); we're also looking at what moves Georgia's economy. And a big part of that, of course, is the state's ports.

Work is underway on the deepening of the Savannah River channel, and over the last year we've brought you stories about what that means in the water - from 10 miles offshore to the water's edge at the port. We also brought you a profile of one of the many truck drivers who haul the containers away once they reach the shore.

Now, it's time to look at the next step.

This week I got a sneak preview of what's coming in land transportation for the Port of Savannah's Garden City terminal. With the help of some skillful driving and a very game SUV, a group of Department of Transportation officials and I rode along the not-yet-complete extension of the Jimmy DeLoach Parkway to get a sense of what the trip will be like once the road is open.

We climbed temporary dirt access ramps to reach the new roadway, which sits high on built-up embankments to clear the wetlands and local roads below. It's a wide road cut through the woods, and once up there we could see it sweeping off toward I-95 in one direction and toward the distant ship-to-shore cranes at the port in the other. And that is the point: once the road opens, drivers will be able to travel straight from the highway to the port terminal, without needing to use local roads like Highway 21.

If you live in or commute through that area, you probably don't need further explanation; you've sat at red lights amid lines of semi-trucks on 21, so you know what diverting some of that traffic would do for the area.

But what does this three-mile stretch of road mean for the rest of the state? Well, it's more important than you might think - it could be key for the ports, which have a major impact on all of Georgia. I'll be piecing that puzzle together as part of GPB News Presents: What Moves You Georgia.

In the meantime, what questions or concerns do you have about shipping and trucking in the state of Georgia? What would you like us to explain? Share your thoughts on social media, using the hashtag #WhatMovesYouGA.
Secondary Content
Bottom Content