Section Branding
Header Content
Georgia is Ranked #1 for Business for the Third Time!
Primary Content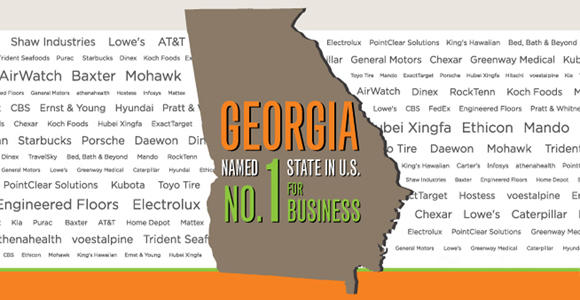 For the third time in LESS than a year, Georgia has been named the top state for business by Area Development Magazine in its 5th annual Top States for Doing Business! #YayForGeorgia
Area Development Staff Editor Dale Buss said, "Georgia's success has come from dead reckoning in areas that are crucial to business locators. That includes the state's welcoming and business-friendly government, to be sure. The state also enjoys a strong infrastructure, featuring Hartsfield International, one of the world's most efficient passenger airports; two deepwater ports; and one of the nation's most extensive surface-transportation networks. No wonder that Georgia has been able to announce a continuing string of business expansions and relocation over the last year."
Deal of course being proud of this news stated, "This is the third time in less than a year that objective judges have named Georgia the top state for businesses. Since taking office, I've made it my top priority to make Georgia the No. 1 place in the nation to do business and create jobs. We've accomplished that goal three times over, and will continue working to cultivate a business environment where companies can grow and succeed. These successful policies have allowed us to create nearly 300,000 private sector jobs; that translates directly in better lives and better communities for the people of Georgia. This recognition, alongside our previous national rankings, will build on our momentum and keep the jobs engine humming."
Not only was Georgia named #1 state to do business in less than a year, but we were also ranked first for our labor climate and 2nd for business environment, overall structure and global access. Geogia placed in the top 3 in 13 out of 18 categories. 
This is obviously good news for our economy and job develeopment and Chris Carr, Georgia Department of Economic Development Commissioner couldn't be happier "The fact that these site consultants ranked us No. 1 for cooperative state government and for our leading workforce development programs is a testament to the governor's leadership and the pro-business environment he has created here in Georgia. These new rankings spotlight our overall economic development package and solidify Georgia's role as a leader in the global marketplace."
Secondary Content
Bottom Content