Section Branding
Header Content
Georgia is named #1 in U.S. for Business!
Primary Content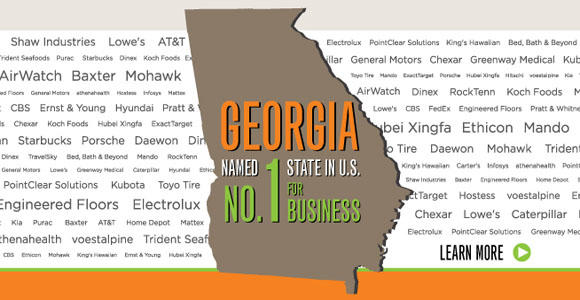 It was announced Tuesday, June 24, 2014, that CNBC, a world-leading news source, announced and named Georgia as the #1 place for business in the nation!
Deal stated, "Since taking office, I have worked every day to make Georgia the No. 1 place in the nation in which to do business. Last year, Site Selection magazine named Georgia No. 1 for business, and today CNBC followed suit. These rankings are a testament to the commitment from Georgia businesses, communities, our economic development partners and the people of Georgia. As more people see Georgia's successes, more businesses will consider expanding or relocating here. I am confident that our state's highly skilled workforce and seamlessly connected logistics infrastructure will enable these businesses to be successful and competitive. This is good news for Georgia, and my goal going forward is to maintain our status as a leader in the global marketplace." 
As Deal mentioned, this announcement follows Site Selection Magazine naming Georgia #1 for business last year. Senior correspondent and lead investigative reporter at CNBC Scott Cohn stated, "We've been crunching numbers for months, looking for a state whose business climate is solid as a rock. Georgia, the Peach State, the cream of the crop, with 1,659 out of 2,500 points, it's a big jump from Georgia's eighth place finish last year. Georgia's best category, its workforce, tops in the nation for the third year in a row. Georgia ties for first in infrastructure with America's busiest airport and one of its busiest ports."  
The rankings are based on proprietary survey methodology taken from a series of metrics from the National Association of Manufacturers and the Counceil on Competitiveness. States recieve points based on rankings in each metric, then, CNBC seperates the metrics into 10 categories: cost of doing business, economy, infrastructure and transportation, workforce, quality of life, technology and innovation, business friendliness, education, cost of living and access to capital.
Over the last 10 years, Georgia has tanked in the top 10 states in CNBC's business climate rankings, movine up two spots from #8 last year.
Secondary Content
Bottom Content