Section Branding
Header Content
National Robotics Week Gets Underway at Georgia Tech
Primary Content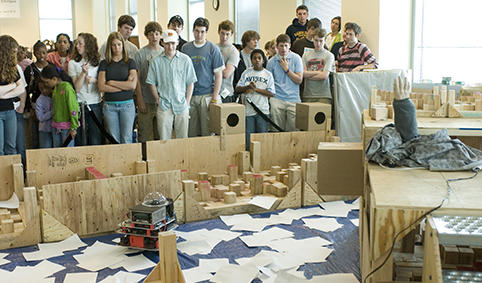 National Robotics Week starts Saturday, April 5th - 13th with a record 225 events focused on 'everything robots' throughout all 50 states.
Georgia Tech will welcome more than 400 middle school and high school students for their third annual Robotics Open House. Tech students and Ph.D. candidates will demonstrate more than 20 different projects around the campus to the students.
iRobot, founded and organized National Robotics Week. Colin Angle, Chairman and CEO of iRobot states, "This past year has been a very exciting one for robots. Important industry developments, along with the introduction of new products and technologies, are changing the way people live. iRobot is proud to play a leading role organizing National Robotics Week. It not only serves as a time to ackowledge accomplishments within the field, but a time when we can leverage the excitement that robots create to inspire students to pursue technology-related fields."
For more information about National Robotics Week, please click HERE.
Picture by robotics.gatech.edu
Secondary Content
Bottom Content