Section Branding
Header Content
LEADing to a Brighter Future
Primary Content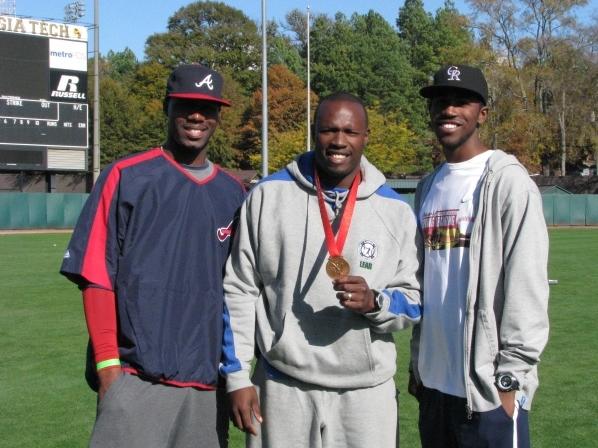 Many a former athlete has talked about "giving back"; CJ Stewart is delivering.
The former professional baseball player with the Chicago Cubs grew up in inner-city Atlanta. Like many of his friends, CJ faced the challenges associated with starting life in a public housing project. But he also had two gifts; disciplined determination and mentors willing to lead him.
CJ's rise from the Hollywood Court housing projects to the Chicago Cubs is a "feel-good" story of a winner. His work with boys facing the same challenges is where his real victory lies.
Following his professional baseball career, CJ and his wife Kelli started a non-profit program known as L.E.A.D. (Launch, Expose, Advise, Direct) for the purpose of creating life-changing opportunity for inner-city youth through baseball. L.E.A.D. offers boys in the Atlanta Public School system the chance to join a rigorous program designed to maximize academic and baseball success through mentorship relationships with constant accountability.
The success stories are inspiring.
African-American males in the Atlanta Public School system have about a 50/50 chance of obtaining a high school diploma. Participants in the L.E.A.D. program are all graduating high school. Every student who joins L.E.A.D. graduates high school. Yes, a 100% graduation rate. Ninety percent of these young men go on to attend college through a baseball scholarship.
L.E.A.D. participants receive the following in order for the organization to achieve its mission:
Year round academic & mentoring support (measured, monitored accountability)
Year round baseball training and competition (athletic excellence and discipline)
Year round community service (leadership development and civic responsibility)
Year round enrichment activities (exposure to colleges and careers)
The impact of changing lives, and a community, is not always seen overnight. Yet through the success of L.E.A.D. generations of Atlanta families will know a better life.
CJ & Kelli Stewart, the type of LEADers every city needs!
Secondary Content
Bottom Content