Section Branding
Header Content
Sweetwater Brewery
Primary Content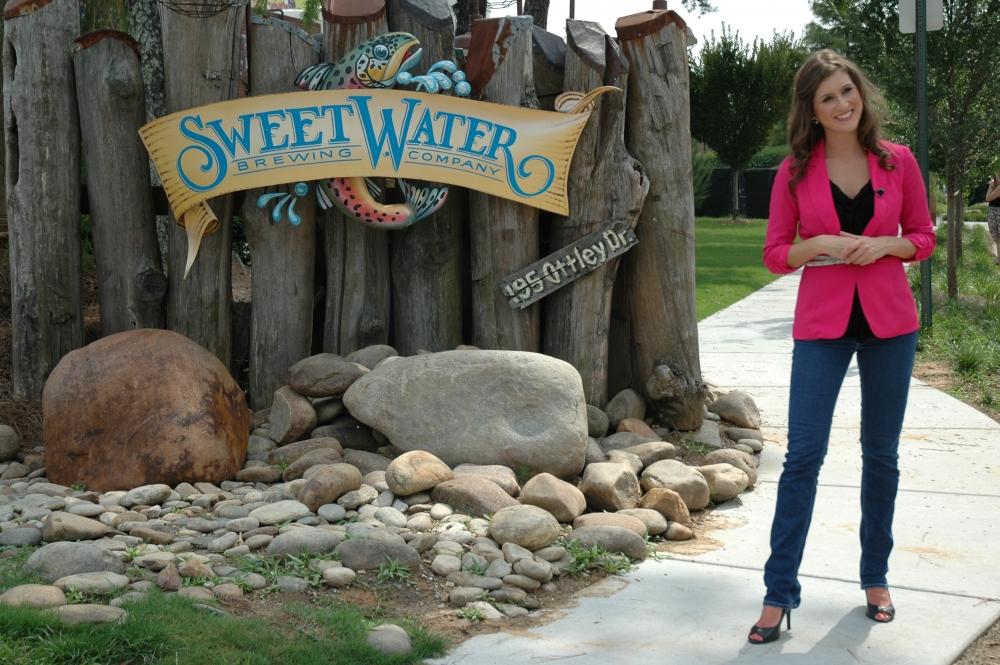 Like a fireworks shop that seems to spring forth from nowhere along a quiet stretch of roadside, so too does SweetWater Brewing Company stand out on a Friday. A humble empire, lying in wait, in the Armour Circle Industrial Park in Atlanta, Georgia. And that's just the exterior impression! Wait until you step inside: behind-the-scenes brew house tours on the half hour, a rock band at play, pets on the patio, hundreds of people pouring in to fill their keepsake glasses with 5.5 ounce tastes of the six staple SweetWater beers. Let's not forget the wildly popular seasonal variety "Motor Boat," currently available to wet your whistle.
Learning the sheer artistry behind this liquid gold was almost enough to provoke me to throw myself into a new career as beer connoisseur. But as I quickly learned, some people are better suited to the receiving side of the bar. Case in point: Founder Freddy Bensch offered me a shot at pouring beers for eager guests. I started strong with the greeting, "What can I get you?" The first pour? Not full enough. The second? Too foamy. After serving one unlucky patron not two, but THREE unforgivable beers, this polite young woman responded with, "Umm...thanks? It just takes practice." I defer to the professionals.
I went in a beer novice and emerged several hours later a beer convert at the hands of the SweetWater brew "SweetWater Blue," (hey, that rhymed!). Admittedly pro-wine, I felt my defenses weaken as I tasted this light yet flavorful selection. Now this is beer I can drink! But taste aside, the real draw is in the emphasis on gathering the community, which the brewery does during select hours every Wednedsay through Saturday. The laid-back, come-one, come-all atmosphere is a new favorite of mine, but has been a 15-year staple for die-hards since the company launched in Atlanta around the hype of the 1996 Olympic Games. How can you not love a place whose founder calls himself the "Big Kahuna?" But traditional business titles aren't all that SweetWater throws to the wind. This craft brewery keeps its momentum with the slogan "Don't float the mainstream," intending to stay its course as Georgia's lead provider of quality, aggressive West Coast ales, despite what is customary in the region. The natural result has been continued success, evidenced by the new fermentation tanks (each holds 1,000 beer barrels) installed via crane this afternoon while the Georgia Traveler crew was onsite. How cool to witness this momentous day in SweetWater history.
A playful spin on the notion that "if you build it, they will come," SweetWater shows us that "if you brew it, then open your doors...they will come in to drink it." I should add that they'll probably be back. I, for one, certainly will.
Secondary Content
Bottom Content