Section Branding
Header Content
Chef Hopkins Talks Atlanta Food & Wine Festival and Southern Cuisine
Primary Content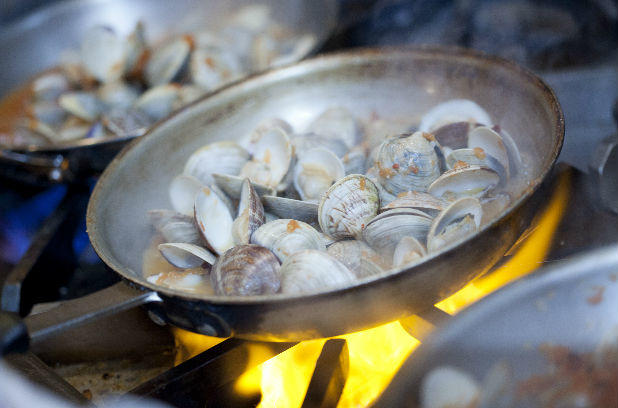 You'll be able to sample southern food in its many glorious iterations plus an array of wines this weekend at the Atlanta Food and Wine Festival. Executive Chef Linton Hopkins from Restaurant Eugene and Holeman Finch Public House, a founding member of the food fest, will be there lending his talents.
Hopkins is also one of the culinary artists featured in our Pick Cook Keep initiative that shares recipes and demonstrations featuring fruits and vegetables grown in the peachstate. (Try out his recipe for Georgia Watermelon and Feta Salad.)
Hopkins and I had a lively discussion on how families can enjoy the festival, how the definition of southern cuisine is evolving and how eating and buying locally is easier than you think.
On How He's Involved in the Atlanta Food & Wine Festival
FAMILY: How are you involved in the Atlanta Food & Wine Festival this year?
HOPKINS: I'm one of their founders - on the founders' council -that first early group three or four years ago that shaped what we wanted to say about Atlanta and how it relates to the south and how it relates to the country - what is an Atlanta Food Festival. I was brought in to be a part of shaping that because I care deeply about my hometown. I care deeply about our culinary pathways.
It was great to be asked to be a part of that because I felt we needed an internationally run but locally/regionally centered food festival because we didn't currently have one. In a lot of ways I consider Atlanta the capitol of the south in terms of what we do. At times what we don't have is this identifiable sense of what is Atlanta cuisine or what is the Atlanta food experience. I just love this idea of a festival that puts a spotlight on that because again I'm still proud of it.
So how I'm involved this year - I'm doing a panel with the James Beard Foundation on food and food values. I'm part of their big About South evening where I'm paired with chefs like John Besh - we're doing seafood courses at the Atlanta History Museum Friday night.
Then Sunday I'm doing our radio show Feed Radio - we're going to do a live taping of our show on how chefs build relationships (with each other) around the region and how we influence each other and how food festivals are part of that relationship building.
ON ACTIVITIES FOR FAMILIES
FAMILY: What kind of activities can you recommend for families at the Atlanta Food & Wine Festival?
HOPKINS: I think the joy or pleasure of this festival is that you would find a lot of different ways to gather and people can go on their little journeys separately and they would gather again; (Note that the function is for people 21 years old and older. ) The tasting tents will be a good part of that - just trying the different tastes. I think going into the tasting tents would be the most diverse way to see this festival. But then (check out) some of the classes.
ON THE DEFINITION OF SOUTHERN CUISINE
FAMILY: What would you consider Southern Cuisine?
HOPKINS: For some reason we've painted this picture of Southern food as really as this antebellum food; it's this plantation based fried chicken and grits; it's the poverty food of Appalachia. It's a lot more than that. When I think of southern food as a whole I think of all of the culture that made up the south; I see Africa; I see Native American Creek Indians; I see Gullah culture on the coast; I see Europe you know with colonists, England and I see Spain - with our pigs. I see the Mediterranean.
I see this constant changing thing even with what's happening with Buford Highway now, including Asia and Hispanic culture. It's pretty exciting this idea of a living breathing historical reference to food.
FAMILY: That's interesting since most people think southern food is just fried chicken.
HOPKINS: Yeah but it's more than that. Southern food is the ghetto burger at Ann's Snack Shop - and its the Varsity . The south you have multiple generations of regional influences so saying Southern food is a lot like saying Italian food. It's got its own voice of food- so does Charleston and coastal Georgia and Atlanta.
Atlanta is fairly new but it's adding a voice of what the modern south is which I think is part of it's great history. It's the Civil Rights era. I don't know if you saw President Obama's speech at Morehouse and the power of what Morehouse was (and is) for education - and Atlanta has a leadership role in that new vision of the American south.
I look forward to taking part in that vision and the discussion of how Atlanta creates this new south which can be historically referenced - where we don't hide the past, but we celebrate the common things that bring us together. There is no better way to bring all types of people together than over a plate of food. Food is usually an equalizer and peacemaker. And it creates a lot of division whether it's high food or low food; for me as a white southerner there's a lot of bad stuff that went on here. A lot of divisions we still have just on racial lines. It's important that we find ways especially in Atlanta to bridge and create this vision that Dr. King had.
I want to be a part of that dream. Food is a great way to join us together. We had a bad past. My ancestors in the south weren't great at all but we can share our love of greens and we can share a love of fried catfish - that's good stuff. Let's just share good meals together. I'm in a business which historically in the south was an African American business in a lot of ways. There weren't really restaurants there were cooks. So I'm proud to say that that's a noble thing. For me to cook hush puppies is memories of being a boy, growing up in Atlanta but we would go to the beach in South Carolina and I learned from an African American women how to make hush puppies in the kitchen because that's where I spent my time. Of course they just tasted good. I think Atlanta has a responsibility to be a leader in that.
ON HOW PICK, COOK, KEEP HIGHLIGHTS GEORGIA GROWN FOOD
FAMILY: Talk to us about the dish you prepared for Pick, Cook, Keep and how it highlights Georgia's homegrown produce?:
I love working with the (Agriculture) Commissioner on this idea of let's have good food from Georgia for Georgians. Know your state. Know that the butterbeans and the greens and the corns and the tomatoes and the watermelons, the eggplant - they are just all so good here. And that salad that I chose, I just look at it as salad on a plate. Georgia peaches are amazing. The bacon we make in house, it comes Georgia pigs. The Vidalia onions are so well known - things need to be more well known than just Vidalia Onions. There are times of the year where 100% of our produce comes from the state.
FAMILY: Wow I didn't know that!
HOPKINS: What's so great about you saying "wow" is that it is a wow thing but it shouldn't be so rare. And how do we find ways to have Georgians say "I buy Georgia first?" If you get Eggland's Best Eggs at the grocery store - I didn't know this until the (Agriculture) commissioner told me that those are Georgia eggs. So I make sure to find those eggs.
ON HOW TO FIND PRODUCE GROWN IN GEORGIA
FAMILY: Can you give us advice then on how to find Georgia grown products and good farmer's markets?
HOPKINS: You bring up a critical point in this which is access and that we actually have local food deserts. People don't have access to great food. Luckily there are organizations that you can go to to find solutions. So organizations like Georgia Organics and the Department of Agriculture - the commissioner is spending a lot of time with his team giving this message out - cause he found that social media and the web are not being utilized enough to give access to the information and really one of the primary jobs beyond consumer protection for the department is letting people know where the good food is.
That's why this Georgia Grown Chef program got started - really to be ambassadors for Georgia grown foods. So that's helping. Georgia Organics is a great resource after the department of agriculture. And one site I love - it's not a locally based site but it's called localharvest.org. Go on the site and sign up and you can get direct relationships with farms. They've been a really good resource.
The Department of Agriculture for the big stuff all over the state - and Georgia Organics is good for the local sustainable food movement markets around the state. And then there's localharvest.org. And there is one other organization which is called wholesomewavgeorgia.org which is really important to us which is a way of creating fiscal access to local organic foods because that can be a criticism that it's be expensive.
And how can we provide access to those on SNAP and WIC benefits and where can they get value? So this program doubles the value of your purchasing power at local fresh markets. So if you look up wholesomewavegeorgia.org, they'll provide you access. There are about 14 different markets around the state that accept EBT cards to provide this kind of access. Again it's got to be good food for all. It can't just be local Georgia food for fine dining restaurants.
Secondary Content
Bottom Content