Section Branding
Header Content
Celebrating Julia Child's 100th Birthday
Primary Content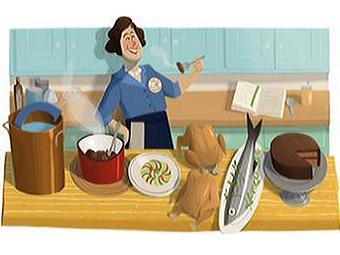 "…no one is born a great cook, one learns by doing."
Julia Child
Today marks the 100th anniversary of Julia Child's birth. It is incredible to think of her enormous contribution to the world of cooking. While her husband was on assignment in France, Julia occupied her time by indulging her passion and attended Le Cordon Bleu culinary school. There she met and eventually co-authored Mastering the Art of French Cuisine with Louisette Bertholle and Simone Beck.
As a pioneer of the American cooking show, Julia got her start on Public Television in Boston and taught generations how to fearlessly approach meals with gusto, passion, and technique. I remember watching Julia Child on GPTV as a child at my Grandma's house while my parents worked. We got very limited television time and all we got on bunny ears was GPTV and channel 11 out of Savannah. Still, I loved watching Julia Child and vividly remember watching her roast and entire chicken and whack pieces of meat with her enormous wooden rolling pin.
Her passion left a mark on me and many others. Perhaps taking my love of food a little too far, I enrolled in LeCordon Bleu culinary school about 8 years ago. (Unlike Julia, I was at the Atlanta campus, not the Paris one.) The institution has graduated surfeit, extraordinary cooks, some of whom you've heard, such as Wolfgang Puck and Julia Child. Oh, to be as great a cook as Julia Child! To be fair, I don't have the same passion, or particular interest in French-style cuisine. I also didn't complete the degree at culinary school, but it did positively impact my life.
While I have maintained my love of experimenting with and sharing food, I love people even more than food. As a very obvious extrovert, my very favorite activity is making food and sitting with friends to enjoy it. We are in the very fortunate position of living in the same neighborhood as our best friends from college whom we've known for 14 years now. It's safe to say that one of their top 5 favorite activities is what we have coined "Family Dinner." Typically, everyone cooks something, new or old favorite, and we share it while the kids totally destroy whatever designated play area they're in. The food is a great excuse to share our time and stories. I mean, we have to eat, right?
How many times did we see Julia dine with Jacques Pepin and other great friends? She was on to something. Practicing cooking skills and techniques will cultivate a great cook and delicious food, which is always best when shared.
Thank you, Mrs. Child, for your great passion which has inspired generations and will, no doubt, continue to do so.
Have you seen the video of Julia Child singing? PBS created a great compilation of some of her classic quips and set them to music with Julia's own voice.
For recipes, fan favorites, pinboards, and much more, check out PBS's homage to Julia Child.
Secondary Content
Bottom Content