Section Branding
Header Content
VIDEO: That Time Mrs. Hughes Popped Up At Dragon Con
Primary Content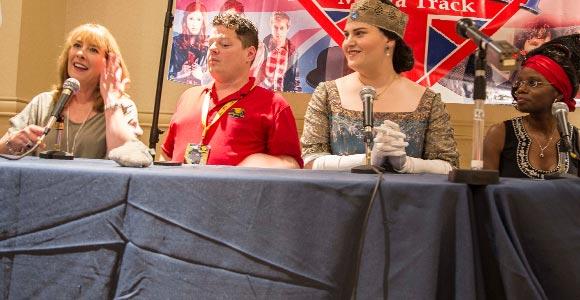 Phyllis Logan joins the assembly of stars attending Sea Island resort's annual Downton Abbey themed weekend, taking place on February 4-6 2016. She will be joined by Liz Trubridge (Executive Producer), Alastair Bruce (Show Historian), Anna Robbins (Costume Designer), Michael Fox (Andy) and returning guests Kevin Doyle (Mr. Molesley), Raquel Cassidy (Miss Baxter) and official Downton Abbey book author Jessica Fellowes.
Fellow Desperate for Downton blogger Rosemary Jean-Louis and I will be in attendance covering it, so follow our posts social media Twitter, Facebook and Instagram to experience it with us. And return to this blog next week to get a wrap up in photos and video.
This won't be our first time rubbing elbows with Logan. Rosemary and I remember that time we met the lovely Mrs. Hughes at Dragon Con in 2014 during the Downton Abbey panel.
(We have video to prove it! Scroll down to watch the full panel video).
She was a surprise guest, as she was accompanying her husband, actor Kevin McNally, to the convention (he was an invited guest to the event). However, once word had gotten out that she was there, a little Dragon Con magic allowed her to attend and speak on the Downton Abbey panel, currently held annually by the convention's BritTrack.




Phyllis Logan, surprised guests and herself at Dragon Con in 2014 by popping up to speak at a Downton Abbey panel.

She was greeted by the entire room standing as she entered, and seemed very surprised and flattered that so many fans were eager to listen to her every word. With her husband in the audience, she happily accepted questions from panelists and attendees.
She discussed the process of physically becoming Mrs. Hughes, which actors she loves working with, whom she'd love to play if she were an upstairs character and more.
Watch the entire video below.
Were in the audience in 2014 when Phyllis Logan showed up at the Downton Abbey panel? If so, tell us what you thought.
Secondary Content
Bottom Content