Section Branding
Header Content
Cast Talk Final Days As Downton Abbey Season 6 Premiere Date Set
Primary Content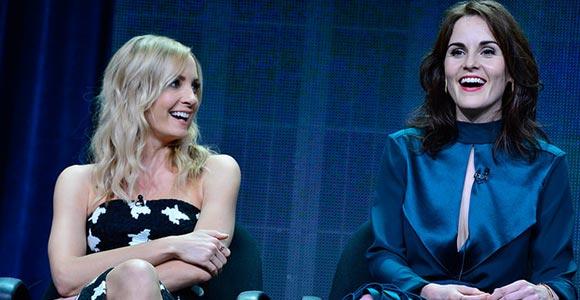 Get your handkerchiefs, tea and biscuits ready. Downton Abbey season 6, the show's last hurrah, is set to premiere January 3, 2016 in the U.S.
The cast has only two weeks left of filming to go. They recently wrapped shooting at Highclere Castle (see Michelle Dockery and company's last day at Highclere photos).
The actors and executive producer Gareth Naeme interrupted their schedule to jetset to Los Angeles to make a final appearance at the Television Critics Association Summer Press Tour. Here are some highlights from their media conference.
What Happens On Season 6?
As usual, they were tightlipped about juicy plot points but here is what they shared and what critics saw in a trailer made just for their eyes:
- The new season takes place in 1925.
- A refrigerator comes to Downton and Mrs. Patmore is not pleased.
- Mr. Carson and Mrs. Hughes may get married.
- Carson has to cut staff - bye, bye underbutler!
- Tom Branson visits from the U.S.
- Lady Edith tussles with the editor of the newspaper she owns.
- As many cast members as possible will appear in the final episode.
We can also expect an epic catfight between Edith and Mary, actress Joanne Froggett let slip to TV Guide.
"There's a great argument between the sisters, Lady Edith and Lady Mary," Joanne Froggatt (Anna) tells TV Guide. "They've sort of mellowed a bit over the years, but this is a reminder of how things were. I can't say what it's about, but it's great. Everyone's going to be, [Gasps] 'I can't believe she actually said that!'"
We hope that means Lady Edith finally slays Lady Mary!
What The Last Days Of Filming At Highclere Castle Was Like
Castmates shared their stories about what filming at the fictional home of Downton Abbey for the last time was like.
"We finished (shooting) at Highclere Castle a couple weeks ago," Hugh Bonneville told the critics. "That was quite an interesting day and full of memories and emotions. In fact, we celebrated when we finished in the dining room, because that's always been the longest scenes, in the dining room. So we had a team photo in there. And we said goodbye to the village of Brampton that's been incredibly kind to us over the past six years where we filmed the village itself, the church."
The Crawley sisters, actresses Michelle Dockery and Laura Carmichael admitted that they meandered through the halls and finally sat down on "Matthew's bench" and cried.
"We didn't want to leave," said Dockery. "Laura and I wandered around for the last time and suddenly we didn't want to go home. It was really funny."
"It was very strange saying goodbye to the castle," said Carmichael. "It wasn't our home anymore. And, of course, it was never our home. It was the Highclere Castle. But it felt like it for over six years."
"And as soon as they said 'cut' on that day, you realized it was just pretend. But it you know, it's full of so many fond memories, and it was very emotional."
What Souvenir From The Set Would They Like To Take Home?
Joanne Froggatt (Anna): "The only souvenir I want to take home is Lady Mary, really -- and Mr. Bates."
Laura Carmichael (Lady Edith): "I want to take home the set of the newspaper office."
Hugh Bonneville (Lord Robert): "I want to take home one of the mustard pots from the dining room."
About Those Downton Abbey Movie Rumors
Fellowes and Naeme were noncommital about the prospect of a Downton Abbey movie. But they both didn't rule it out.
"There's speculation about whether we'll ever make a Downton movie, we might, but there are no firm plans. But it means there's a lot of rich [remaining] territory," Julian Fellowes has told ew.com.
How Naeme Wants Fans To Say Goodbye To Downton
Naeme said the best way for says to bid adieu to the show is by watching season 6 and considering it the best season yet.
"And then I want you to take a month off, and then go right back to Season 1 and watch the whole thing again now that you have a sense of the whole story," Naeme said. "And I want you to love it for the rest of your life. And I want you to dip in and out of it every few years and remember it."
Good advice Gareth! How do you plan to bid goodbye to Downton? Throwing a big party or weeping in a closet? Tell us in the comments below.
Secondary Content
Bottom Content