Section Branding
Header Content
Watch This Downton Abbey Star Wars Parody By Evil Butler Thomas
Primary Content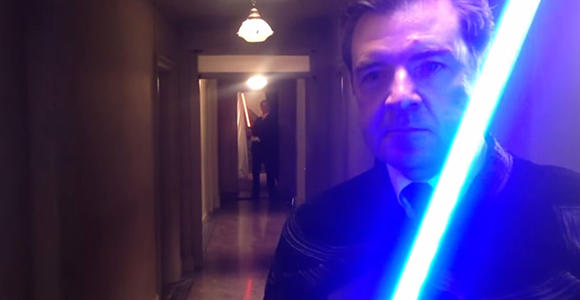 Rob James-Collier hopes your love of "Star Wars", "Downton Abbey" or both will entice you to help him raise money to run the London Marathon in order to benefit the Chilterns MS Centre.
Collier known as conniving under-butler Thomas Barrow shot and stars in the spoof "Downton Wars: Episode 1 – the Phantom Valet." It also features his co-stars: Brendon Coyle, Joanne Froggatt and Jim Carter.
In the video, filmed on Collier's iPhone, a caped Mr. Bates skulks around downstairs. He tells Anna about sensing a disturbance in the force. He then faces Evil Butler Barrow in the hallway for a lightsaber duel. But they are interrupted by Mr. Carson who needs them upstairs.
Scroll down to watch the video.
The video ends on that cliffhanger. There is a sequel - "Downton Wars: Episode 2 – The Evil Butler Strikes Back" - but to see it you have to head over to Collier's website, www.evilbutler.com and make a donation.
The "Downton" wants to raise £10,000. Once he reaches that goal, he'll release the second installment to the public.
What do you think of the parody? But more importantly, who would win in a lightsaber duel: Mr. Barrow or Mr. Bates? Tell me your answers in the comments section below.
Secondary Content
Bottom Content