Section Branding
Header Content
Downton Abbey: An Almost End Of Season 5 Review
Primary Content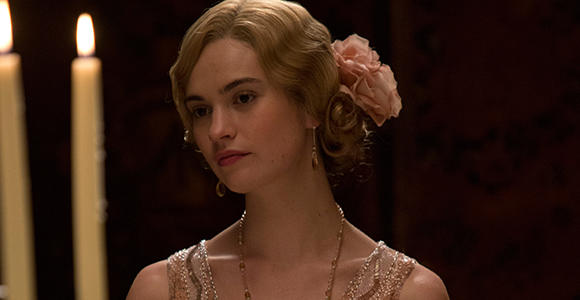 It's difficult to admit it, but eventually "Downton Abbey" will end. Beyond having a consistent thrill each winter every Sunday night (as for me, it's spent with champagne or tea, dessert, and GPB's Desperate for Downton chat room members!) for the latest installment of the Crawleys, it feels that through marriages, deaths, and the Great War, our favorite Yorkshire family and staff are finding resolutions and making decisions that will ultimately shape their lives.
It leaves me partly relieved for conflict resolution (an answer to the disappearance of Michael Gregson? Finally!) and wistful, as it feels there are fewer stories to be explored. You want these characters you've grown fond of to find happiness in every way, but "Downton Abbey" isn't written by Jane Austen and there's no guarantee of a happily ever after.
With two episodes left of Season 5, change is still a constant element to both upstairs and downstairs. Emotions and circumstances seem to be the most volatile. In seven episodes, Mary has taken and dismissed Tony Gillingham as a lover and a potential husband, Cora has warded off the affections of the persistent Simon Bricker and Robert's discovery of said affections, Violet's romantic past has caught up with her in the form of a Russian prince and Isobel has found and accepted a new love and engagement with Lord Merton.
But beyond Robert and Cora's decision to move on from Mr. Bricker, these romantic entanglements are nothing like the runaway romance of Sybil and Tom in season 2 or the beautiful wedding between Mary and Matthew in season 3. As of the end of episode 7, Mary has chosen to accept neither Tony nor Charles, Violet keeps her emotions at a distance (and we'd be shocked if she didn't!) and Isobel no longer is confident in her decision to marry Lord Merton after meeting his prejudiced sons.
I'm torn between cheering for Mary and heartbroken for Isobel. One of my favorite aspects of this season so far has been the possibility of a new love for the older generation of Downton. Perhaps this is a message from Julian Fellowes: take advantage of romantic possibilities when you are young, for as you age, the emotional baggage you accumulate makes it difficult to start again.
Yet there is a new love that has quickly flourished on screen: Rose and Atticus Aldridge. By episode 7, it's clear they're engaged and plan to marry. I've been rooting for Rose this season, as watching her grow from a 1920s party girl to an active member of Downton's community has been a welcome change in her character. The addition of the Sinderby family's Jewish heritage adds another element to the show, one I hope will carry over into the end of season 5 and into season 6. We the viewers know Hitler's hatred did not end with the Beer Hall Putsch that claimed Michael Gregson's life, but the Crawley's do not.
Speaking of Gregson, season 5 has finally brought a conclusion to his disappearance and another challenge for Edith. Out of anyone in the upstairs cast, she's the one with the consistent string of bad luck, and most of season 5 was no different. After trying to leave her daughter Marigold with the Drewe family, she could no longer handle being distant from her daughter after learning of Gregson's death.
After leaving Downton and taking Marigold to London, Rosamund and Violet had no other choice but to involve Cora in the search, with her discovery that she has not two but three grandchildren. Edith has inherited Michael Gregson's publishing company and has worked out a scheme to keep her daughter at Downton. But with Robert, Mary, and everyone else in the dark about Marigold's true parentage, it's debatable if the plan will be a successful one. Edith's confidence in her place at Downton has plummeted and she actively looks for change.
She's not alone. Tom Branson, perhaps the only character to move between the downstairs and upstairs households, finds himself in a similar predicament in wondering if Downton is really his home, and for how long. A friendship with schoolteacher Sarah Bunting not only reminded him of his passion for politics, but of the love he feels for the Crawleys. They've become his family too, and making the decision to leave for the possibility of a new, fulfilling life with his daughter is a difficult one. More than any member of the Crawley family, he knows change is inevitable, but the negotiation of a new career while what's best for Sybbie has been his essential question this season. With two episodes left, he seems to be coming closer to a decision about his future.
Decisions regarding the future are prevalent downstairs as well. Many of the staff wonder how long their positions at Downton will be available to them, and leaving service seems a real possibility. Jimmy's departure early on in season 5 leaves Thomas without anyone to confide in, and when he wasn't bullying Baxter or acting spiteful towards everyone, he was desperately trying to alter his sexual orientation with unsafe drugs. This story arrives at Downton at an interesting time for viewers, as the popular film "The Imitation Game" (starring Sherlock's Benedict Cumberbatch and Downton Abbey's own Allen Leech) features Alan Turing, a brilliant scientist charged with homosexuality and sentenced to the same fate. Turing's outcome with the drug treatment as grim, and as many viewers find it difficult to sympathize with Thomas, we hope Baxter's discovery of the treatment and encouragement to see Dr. Clarkson keeps Thomas from the same end.
With two episodes left in this season, there are a few unanswered questions, but overall it feels as if the series is coming to a conclusion. And perhaps it's the uncertainty of a happily ever after that keeps us watching and wondering: as the story moves to the mid to late 1920s, how will "Downton Abbey" move with it?
Secondary Content
Bottom Content