Section Branding
Header Content
Downton Abbey Cast and Creators Talk Season 4 Assault, Famous Fans in Webcast
Primary Content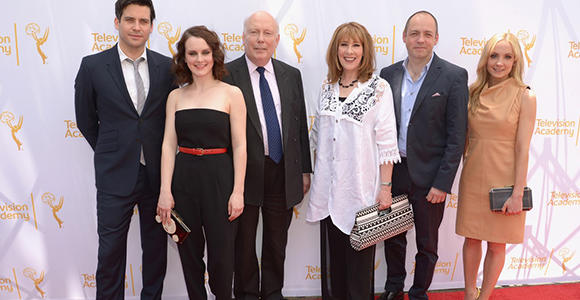 Anna's rape storyline in season 4 was possibly inspired by an assault that happened to one of Julian Fellowes' relatives. That is one of the revelations that came out of a webcast panel discussion with Fellowes, Downton creator/producer Gareth Naeme and four cast members over the weekend. The television academy sponsored the event.
While they were tight lipped about season 5 plots, Robert James Collier, Phyllis Logan, Sophie McShera and Joanne Froggart chimed in about last season's sexual assault storyline, the benefits of being part of the Downton family and famous fans.
Here are some excerpts from their conversation. Watch the full webcast by scrolling below:
Rape Storyline Inspired by Fellowes' Family History.
In pointing out how early 20th century women were scandalized and blamed for sexual assaults, Fellowes revealed that sexual violence had occurred in his own family history.
"In my own family, my grandfather's cousin was Oscar Wilde's wife: Constance Wilde - Constance Lloyd as she was born," said Fellowes. "She and my great grandmother grew up together."
"The moment the "scandal' happened, they dropped her. None of it was her fault. (But) it was over."
Joanne Froggart, like many of the fans, wanted Anna to tell Bates what happened immediately. Show historian Alistair Bruce had to explain why she couldn't.
"(Anna) would have felt like she couldn't tell him," said Froggart. "All a girl of Anna's social standing has is her reputation. She'd bring disrepute to the house. Quite possibly lose her husband."
Benefits of Being Part of the Downton Family
Robert James Collier put it bluntly that being part of the Downton "family" means he can get a mortgage easily now.
"I had no love from my bank manager before the show started," he quipped. "Then when I came back in, he was all over me. You want one house or two houses?"
Encounters with Famous Fans
Joanne Froggart mentioned she met actor Ewan McGregor and his wife at a party. Both were unwittingly starstruck with each other. She said she spotted him and tried not to stare. But McGregor finally approached her and admitting he and his wife were gawking at her as they are fans of the show.
They ended up hanging out with each other.
Julian Fellowes was tickled that Julia Roberts is a fan and showed him in a very affectionate way.
"Well I enjoyed being embraced by Julia Roberts, who was very keen on the show and kissed me," he beamed. "I felt that was the high point of my adult years!
Secondary Content
Bottom Content