Section Branding
Header Content
First Photos of Downton Abbey Season 5 Are Out
Primary Content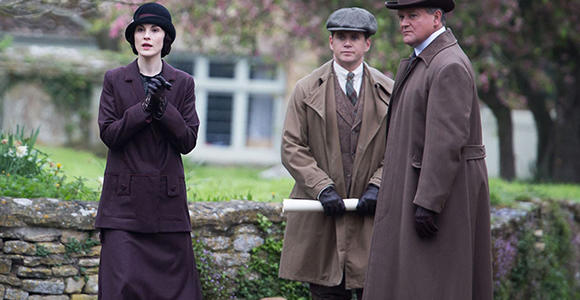 Some of the first photos of Downton Abbey season 5 are out thanks to WENN and The Mirror.
Look at the photos here closely and maybe you can garner a nugget about what will happen next year.
Many of the photos show Lady Mary which may indicate that her storyline remains front and center. Suitors Lord Tony Gillingham and Sir Charles Blake are no where to be found. But that doesn't necessarily mean that she has dumped them both or chosen anyone of them either.
Branson also appears in these which seem to take place in a graveyard. His pushy potential paramour Miss Bunting is not pictured. But he and tattletale Thomas Barrow are shown strolling through the cemetery. Does that mean they have patched things up since Thomas squealed on Branson for bringing Bunting into the house?
We'll find out next year as Downton Abbey season 5 premieres in the U.S. January 2015. While season four ended on a happy note, many loose ends were left untied: was Lady Edith successful in getting her baby back and concealing the infant with a Downton farm family? Will Baxter get together with Moseley and finally reveal what Thomas has over her?
And how about Mrs. Hughes and Mr. Carson - finally holding hands on the beach. But will that open the door to romance.
What do you think will happen next?
Secondary Content
Bottom Content