Section Branding
Header Content
Live Chat the Downton Abbey Season 4 Finale With Us
Primary Content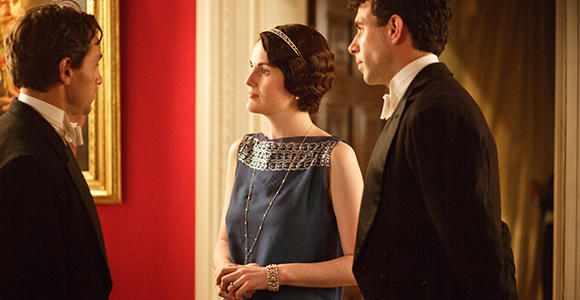 This is probably the most important live chat of Downton Abbey season 4 to take part in - the finale. Considering all of the plot twists, turns and conflicts, you will definitely need to talk to someone else while watching to process it all. (I know what I'd like to start the conversation off with: the picture I posted of Lady Mary chatting with Lord Gillingham AND Sir Charles Blake. What are they saying? Can we say awkward?!)
The season ends with a big two hour finish that starts at 9 p.m. As usual, our live chat begins at 8:45 p.m. Just scroll down to the chat box, type in your name and put in your comment. Remember to watch the show on your own televisions as we don't stream it live here. But I will post the episode the day after on this blog.
Also if you tweet, use the hashtag #downtonpbs.
Let's make this a big Downton watch party. If you're hosting a party and serving dishes and wearing regalia, send me the photos. Here are pictures that our chatroom regulars sent of their season premiere parties.
So many storylines, so little time. Below is a recap from Julian Fellowes and company. Also check out this post with a preview clip. (Darn no clues about who killed Mr. Green! Is Lady Mary marrying Lord Gillingham or Sir Charles Blake? Some fans are really #Team Charles Blake right now. We'll have to watch to find out.)
Secondary Content
Bottom Content