Section Branding
Header Content
Clooney and Damon Watch Downton. What About You?
Primary Content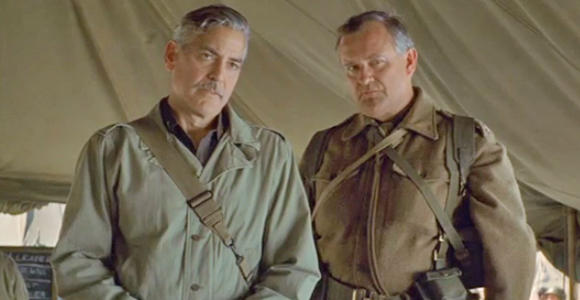 George Clooney and Matt Damon will be watching "Downton Abbey" season 4 episode 7 with us. I must admit, that line is a bit of a stretch. Technically speaking they won't be part of our Sunday live chat at 8:45 p.m that takes place during the television broadcast of the show. (You can be too by scrolling down to the chat box.)
But Clooney and Damon watch the series and are fans.
"We all love that show." said Clooney speaking on the red carpet for the U.K. premiere of his new movie "The Monuments Men." (No word on whether Clooney's love for Downton inspired him to hire Hugh Bonneville. Bonneville stars in the movie too. )
But Clooney doesn't foresee himself starring in any future Downton episodes either as he can't do an accent.
"I am too lowly for a part, I don't think they want me." said Clooney. "I can't do the accent either. It's all very "Dick Van Dyke.'" (He was referring to Van Dyke's cockney accent in the movie "Mary Poppins."
Damon meanwhile says he and his wife fight about watching episodes.
Watch the video clip.
"We were supposed to watch it together and I came to bed one night and she said, 'I've just watched six of them - I'll tell you what happened!' Damon said on the British chatfest "The Graham Norton Show."
Damon also says he could appear on the MASTERPIECE hit if Bonneville put in a good word for him.
Who would be a better Downton cast member? Clooney or Damon? Let me know in the comments and join us on Sunday at 8:45 p.m. to continue to conversations.

Secondary Content
Bottom Content