Section Branding
Header Content
Downton Star Gary Carr on Being Jack Ross and Maggie Smith's Grip
Primary Content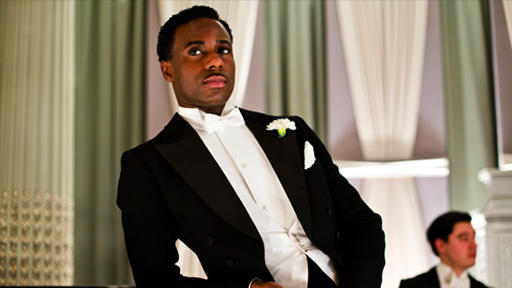 In a close to one hour live chat yesterday, Downton Abbey hunk Gary Carr answered questions, including mine. Carr was gracious and funny. He talked about adopting an American accent to play Jack Ross, Downton's first black character, Maggie's Smith's super handshake and which cast members he'd likely hang out with.
Here are excerpts from the live chat.
How he found out about the part and got it::
Carr says he wasn't able to audition in person as he was away. He sent in a tape instead. A week later, he was invited to come to Ealing Studios (where Downton is filmed) and sing. He was told he got the part the next day!
What kind of research did he do on the period, social history and the jazz scene?
"I looked at all different areas regarding the period. The political climate, social etc. And of course, the music of the time also. I studied the lives of jazz singers who would tour Europe and researched what their lives were like. What I learned was, life was a big ride for them. They'd seen the dark side of humanity and experienced touring the world playing jazz; it was a truly carefree way of living. A great escapism if you like."
Did he base Jack Ross on Leslie "Hutch" Hutchinson - the African American jazz singer who took the U.K. by storm in the 1920s as London papers insinuated?
"I already knew of Hutchinson's story. But Jack isn't based on him. I think papers were looking for a link because it's true there are similarities but I chose a number of singers of the time to research and gain inspiration from. Hutchinson is very cool though!"
How did he develop Jack's accent and singing style? Is it the same as his?
"I'm from London, UK and Jack is from Chicago, USA. The composer Simon Whiteside was very passionate about Jack having a specific tone to his voice. Very similar to the jazz singers you'll find in the the smaller European clubs. A lot of twang rather than bass. My singing voice is completely different to Jack's. I have more of a baritone and soul tone with bass whereas Jack is very tenor and more twang."
Has playing Jack Carr given him any perspective on how far we have (or haven't) come in race relations in both the UK and USA?
"That's something I always think about just with everyday events and situations. But yes, I think by having a character like Jack introduced into a show like Downton, it definitely shows an open mindedness on the creators part. I think its great!"
Has he interacted with Dame Maggie Smith at all and if so what was she like?
"I only filmed with her for one day. I can tell you she's a lovely person and has a very strong handshake! My God!"
Does he get recognized more?
"Yes, a lot of people look now. But I always take my spectacles and flat cap so it's easier to be more discreet that way. When I take it off people go 'Oh, its you!' Ha! The reactions are very funny. It's cool!"
If he could play another character on the show, who would it be?
"Oh! Um.. Tom maybe. Very complex guy! And its fun to play bad sometimes."
How does it feel to suddenly be considered one of Downton's 'Eye Candy'?
"HAHA! Um.. yeah, it feels… cool! HAHA! I don't know how to answer that. LOL. It's awesome. It's always nice when people say nice things or are complimentary.
Has he made any lasting friendships with (other members of the cast)?
"I've been flying from set to set to stage to set so I haven't hung out with anyone from the cast. We all swapped numbers. Julian's (Ovenden) helping me with some music. Lily and I plan to meet when we're both free."
What's next for you? Future projects and things we might be able to see you in?
"Sure. I'm doing a play right now but in London. Then two feature films after that. In between I hope to continue on my music and I'm launching my charity foundation this year also - The Beautiful World Foundation."
Secondary Content
Bottom Content