Section Branding
Header Content
My Downton Abbey Weekend With Allen Leech And Jessica Fellowes Part 2
Primary Content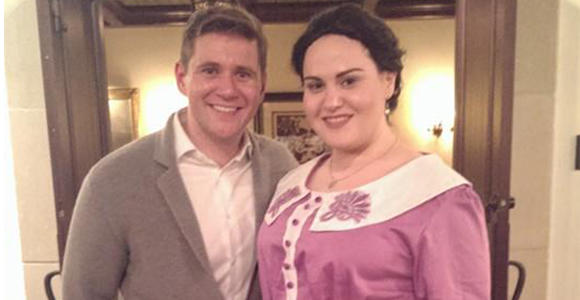 Can you believe that Allen Leech was only supposed to be on two episodes of Downton Abbey? I can't believe it either! But these are some of the insider tidbits that GPB member and faithful Downton Abbey live chat participant Rachel Buchman learned when she attended the Downton themed weekend with Leech and Jessica Fellowes at the Georgia Sea Island resort.
In Part 2 of this miniseries, the 27 year old personal trainer shares her account of what transpired that weekend. (Read about GPB member Meimi Hartman's experience in Part 1 of this series.)
Buchman went with her mom thanks to her father who gave her the trip as a Christmas gift.
Desperate for Downton: Share some of the highlights of your weekend.
Buchman: My mother and I drove to Sea Island from Atlanta on Friday morning. It was around a 4 1/2 hour drive, but when we arrived we were quickly shown to a beautiful room overlooking the river and had complimentary refreshments in our room. After exploring the resort a little, we got ready for Friday night's activity, Downton Abbey trivia.
I opted to don my first costume, one of Sybil's purple day dresses from series 1.
We were seated at round tables, and our dinner companions became our trivia team. As we had an all female team, we were the Downton Dames. There were eight questions and five rounds, with a quizmaster. In between rounds, Jessica Fellowes and Allen Leech shared behind the scenes stories from the set!
In the end, we won second place at trivia. We each won giftcards to Sea Island Resort and Downton Abbey tote bags! The first place winners won a giftcard and Downton Abbey ornaments.
Desperate for Downton: What show details did Allen and Jessica reveal to you that we didn't know about?
Buchman: Maggie Smith didn't trust Allen to drive the car at all in series one. So whenever he would drive her to the front of Highclere Castle, she'd remind him where to stop even though he was well aware of the mark.
Shirley MacClaine, Dan Stevens and Other Thoughts
Apparently everyone on set was in awe of Shirley MacClaine when she filmed Series 3 Episode 1, so when she arrived on set, the rest of the cast tried to spot her in wardrobe and make-up. As it turned out, no one actually saw her until she drove up to Downton, so their surprise when she gets out of the car is genuine. After they finished the scene, she greeted Maggie Smith personally.

Allen Leech sent Dan Stevens a text message after he'd seen the 2012 Christmas special letting Dan know he was a Christmas Grinch for ending the episode with Matthew dead.

Laura Carmichael is a horrible driver, but she had to learn on an antique car. Allen Leech did his best to teach her, but he asserted that even now, she's still terrible at driving.

Allen Leech had a habit of sticking his hands in his pockets during takes, to the point where the series advisor, Alastair Bruce, instructed the costume department to sew up all the pockets on his trousers because he was tired of reminding Allen about the pockets. So in scenes where it seems he's brushing at his pockets, that's why.

Once on a dinner scene for "Downstairs" (Shot at Ealing Studios), it was decided lobster would be served to the Downton staff. To keep it fresh for 12+ hours of filming, the production department had to freeze it. Otherwise, they try to avoid using fish in upstairs and downstairs dinner scenes, because of the smell and, early on, the actors' tendencies to eat it (and then have to keep eating it in the same amount for every single take).

Allen Leech just finished filming a movie called "The Imitation Game" with Keira Knightley and Benedict Cumberbatch.
Desperate for Downton What did you learn about Allen Leech that you didn't know before? Any other show details we didn't know about?
Buchman: (Here are) full details from the Saturday Q&A:
Secrets About Tom's Character
Tom was originally supposed to be from Yorkshire but after the first day of filming, it was decided Tom would be Irish (and he worried he would've had to fake a Yorkshire accent!). The first scene Allen filmed was looking at Sybil though the window while in her harem pants.




Allen was only hired for two episodes at the start, episodes 4 and 6. He was hired again for episode 7, and then kept on for series 2. The rest, as we know, is history!




When asked as to what he shares with or has in common with Tom, Allen insisted that they shared going after unattainable women. Allen is not as political as Tom is, and otherwise they don't really have much in common.




Allen's favorite scene to shoot was Sybil's death scene.

According to Allen, the difference between shooting scenes downstairs versus upstairs was that downstairs felt like a day at school with Jim Carter as the headmaster. Carson always kept the cast in line!

Allen thought he was going to be off the show once Sybil died. He was happily surprised.




And related to the above, Allen had a 1,000 pound bet with Jessica Brown Findlay that he wouldn't be back for series 4. While he lost, he won't pay her, insisting that now she's a big Hollywood actress and she can pay him!




Allen likes to read the scripts aloud in Julian Fellowes' voice. He does a pretty good impression!
What You Didn't Know About Allen
Allen used to be shy and quiet as a child, preferring to play sports. His first try at acting was when he played the lion in wizard of oz, and acting allowed him to express himself. His father said, "As long as you got a degree you can do what you want", so while at university he studied all other aspects in film besides acting.




Allen's best friend on the set of Downton Abbey is Rob James Collier, and thinks Tom and Thomas should have an American spin-off show. As a prank, they once sewed the trouser legs of everyone's trousers closed! They tend to prank Ed Speelers (Jimmy) quite a bit.

Allen's most surreal moment was when a fan sent him half of a purple bra. He said he received the left cup, but assumed the fan wanted to be thrifty and sent the right cup to someone else.

Allen is surprised by how much people invest into the characters of Downton Abbey, especially Tom and Sybil.

When asked who Allen is rooting for (on) series 4, he replied that he really wanted Moseley to succeed, and that Kevin Doyle is brilliant at playing him.

Allen doesn't think Mary and Tom would ever get together, believing that Mary would never be interested in him that way.

And while I'm not sure what's in it (still!), Allen said he was drinking a Tom Branson cocktail. This wasn't made available to the attendees, just Allen Leech. I'm jealous!
Behind the Scenes Tidbits
A lot of the cast all watched some of the first series together, particularly the finale. Everyone boo'ed O'Brien and the soap, including Siobhan Finneran.

Downton has almost all of the original crew from series one still, including the same prop masters, sets, costume designers, and cameramen. It's very much a family among both the cast and crew.

When asked which actors need to act to become their characters and who doesn't, it was revealed that Michelle is not much like Mary at all. She's very casual and friendly to everyone, as opposed to Ice Queen Mary. Maggie Smith is most similar to her character, very witty and quick but a warmer personality than Violet. Julian Fellowes loves writing Maggie's lines.

During series 2, all of the male actors hastily flipped through their scripts when they received them, hoping their characters wouldn't be killed off in WWI.

Thomas was originally supposed to die at the end of series 1, but Julian Fellowes invited Rob James Collier back for series 2.

Everyone cried at the read-through for Sybil's death.

After WWI, it was very difficult to find costumes to use, as there are less films and television sets in the period.

Maggie Smith tends to giggle during scenes, causing scenes to be reshot.

Irish viewers of Downton Abbey enjoy having an Irish connection on the show in the form of Tom Branson. They didn't seem to be as enraged when Tom abandoned Sybil in series 3.

Series 4 had more people in England watching the show than any of the previous series. It's the most popular foreign show in Spain.

During the beginning of a series, the cast is given scripts through the fifth episode. After episode five, they're in the dark until shooting has commenced for earlier episodes.

It takes seven months to film a series of Downton. It is shot in two episode blocks, at Highclere and Ealing Studios. Scenes in Ripon are last to be filmed.

Parts of scenes are filmed first at Highclere and then at Ealing. A good example is the scene in series 2, episode 3, when Tom tries to disrupt the dinner at Downton by embarrassing General Strutt with the "soup" mixture of cowpie/oil/ink. The Highclere/upstairs scenes were filmed 1.5 months earlier than at Ealing, causing Jim Carter to ask Allen Leech which hand he had grabbed him with to drag him downstairs. Of course, they messed it up when they continued the scene at Ealing studios.

Most of the bedrooms and dressing rooms have been recreated at Ealing studios.
- Series 5 is happening and they're about to start filming!
Desperate for Downton: What was it like to watch "Downton Abbey" with everyone, Allen and Jessica?
Buchman: We all watched Episode 3 together (though I missed watching it with all of you at GPB!). There were lots of oohs and ahhs, and boos at Mr. Green, the valet. Everyone seemed to have sympathy for Anna and Tom. I looked over at Allen Leech during some of the Edna scenes, and he definitely caught me! Edna received quite a few boos as well, and everyone cheered when Mrs. Hughes put her in her place.
After the viewing, there was a professional photographer on hand to take pictures with Allen and Jessica for anyone who wanted it, so there was quite a line! Several ladies dressed as flappers in front of me commented they were Edna-inspired if it meant getting close to Allen, and naturally I had to disapprove.
Finally, there was a fantastic after-party! While I was sipping on a lovely rose champagne, some of the people who worked at Sea Island wanted pictures with me and of me. It was a little odd, but since I'm used to going to fan conventions it felt like just another day in costume. They kept insisting I had the best costume of the night!
One of the organizers of the event even pulled me aside to take several more pictures with Allen Leech, so I wonder where those pictures will end up.
Allen Leech jumped onstage to join the live band! It turns out that he sings and plays guitar, so he joined them in playing and singing Van Morisson's Brown Eyed Girl. I wish I'd recorded the performance, but I have lots of pictures!
Desperate for Downton: What was the Georgia Sea Island Resort like and why was it chosen to host the event.
Buchman: Jessica Fellowes, when asked about how she liked the Sea Island resort, had this to say: "If Downton Abbey was located in the USA, then Sea Island would be the perfect setting." After exploring the resort and some of the shopping areas nearby, I began to see why.
Sea Island is located in southern Georgia, close to St. Simon's Island. As for the resort itself, there is only one entrance and exit (which made it ideal for the G8 summit back in 2004!). It's comprised of three main hotels:The Cloister (where all the Downton events were held) and spa/fitness center, The Lodge, and The Beach Club, the latter of which is ideal if you want to stay on the beach (or have friends or family who plan on spending most of their time at the beach). The Beach Club also had a small ice cream parlor, cafe, gift shop, and a movie theater on site, as well as several heated swimming pools and bar areas.
Desperate for Downton: Did you get a chance to interact personally with Allen and/or Jessica and if so what was that interaction like?
Bachman: The (exclusive) dinner (Saturday) had a maximum of sixty guests, sat at six tables of ten. How the dinner worked was that Allen and Jessica would sit at a different table for each course, which was ideal as there were six courses to be had. The exclusive dinner was 21+ only, due to alcohol pairings with each course.
Allen sat at my table for the Amuse course. He was across the table from me, so unfortunately I didn't get to talk to him much directly ( several older ladies were taking most of his attention!). But he did talk about his family a little (his brother is a pro golfer), and some of his favorite places in Dublin. He loves Trinity College. He did mention his favorite pub in Dublin, but I unfortunately forgot to write it down! He did mention this pub was where James Joyce could go and have a quiet drink with other Irish writers, so perhaps someone more familiar with Dublin can fill me in.
I managed to ask Allen about the instagram picture where Laura Carmichael is sitting on him, and explained that in an earlier post on tumblr. His answer was that he'd filmed that scene still a bit drunk from the night before, and Laura Carmichael thought it would be amusing to sit on him while he sat down on the sound mats in-between takes. Apparently Michelle Dockery joined in.
Jessica sat at our table for the entree course, and I honestly don't remember a lot of that. I apologize. She was lovely to chat with, though! What I do remember was asking the difference between American and British fans of Downton, and she insisted American fans are much louder and friendlier, more than happy to come up to you on the street and talk about Downton.
Allen Leech and Jessica Fellowes also mingled quite a bit during the cocktail hour. According to the organizer of the event (we sat next to her at Saturday's dinner) there were to be around 160 guests and nearly everyone made an attempt at period costume! I chatted with Jessica Fellowes and posed for a picture with her, and she was in awe of my costume. She was surprised how accurate it was in construction. I also managed to ask Allen Leech for a picture as well, and he was more than happy to accommodate. He thought my outfit was "brilliant"!
View Rachel's Slideshow of the Weekend:
Secondary Content
Bottom Content