Section Branding
Header Content
My Downton Abbey Weekend with Allen Leech and Jessica Fellowes Part 1
Primary Content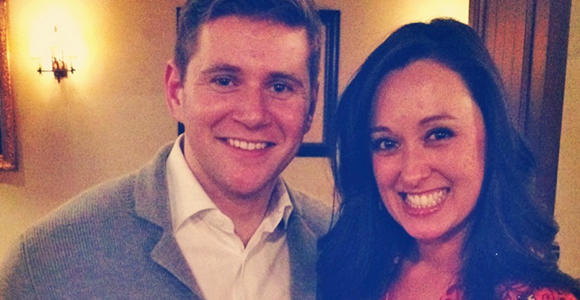 This is part one of a two part series on the Downton Abbey themed weekend at the Georgia Sea Island Resort. Members who attended are sharing how it went.
Downton Abbey fangirl and GPB member Meimi Hartman was one of the lucky many who spent the weekend at the Georgia Sea Island Resort in the company of Downton Abbey star Allen Leech and Jessica Fellowes, bestselling author of "The World of Downton Abbey" and "The Chronicles of Downton Abbey."
Hartman, a copywriter from Atlanta, sent over some pictures and graciously gave me a play by play of what happened that weekend. View pictures from the event.
Desperate for Downton: Give us a play by play of your entire weekend. What happened on day one, day two and day three?
We arrived at The Cloister at Sea Island on Friday and it was almost like arriving at Downton Abbey itself! Everyone at Sea Island really goes above and beyond to make your stay special. The impressive multi-story Mediterranean grand lobby is reminiscent of the interiors of Downton, with the grand fireplace and décor and everything.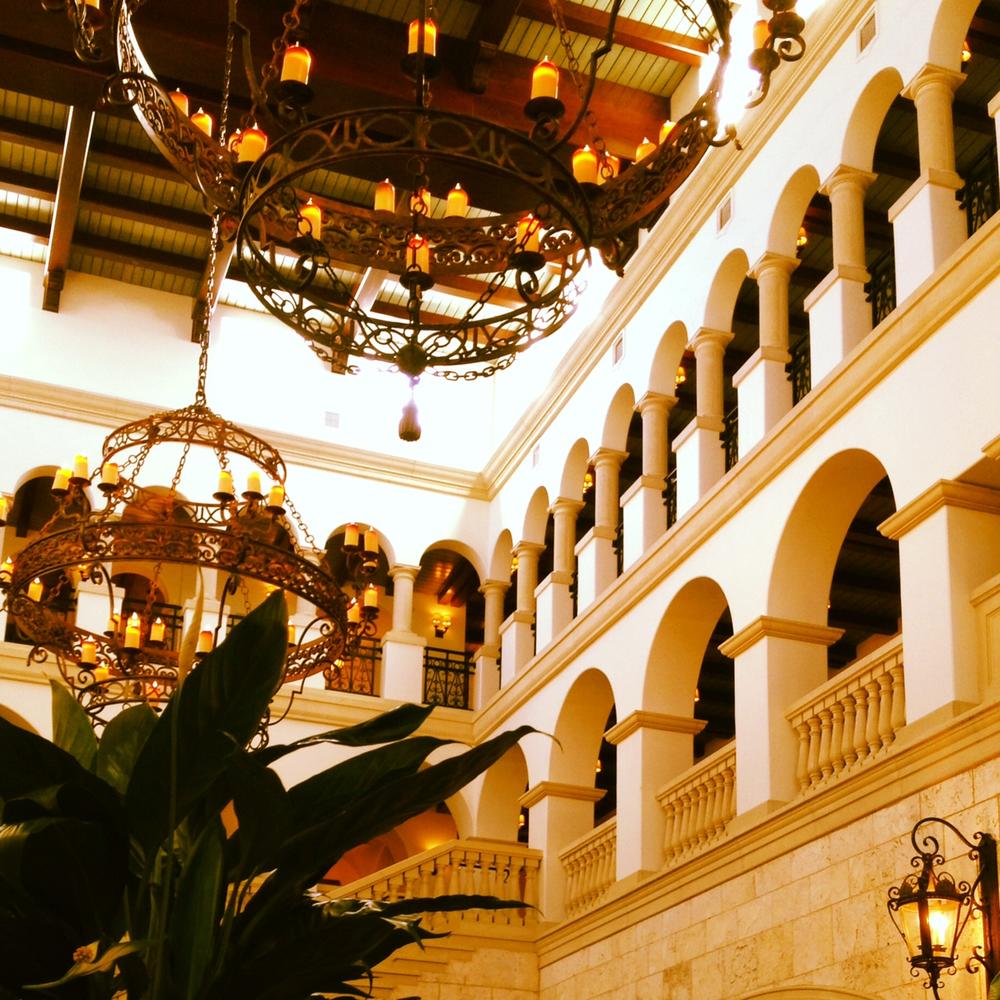 The first night was a quiz night. We arrived right before it started and ended sitting right up front near Allen and Jessica. Each table had to come up with a team name and we ended up naming ourselves "O'Brien's Bangs!" Some of the team names were quite humorous and cheeky. The quiz had four or five rounds with eight questions asked in rapid-fire succession. Our teammates had some pretty impressive knowledge of the show and we ended up coming in third place.
I knew a lot of the answers because I re–read Jessica's first Downton book, "The World of Downton Abbey" on the drive down from Atlanta to Sea Island. I received the book a long time ago as part of a GPB donor gift so to actually ask her to sign it in person years later was a treat! Between rounds, Allen and Jessica discussed the show and they were available for signings and photos afterwards.
Evening two was a Q&A and then the smaller "up close and personal" dinner with Allen and Jessica. Jessica asked Allen questions during the Q&A and the audience also submitted questions. It was really informative and fun to hear their stories from the set. The dinner was a six course meal with six tables of guests so they rotated and sat at a different table for each course so you really got to speak personally with them. More about that later, but suffice to say, they were both incredibly congenial. I only wish we had more time to talk!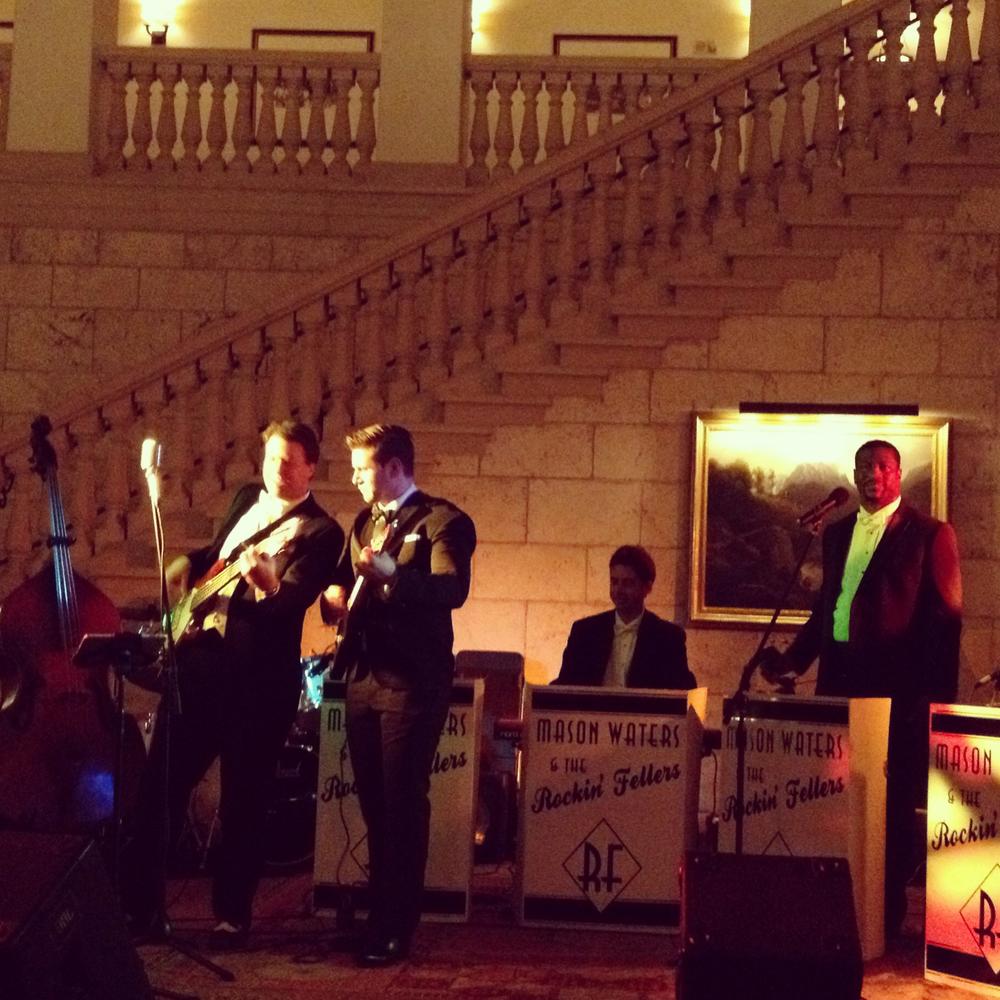 The final night was the costume party, screening, dinner and after party. It was so much fun to see everyone dressed to the nines and having a good time… Like a refined, grown up prom! A band played after the screening and, at the end of the night, they asked Allen to join them on stage and play "Brown Eyed Girl" by (fellow Irishman) Van Morrison and he obliged! Again, I can't stress enough how charming he was! He truly seemed to be having fun the entire weekend and enjoying southern hospitality at its finest.
Desperate for Downton: What were Allen Leech and Jessica Fellowes like in person?
Allen and Jessica's gracious personalities and friendliness are what made the weekend for me. They were delightfully accessible, affable and personable. They were incredibly good at engaging and connecting with everyone and taking the time for pictures and speaking to fans, even though it must've been exhausting to have to be "on" for all that time. My husband watches and enjoys the show, but does not consider himself quite the dedicated fan like me, and by the end of the weekend I think he had a man-crush on Allen! He was like, "I think we could be friends!" Haha! I guess I thought so, too! And if I may reveal my inner fangirl for a moment, I will say Allen smelled nice and had great smile!
Desperate for Downton: What moments stood out for you? Did they crack any jokes or reveal Downton Abbey details we don't know about?
Allen was cracking jokes the entire time! He did hilarious impressions of the cast, like Maggie Smith, and creator Julian Fellowes. He said the cast plays quite a bit of jokes and pranks on one another…. It seemed like everyone has a lot of fun making the show, although the shooting schedule sounds grueling.
They said shooting dinner scenes could take more than 12 hours and the downstairs is located on a soundstage miles away from Highclere Castle. So, for example, the actors could be walking up from the kitchen in one shot and then have to walk into a room upstairs but it's actually shot weeks later. Whoever is in charge of continuity on the show does an amazing job! They were also very excited when Shirley MacLaine joined the show and said she and Maggie Smith shared some wonderful stories about "Old Hollywood." They also have an on-set advisor that makes sure everything is historically accurate, right down to the smallest detail. For example, Allen said he kept putting his hands in his pockets, which would have been inappropriate for the era, so they sewed his pockets closed!
Desperate for Downton: Did you get a chance to interact personally with Allen and/or Jessica and if so what was that interaction like?
Multiple times! Allen and Jessica ended up sitting next to us at the "up close" dinner so I spoke the longest with them then. They really were so friendly and down to earth and I enjoyed talking to them about their lives outside the show. I discovered Jessica and I both have a child around the same age and that Allen enjoys American football! (He has an open invitation to join us for a Georgia game this fall… Haha!)
The Screen Actor's Guild Awards were also taking place that same night and Downton was nominated, so I asked him how they decide who gets to go to glamorous Hollywood events during awards season. He says it depends on who's available and not working on projects at that time, and they try to let people go who maybe haven't been before. They were really just so gracious and maybe it was because we were all close in age, but it felt like having dinner with a new friend. I could listen to their English and Irish accents forever!
Desperate for Downton: What did you wear to the parties? What did other people wear to the parties?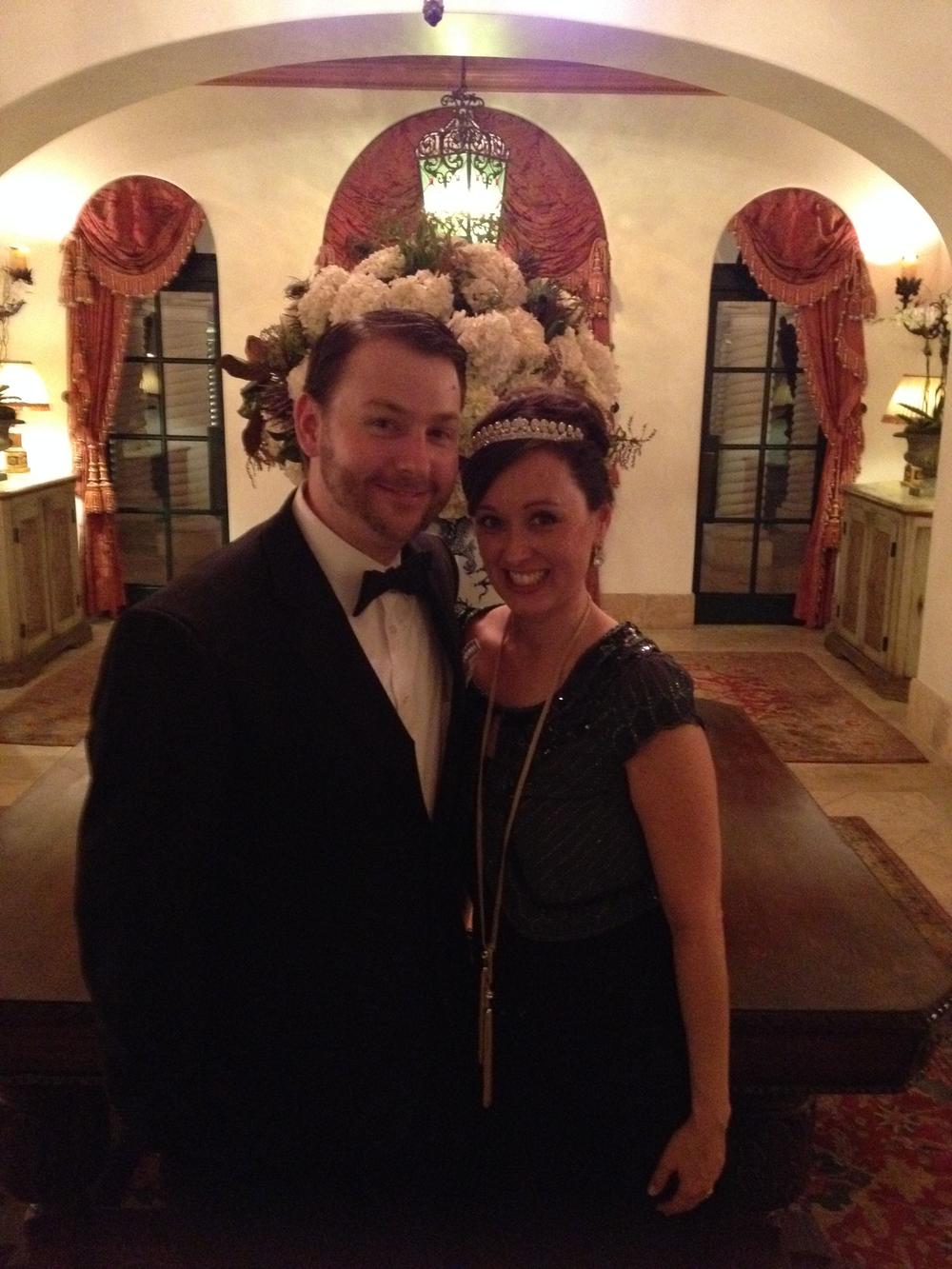 For the costume dinner, my husband and I dressed "upstairs" although he wore black tie, which we discovered was considered "casual" for the Downton era! I wore a costume I put together from things I owned, added some various vintage pieces and topped it off with a tiara I purchased in London when I visited in 2012 for the Queen's Diamond Jubilee. (Unapologetic Anglophile here). It's from Selfridge's and it's a replica of the Cartier Halo Scroll tiara the Duchess of Cambridge wore for the royal wedding (Except. You know. Not made of real diamonds.) Like my Downton Abbey book, it was one of those things I was so pleased to finally get to put to use! I mean, how many times do you get a chance to wear a tiara?!
Everyone's costumes were really impeccable! My favorites were a man dressed as Mrs. Patmore, carrying around a stuffed "Isis" dog, and a woman in a very detailed replica of Sybil's harem pants outfit from Season One. You could tell everyone put a lot of thought into their costumes and was having a blast!
Desperate for Downton: What food did they serve?
The food was incredible, as was the service. I can't say enough how wonderful Sea Island was – I want to visit again before next year! The quiz night featured two buffet style set ups with American pub food on one side and English pub food on the other. The "up close" dinner was by far the nicest – six courses with wine pairings. The final night was a three course meal with wine pairings. A number of meals featured courses with English flourishes as a nod to the show, which I thought was nice.
Desperate for Downton: How did people react to Episode 3 when they watched it together? How did Allen and Jessica react? Did they give secrets to filming that episode that we did not know about?
It was really fun to watch the episode with them, as well as watch it with a big group. Everyone booed Edna and cheered when she got her comeuppance from Mrs. Hughes! It was kind of surreal to be watching Tom – I mean Allen – on screen and then look over and he's right there sitting ten feet away from you.
Desperate for Downton: Is there anything you'd like to add that I forgot to ask?
The organizers said they were definitely going to try do it again next year and were going to try to get more cast members to attend! I would certainly go back – it was an outstanding weekend, from start to finish!
Secondary Content
Bottom Content