Section Branding
Header Content
Burning Questions from Mr. Selfridge Episode 3
Primary Content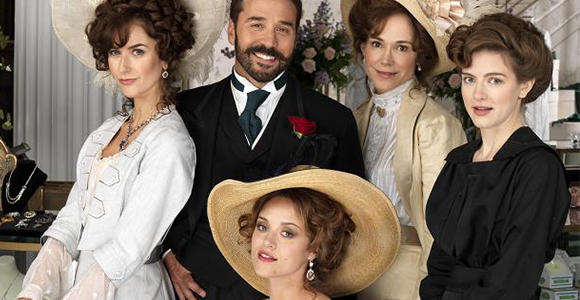 I'm watching Mr. Selfridge to help me get over my Downton Abbey withdrawal. I presume some of my friends from my Downton Abbey Google Plus Community are doing the same thing. One of the members Michelle McCormick posed these burning questions about Episode 3 in a blog post: "Mr Selfridge Owes Me Ten Minutes."
Here is what she'd like to know - note these musings may contain spoilers!
1. Why is it that Mr. Selfridge and his entire management staff are able to figure out that Miss Bunting is stuffing tiny bits of silk and lace up her petticoats, but a HUGE unmarked blue truck showing up twice a day escapes everyone's notice?
2. In a city the size of London, don't you think it's a little improbable that Tony would just happen to be in the same building where Roddy took Rose to meet his artist friends?
3. Did anyone else think Roddy's female friends looked like hookers?
4. What is (up) with Harry's mom's accent? Sometimes it sounds Irish, sometimes American, sometimes like she's about to have a stroke.
5. Do we hate Miss Ravelellius? Can't decide.
You can read the rest of her questions on her blog: Michelle's Musings.
You can catch Mr. Selfridge several ways. We air it Sundays at 9 p.m. and re-air the Sunday episode on Thursdays. You can also watch the episode online a day after it airs. I've reposted Episode 3 here for your convenience so you can generate your own burning questions from watching and feel free to answer Michelle's questions here.
Watch Mr. Selfridge, Episode 3 on PBS. See more from Masterpiece.
Secondary Content
Bottom Content