Section Branding
Header Content
Downton versus Mr. Selfridge
Primary Content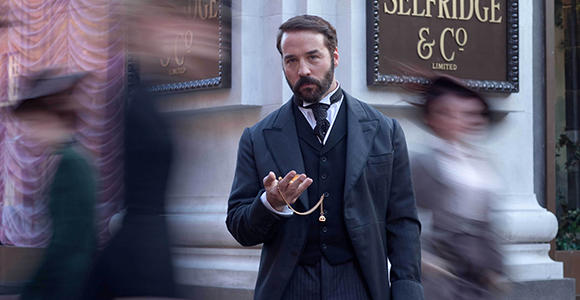 If Downton Abbey were set in a sprawling London department store at the turn of the century would it be the new masterpiece drama Mr. Selfridge? You'll have to watch the series which premieres Sunday, March 31 at 9 p.m. on GPB to decide. Mr. Selfridge stars Jeremy Piven of the HBO series Entourage as the over the top department store owner of the same name credited with introducing the American version of shopping to the Brits.
Both series - Downton and Mr. Selfridge - explore similar themes: upperclass versus working class; tradition versus modernity; American values versus British customs. But they handle them in different ways - partly because of their locations and characters. Downton is the quaint country kid while Selfridge is the racy city cousin. Here is a brief comparison.
Robert Crawley, Earl of Grantham vs. Mr. Harry Gordon Selfridge: Both men are masters of their domains but possess different management styles. While the Earl of Grantham lords it over the estate through his trusted hired hands, Mr. Selfridge is extremely hands on with his affairs. He deals with every detail from hiring the famous British actress Ellen Love to be the face of Selfridge department store to convincing aviator Louis Bleriot to display his history making monoplane in the story personally.
Lord Robert is a fairly faithful husband who slips once. Selfridge is a flamboyant albeit likable philanderer who is oddly dedicated to his wife.
Cora Crawley vs. Rose Selfridge: Both women come from big money and saved their husband's prospects with their fortunes. Cora's money comes from her family's dry goods business. Rose inherited her family's real estate millions but had more of a role in building that wealth; before marrying Selfridge she was a successful property developer in her own right.
Downton Servants vs. Selfridge's Store Staff: In Mr. Selfridge we get a glimpse of the store staff's world. But it's a different work culture than Downton's. Downton staff must make themselves invisible when they serve the lords, ladies and their guests. Selfridge's employees are encouraged to flirt and fraternize with the customers by any means necessary. (One member of the wait staff is prodded to accept the invitation of an older lady customer to "serve" her privately at her house.)
Mrs. Hughes and Mr. Carson carry unrevealed torches for each other and would never ever think twice about putting their feelings out in the open. Selfridge managers Mr. Roger Grove and Miss Josie Mardle scurry about having an extramarital affair. When the senior sales assistant Agnes Trowler stumbles upon them, Grove offers Trowler a job for her brother to keep her quiet.
So do you plan to check out Mr. Selfridge? Let me know if you do and what you think of it after you watch it. Plus join us on Monday April 1st at 1 p.m. eastern time for a live chat with Jeremey Piven, Mr. Selfridge himself on the Desperate for Downton blog!
Here's a preview clip:
Watch Mr. Selfridge: A Scene from Episode 1 on PBS. See more from Masterpiece.
Secondary Content
Bottom Content