Section Branding
Header Content
Evil Maid O'Brien out of Downton Abbey
Primary Content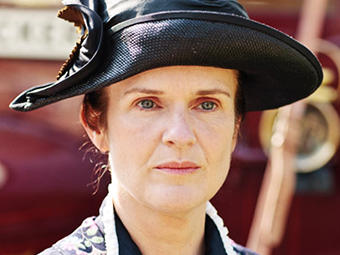 Thomas and the rest of the downstairs crew won't have O'Brien to kick around anymore. Siobhan Finneran who plays the evil maid Sarah O'Brien isn't returning for season 4 of Downton.
"O'Brien is a thoroughly despicable human being — that was great to play." Finneran told the the UK Huff Post. "I'm not doing anymore." Finneran like most of the cast signed a standard three season contract.
How will the show handle her departure? Sources say offscreen. When season four returns, there will be a time lapse of six months. An explanation for O'Brien's leaving will likely be mentioned in dialogue.
By contrast, when Jessica Brown Findlay (Sybil) and Dan Stevens (Matthew) decided not to renew their contracts, their characters were killed off. But they were playing family members creator Julian Fellowes explained to the New York Times. They were irreplaceable. When servants bid Downton adieu, they are written out as getting another job.
You can relive the last of O'Brien's catty moments this Sunday, March 3 starting at 5 p.m. during our Downton marathon. Bye, bye O'Brien.
Secondary Content
Bottom Content