Section Branding
Header Content
Downton Abbey Season Finale Watch Party
Primary Content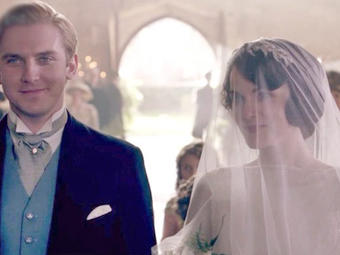 I can't believe Downton Abbey Season 3 is coming to an end this weekend! It's just too soon! You can watch the final episode with us online with our watch party crew on February 17 at 9 p.m. right here. Just scroll down to the chat box.
It seems like the season started just yesterday with Bates still in jail, Mary and Matthew planning their wedding and a new footman being considered. What a season number three has been, so many dramatic turns! Matthew and Mary did walk down the aisle finally while poor Edith got jilted at the altar when it was her turn. Two cute new footman were hired - Alfred and Jimmy - putting the maids at odds with each other for their affections. Plus it ignited a simmering feud between O'Brien and Thomas. And Cora's brash American mother, Martha Levinson paid a visit, saving a major Downton dinner by inventing the buffet.
Mrs. Hughes averted a cancer scare, while Sybil and Branson scared everyone by taking part in an insurrection. Then poor Sybil passed away after giving birth. Spirits were lifted a little in episode 6 when Matthew and Branson joined forces to save the estate. Bates gained freedom then helped Thomas keep his job and avert the anti-gay police. Plus there was that uplifting cricket match.
I can't wait to find out how things wrap up, though I'm very sad that it has to come to an end.
What were your favorite moments this season? Help us reminisce by jotting it down in the comments section. And I look forward to watching the season finale on Sunday with you.
Secondary Content
Bottom Content