Section Branding
Header Content
Ga. nursing home advocate: industry in 'death spiral' from lack of health care providers, low pay
Primary Content
LISTEN: A proposed federal rule would require nursing homes to have a minimum number of staff, including a registered nurse on site 24 hours a day. But as GPB's Ellen Eldridge reports, that's a challenge here in Georgia.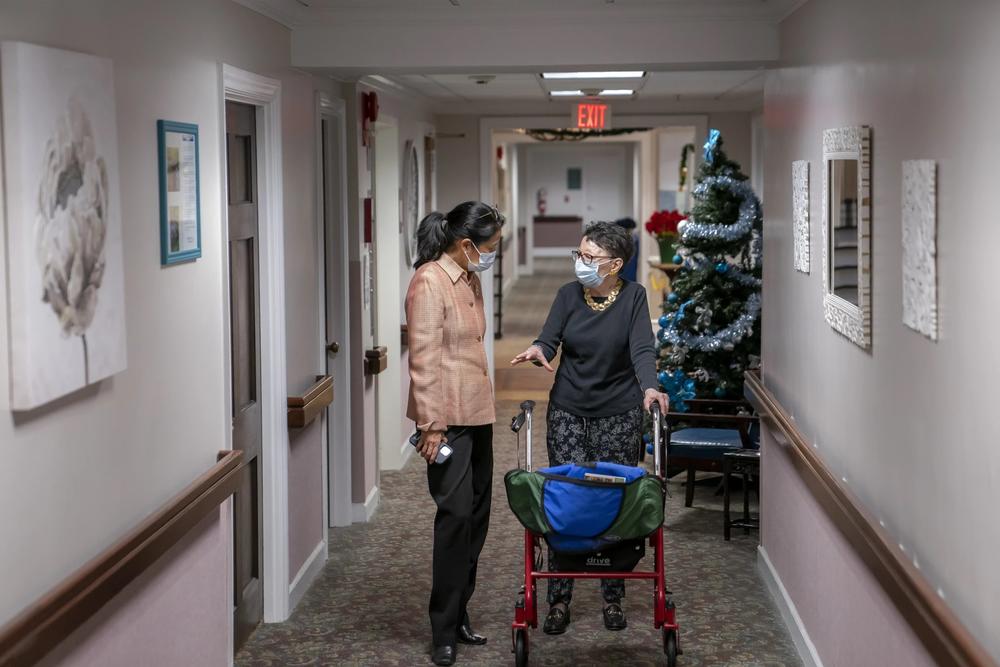 A new federal mandate means nursing home owners cannot slash staffing to unsafe levels, according to a White House statement.
"When nursing homes stretch workers too thin, residents may be forced to go without basic necessities like hot meals and regular baths, or even forced to lie in wet and soiled diapers for hours," the statement says. "Residents also suffer avoidable injuries like falls and bedsores. Workers become burnt out from the daily struggle to deliver the quality care they know their residents deserve."
The Centers for Medicare & Medicaid Services (CMS) wants to set a federal floor for staffing levels because studies show staffing levels at nursing homes are closely linked to quality of care.
Even a 20-minute increase in staffing per resident day from a Registered Nurse was associated with 22% fewer cases of COVID-19 and 26% fewer COVID-related deaths in nursing homes.
But the problem in Georgia, as well as other states, is an existing workforce shortage.
During the pandemic, over 200,000 nursing home residents and workers died — around one-fifth of all COVID-19 deaths in the United States, the White House said.
But mandates just worsen an existing problem, said Chris Downing, president of the Georgia Health Care Association, a nonprofit association of skilled nursing centers, assisted living communities, and home and community-based case managers.
Downing noted the new rule would require the industry to hire another 4,000 nurses and nurse aides. Hiring that many people is impossible with the existing workforce shortage, he said.
"The nursing home industry, as you know, is still in what I would refer to as a COVID haze," he said. "We haven't fully come out of that. We lost roughly 6,000 employees here in Georgia alone, in our industry, through COVID. And we are not even close to, I guess, bringing those people back."
In more than 25 years of working in health care, Downing said he has never seen a shortage like we're seeing in this industry or across the health care spectrum. The organization's study found that the federal staffing mandate would mean Georgia nursing homes would need to hire an estimated 3,652 additional full-time employees (2,754 nurse aides and 898 Registered Nurses).
CMS, in partnership with the Health Resources and Services Administration (HRSA), announced along with the staffing rules a national nursing career pathways campaign.
The campaign will help recruit, train, retain, and transition workers into nursing home careers as nursing staff, The White House said, and this plan will invest over $75 million in scholarships and tuition reimbursement.
Downing agreed that the health care industry needs to be looking at things like immigration reform, tuition reimbursement and debt relief type issues.
"And, you know, we need to bring the higher education folks in this country to the table," he said.
One of the problems Downing sees is that RNs are more expensive to hire than licensed practical nurses, who do not have as much education and training. LPNs report to RNs in the professional setting.
"We can't pay them because we're being outbid by other settings, right?" he said. "So, it's a very frustrating cyclical death spiral, if you will, of just, you know, lack of of health care providers out there and then being able to compete to pay for these folks."
The Georgia Health Care Association said the rule will cost Georgia nursing homes approximately $187 million per year, partly because 76% of nursing homes in the state are currently not meeting at least one of the three staffing requirements. In addition to having at least one full-time RN around the clock, nursing homes must provide at least 33 minutes per resident day of care from a registered nurse.
That means a facility with 100 residents would be required to provide a total of 55 RN hours over the course of a day. If broken out into 8-hour shifts, this would mean having two RNs on staff for each 8-hour shift, and a third RN for one shift during the day.
"We have a heavy reliance in Georgia of LPNs to staff our buildings, right?" Downing said. "So because LPNs are more abundant, they're not as, you know, expensive for nursing homes to pay, like an RN is."
Facilities that did not meet at least one of the requirements were more likely to have a majority of their residents relying on Medicaid (75% percent average Medicaid census) compared to facilities that met the criteria (24% percent), the GHCA said.
"Medicaid is the predominant payer of nursing home care in the country," Downing said. "And in Georgia, we have a high percentage of Medicaid recipients receiving (care) in nursing homes. So that exacerbates it because the funding isn't covering the current costs as as they are now."
Downing touted Gov. Brian Kemp's plan to extend Medicaid in Georgia, Pathways to Coverage.
"He has stepped up to the plate and funded the industry significantly last year," Downing said. "And I think he'll do it again this year. But, again, we're woefully underfunded."
An analysis from the Georgia Budget and Policy Institute says that, because the Pathways to Coverage program does not qualify for the 90% enhanced federal match rate under the Affordable Care Act or the additional incentives offered under the American Rescue Plan, the state is passing up the opportunity to continue pulling down potentially billions in federal funds.
"The state will pay about five times more per newly eligible Pathways to Coverage enrollee compared to the state cost per newly eligible enrollee under full Medicaid expansion," GBPI's Leah Chan wrote.
In April 2023, the state began the 14-month process to redetermine the eligibility of all 2.7 million Georgians covered by Medicaid and PeachCare. While some people may still be eligible for Medicaid, others will be transferred into other insurance programs, or lose coverage entirely. 
Kids enrolled in the Children's Health Insurance Program will also have their eligibility re-determined. In Georgia, just over 300,000 kids were enrolled in CHIP last November, according to the most recent data from CMS.
Paid leave policies could help
Research from the Washington Center for Equitable Growth shows paid family leave policies help employees balance work and family when a professional caregiver is unavailable or unaffordable.
But Georgia does not require employers to offer paid time off. That means for some caregivers, including professional caregivers, the only real option is to quit the workforce. That who chose to care for relatives without being paid.
Many unpaid caregivers leave professional careers or dramatically reduce their hours to help their elders — especially those diagnosed with dementia in their 40s or 50s.
The Alzheimer's Association said diseases of dementia cost the nation $321 billion in 2022. And deaths have increased 145% over the last two decades.
Eileen J. Tell, a researcher concerned with aging and health care policies, said 70% of unpaid caregivers fear they'll have to leave their jobs without more help at home.
"We need to treat our direct care workforce better in terms of a livable wage," Tell said. "Some agencies have had good luck with worker retention and recruitment when they provide education, tuition reimbursement and education."
Secondary Content
Bottom Content