Section Branding
Header Content
This couple is heading to Music Midtown to save lives with opioid overdose reversal spray
Primary Content
LISTEN: An Ohio couple is returning to Atlanta for the Music Midtown festival. They are bringing awareness to a serious issue, even as people enjoy performances at one of the city's most popular events. GPB's Ellen Eldridge reports.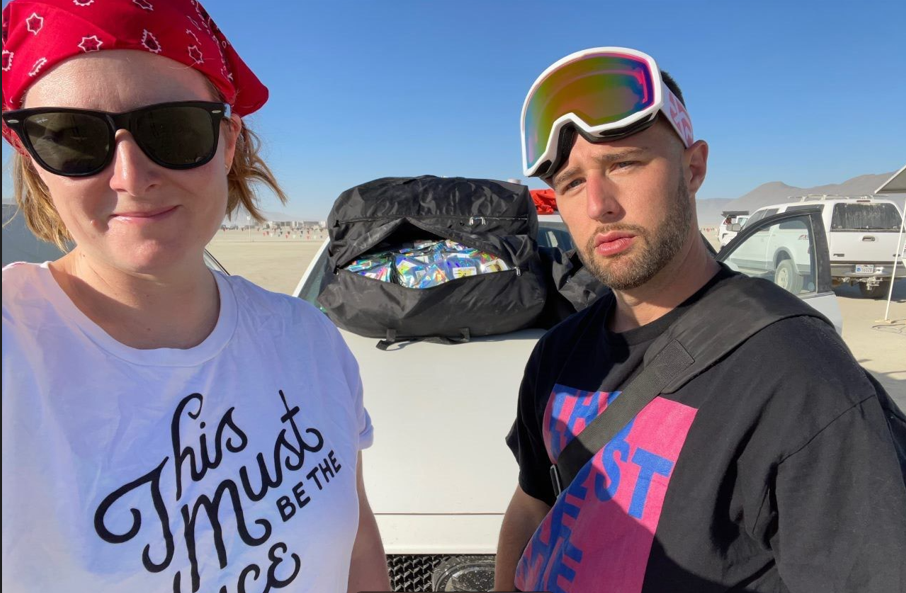 The people who need naloxone most are the least likely to have it. That includes police officers, fentanyl overdose victims, and their parents.
But it won't include fans attending Music Midtown in Atlanta this weekend.
Not if Ingela Travers-Hayward and her husband, William Perry, have anything to say about it.
Together, the documentary producer and sober recovery counselor are handing out naloxone, a medication that will reverse an opioid drug overdose.
Kloxxado kits with 8 mg of naloxone per spray have been donated by the manufacturer, Hikma Pharmaceuticals, to the nonprofit This Must Be the Place.
Travers-Hayward and Perry started up two years ago after learning that accidental fentanyl poisoning was one of the leading causes of death for Americans between 18 and 45. Perry said he knew people would be getting back out to music festivals and making up for lost time as quarantine and other COVID-19 related restrictions eased.
"Occasional substance users might just not be paying attention to that world (of fentanyl poisoning)," Perry said. "And when they did go out, they would be essentially walking into, for lack of a better term, a buzzsaw, because fentanyl was going to be in those substances that they might pick up or partake in only one time."
One use of cocaine laced unexpectedly with fentanyl can be fatal.
Opioids, specifically fentanyl, were involved in more than 70% of the 2,390 drug overdose deaths in Georgia in 2021, according to the state Department of Public Health.
MORE: 'Where's the Narcan?' Georgia capitol building installs emergency overdose reversal kits
Travers-Hayward said she wants to proactively walk around campsites at festivals and give these kits away, but she isn't involved with the festivals themselves. It's the promoters who support their work.
"We're still very brand new," she said. "It's only the second year, but we just are really lucky that a lot more promoters are willing to keep their attendees safe."
Since March 2022, This Must Be the Place has been able to hand out more than 34,000 Kloxxado® kits worth more than $1.5 million.
One of the biggest barriers for folks who know they might need an overdose reversal agent is the cost, Perry said.
The idea that someone would buy and carry naloxone for a random stranger is unrealistic, he added, noting that it can cost as much as $80.
Many police departments don't have the resources to carry kits either.
Perry said, when he and his wife were in Atlanta in May, they handed out naloxone to officers patrolling the Central Park area where the Shaky Knees Festival is held.
"They said that sometimes they pull up on situations in that area and they feel just as helpless as the person who called 911," Perry said.
As much as they want to make sure promoters and staff at festivals have the tools to jump in and reverse an overdose, Travers-Hayward and Perry want their kits to travel to corners of the country where naloxone may not be.
"Our mission has always been to get this stuff into people's hands," Perry said. "Most of our stuff makes it back into homes and communities where it might not have been before because we make it really easy for people to get."
That includes rural communities outside of major cities like Atlanta, Savannah, and Columbus, where, Perry said, pharmacists may not stock naloxone even though it is an over-the-counter medication.
"Even somebody with the financial means might not want to walk into the pharmacy that they fill their kids' prescriptions (and buy naloxone) because they feel scrutinized by their pharmacist," he said. "You know, they feel scrutinized by their physician for asking about this stuff."
Secondary Content
Bottom Content