Section Branding
Header Content
'Where's the Narcan?' Georgia capitol building installs emergency overdose reversal kits
Primary Content
LISTEN: Now, people who visit and work in the Georgia State Capitol can help stop opioid overdoses. GPB's Ellen Eldridge explains.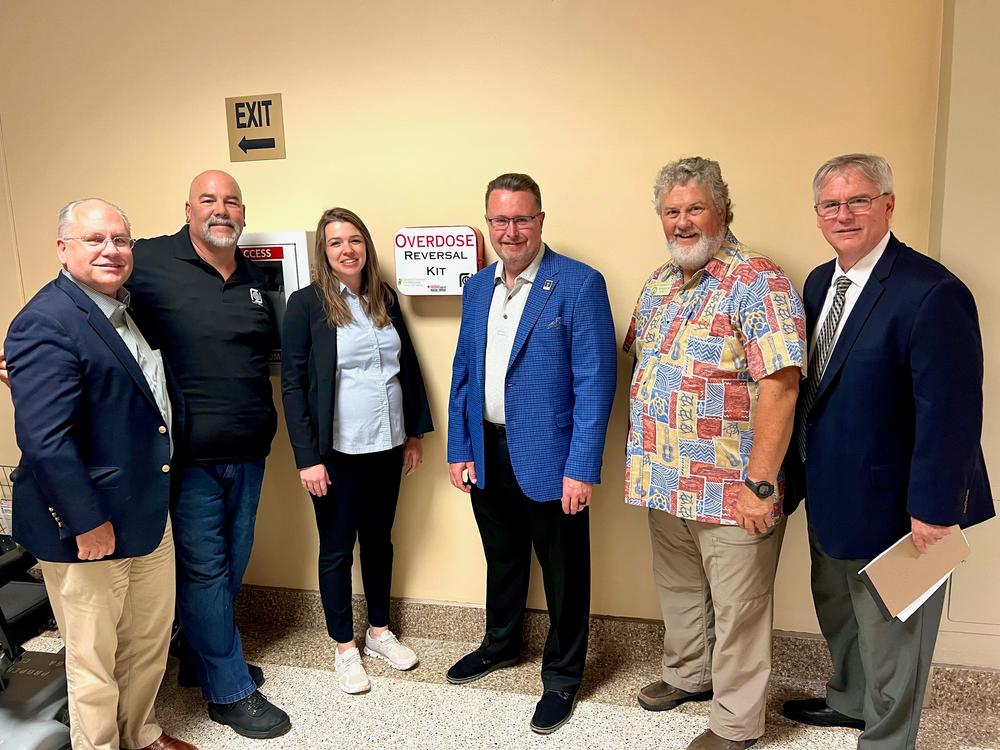 Jeff Breedlove got the idea to install public overdose emergency kits years ago, when he worked at the Gold Dome on behalf of the Georgia Council for Recovery.
"Most mornings I would just come in and sit at one of those tables right there by the vending area. And it was just self-evident to me," Breedlove said. "One morning, I had seen an article about Narcan, and I looked up and I was like, 'Well, there's a fire extinguisher, there's a defibrillator.... There should be a box for Narcan right next to those.'"
Now that Breedlove is a community outreach manager at Georgia's Department of Behavioral Health and Developmental Disabilities, he is making his dream of Narcan accessibility a reality, and hopes other public and private businesses will do the same.
There are five places in the Gold Dome where emergency supplies are installed, including the kits with Narcan nasal spray that can save someone's life in the event of an opioid overdose.
Breedlove said he hopes the kits help reduce discrimination around substance use disorder, addiction, and other mental health issues.
"[It's] very public and it literally says 'overdose reversal kit,'" he said. "And it is designed to put into the consciousness of people in that building — the Gold Dome of Georgia — Hey, this is just another medical disease."
Each of the five kits comes stocked with six doses of Narcan, face masks, plus instructions on how a layman can quickly learn how to use the device.
Secondary Content
Bottom Content