Section Branding
Header Content
A bill to increase funding for mental health failed to pass the Senate. What happened, what's next
Primary Content
LISTEN: A bill to increase funding for mental health failed in the Legislature on Wednesday as lawmakers head home from the Capitol without a vote in the Senate. But advocates say they are still hopeful given its bipartisan support. GPB's Ellen Eldridge has more.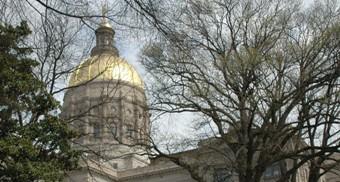 Wide bipartisan support was not enough to get a full mental health bill to the governor's desk this session.
House Bill 520, which passed the House earlier in the session but never made it to the Senate floor for a vote, would have included funding for supportive housing, treatment and county-based mental health coordinators to work with police.
Opponents cited its potential price tag.
"I know it was very popular on the House side, but we've had a lot of members on the Senate side that were having a hard time swallowing that number," Lt. Gov. Burt Jones told GPB's Lawmakers on Wednesday. 
That number could have been as high as $72 million annually, according to a state analysis. In addition, one-time fees totaling about $3.7 million was just too high a price for a Senate agreement.  
But the state expenditures or tax revenues do not reflect any cost savings resulting from the legislation, such as savings to the Medicaid program from HB 520.  
It's also been reported that HB 520 was being held as leverage by the Senate for a bill that failed in House, Senate Bill 99. SB 99 would have changed regulations for the construction of rural hospitals, eliminating certificate of need requirements in certain areas. 
The chambers seemed to reach an impasse when neither was willing to compromise on either bill by the legislature's final working days. On Wednesday, House lawmakers amended a different bill, Senate Bill 23, to salvage a data sharing element of the mental health bill. That bill passed 48 to 1. 
People left behind 
This year's mental health bill addressed the needs of people who cycle between homelessness, emergency rooms and jail, said Whitney Griggs, the health policy analyst for Georgians for a Healthy Future.
"[Those] who have really severe and persistent mental illness and are just kind of falling through the cracks in the system," she said. "And no one system — the housing system, the health care system, the judicial system — are really designed to meet their needs."
The population that HB 520 aimed to help, so-called "familiar faces," eats up a huge chunk of state resources and state dollars, Griggs said, which makes it important to address the system that leads to those faces cycling through those three places.
"The bill (HB 520) did things like bar local housing entities from not providing housing to someone because they had a criminal background," Griggs said.
RELATED: With few other resources, people with behavioral health issues find treatment in jails and prisons
And advocates insist that early intervention is the best way to proactively care for the health of Georgians.
One example can be seen in the proposed HB 226 from Rep. Sharon Cooper, who chairs the Georgia House's Public and Community Health Committee. The bill never made it to a vote in the Senate, but serves as an example of the state picking up the tab for some of the social safety net.
Untreated illness contributes to crises requiring more emergency room visits, hospitalizations, and inpatient treatment options, Cooper said, estimating that it costs the state about $10,000 a year to treat people with HIV.  
"If they go to a full-blown case of AIDS, it's about $30,000 a year," Cooper said. "So, it's a definite savings to the state to take care of these people.
That $30,000 figure doesn't include the cost of hospitalization, which can cost taxpayers hundreds of thousands of dollars, she said.
Likewise, the costs add up when the criminal justice system is taxed and the state picks up the tab.
The annual budget for the Georgia Department of Corrections is roughly $1.32 billion, and recent fiscal-year-to-fiscal-year increases, totaling nearly $38 million, are primarily attributed to the creation of four new divisions within the GDC: County Correctional Institutions, Engineering and Construction Services, Investigations and Interdiction, and Rehabilitation and Risk Reduction, according to the Georgia Budget and Policy Institute.
"In tandem with intensifying 'law and order' proposals from the legislature, these latest moves are ominous steps toward future corrections budget proposals that will lead to rising prison populations," the Institute said when Gov. Brian Kemp proposed his 2024 budget.
There are about $2.3 million in annual costs associated with providing dedicated coordinators to provide for collaboration between criminal justice and behavioral health providers, Roland Behm with the Georgia chapter of the American Foundation for Suicide Prevention said, noting that costs associated with a pilot program to provide funding for county jails to implement validated behavioral health screening is part of $2 million to $10 million in annual costs.
HB 520 on its own did not allow for either program without funding or appropriations.
Moving forward
The real problem with the opposition against the bill is that it's rooted in the stigma of mental health, Griggs said.
"We heard concerns about tracking and government overreach and even that this bill was Medicaid expansion," she said. "And as an organization that advocates for Medicaid expansion, I can 100% promise that it was not."
She added that the bill also directed the Department of Corrections to study the efficacy of providing wraparound services, including some health care, for those released from prison.
"I think that really we're losing the treatment for that very small but very vulnerable subset of folks," Griggs said. 
Jeff Breedlove with the Georgia Council for Recovery called the bill "delayed not dead" because this is year one of a two-year legislative session, and the bill could pass in 2024.
Overall, he said he's optimistic.
"For the second year in a row, our leaders have talked about mental health and addiction recovery," Breedlove said. "And it may not be the exact outcome that many folks were looking for, but the good news for my community is that we are moving the ball forward. We are addressing the broken system. We're transforming a system into a life-saving system. And so there's a lot of work to be done.
Secondary Content
Bottom Content