Section Branding
Header Content
Georgia Today: Protestors charged with domestic terrorism, Savannah's movie money, India Arie chats
Primary Content
On the Friday Jan. 20 edition of Georgia Today: Atlanta protesters charged with domestic terrorism, Savannah's movie money, rise in guns stolen from cars, India Arie chats with us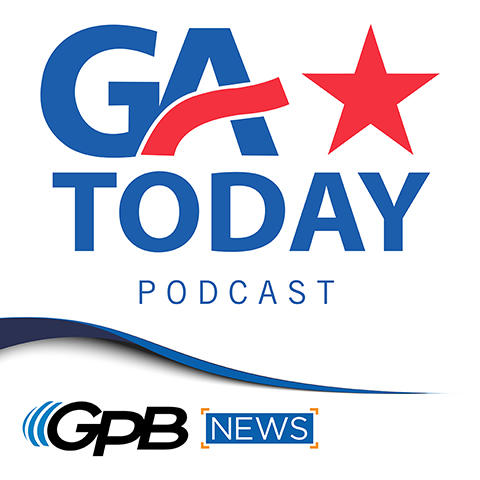 Peter Biello: Welcome to the new Georgia Today podcast from GPB News. Today is Friday, Jan. 20. I'm Peter Biello. On today's episode: We now know the identity of the protester killed at the Atlanta Police Training Center this week. How much money did the film and television industry bring to Savannah last year? We have the numbers. And singer-songwriter India Arie chats with us about her residency at Georgia State University. These stories and more are coming up on this edition of Georgia Today.
Peter Biello: Investigators have released the identity of the person who was shot and killed by law enforcement officers who are trying to clear protesters camping at the site of a planned Atlanta area public safety training center that opponents have dubbed "Cop City." 26-year-old Manuel Teran was shot and killed Wednesday morning. The Georgia Bureau of Investigation says Teran was inside a tent in the woods and did not comply with verbal commands from law enforcement officers trying to clear the area. The GBI says when Teran shot and injured a state trooper, other law enforcement officers returned fire and killed him. Activists have questioned the police version of events and called for the release of law enforcement body camera footage. A GBI spokeswoman told reporters this morning that no such footage exists. For more than a year, protesters have been building platforms and trees and camping out at the site. They say that the $90 million project, which would be built by the Atlanta Police Foundation, would damage the environment. They also oppose investing so much money in what they call Cop City, which they say will be used to practice, quote, "urban warfare." The GBI said in a news release that it would not release the name of the trooper involved in the shooting because, quote, "disclosure would compromise security against criminal or terroristic acts due to retaliation." The GBI also said about 25 campsites were located and removed yesterday and that mortar-style fireworks, edged weapons, pellet rifles, gas masks and a blow torch were recovered. Seven people were arrested and charged with domestic terrorism and criminal trespass with other charges pending. They range in age from 20 to 34 years, and none of them are Georgia residents.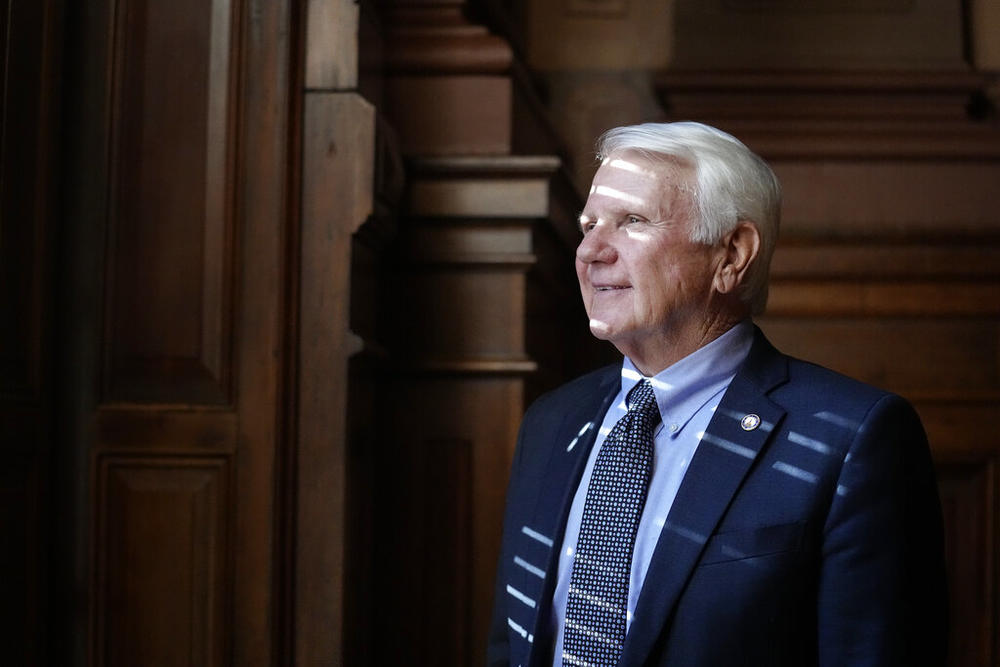 Peter Biello: New Georgia House Speaker Jon Burns is taking over at a time when the state has a record budget surplus and a huge need for workforce housing. Creating more such housing is one of Gov. Kemp's priorities. Speaking to reporters Thursday, Burns said the House will look to address the issue of housing shortages, particularly workforce housing, to accommodate a constant churn of new companies investing here.
Jon Burns: We can't be the No. 1 place in which to do business in this country and we can't provide the quality of life, unless we have quality housing for the people of the state.
Peter Biello: Burns says local governments should take the lead on addressing things like zoning, and he looks forward to a House study committee report on ways to expand access to affordable housing.
Story 3
Peter Biello: The film and television industry generated $207 million for the Savannah area last year. The Savannah Film Commission says that's a record fueled by 101 productions, including three major network television series. Those included Manhunt for Apple Plus, Fear the Walking Dead for AMC, and Panhandle for Spectrum and Roku.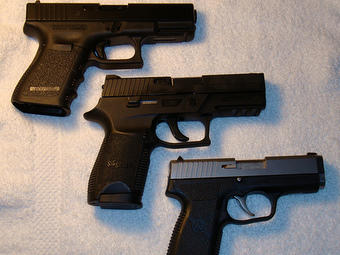 Peter Biello: The number of guns stolen from cars is on the rise. In Chatham County, for example, that number was higher last year than any of the previous four years. And most of those guns came from unlocked vehicles. A report by the group Everytown for Gun Safety found that in the decade ending in 2020, Warner Robins, Ga., had the fifth-highest rate nationally of guns stolen from cars. And the four cities above it on that list were from Georgia's neighbors, South Carolina and Tennessee. With me now to help us understand the problem is Scott Sweetow. He's a retired ATF executive and former special agent in charge of the Atlanta Field division. What's your sense of why there are more guns being taken from cars? Is it because there are simply more guns around nowadays?
Scott Sweetow: That's a tough question to answer exactly. And I know a lot of people are studying it, but I think that, really, kind of is at the root of what's going on. If you just look at the number of thefts that occur, it stands to reason that if you have more firearms that are out there, that a would-be thief is going to be more successful just because there are more weapons out there.
Peter Biello: I see. What does the law say about a gun owner's responsibility to secure these weapons and not just leave them in unlocked cars as seems to be happening more and more often?
Scott Sweetow: There's no federal law on the books right now that says anything about the need to secure firearms. In fact, even federal firearms licensees who are regulated by my old agency, the Bureau of Alcohol, Tobacco, Firearms and Explosives, or ATF, even they are not required to physically lock up guns. So with the exception of a couple of states — I know Massachusetts is one of them — most states have no laws at all requiring you to actually secure a firearm, whether you're storing it in your house, your business, or in your car.
Peter Biello: What happens when someone reports their gun stolen? What information are police officers going to need?
Scott Sweetow: The most important thing is going to be the serial number and then certainly a description of the gun, because within different types of firearms, for instance, a particular revolver and a semiautomatic pistol might have the same serial number. So you're going to need that serial number, certainly, and you're going to need the description of a firearm.
Peter Biello: And if the gun owner doesn't know their serial number, what then?
Scott Sweetow: They're in trouble. When I was an ATF agent, we used to get calls periodically from people who said that they had a weapon that was stolen from them and they wanted us to check the federal database. The the problem is there is no federal database of firearms like that. So if you do not have that serial number, really you have a couple of options. Hopefully you still have the paperwork or the box that ... that firearm came in and you can reconstruct the data like that or you can try to go to the dealer what are you bought the firearm from. So for instance, if you bought it from a sporting goods store, you can try to go there and say, "Hey, this is my name. I bought this firearm X number of years ago, could you please get me the serial number?" And then hope for the best.
Peter Biello: When you debrief people who have been caught stealing guns, what did they tell you? What did you learn from them?
Scott Sweetow: So it was kind of interesting. Criminals work as hard as their law enforcement counterparts sometimes, it seems, when it comes to robbing people and burglarizing people. And what they told us is that they would look for cars that had decals on them that gave them some indication that the person might have a gun. So it might be a hunting vehicle, it might be a Glock sticker, it might be an NRA sticker. And they told us that very often they would get lucky by targeting those particular cars. So that's something else for the listeners to think about: Are they sending a signal to a would-be burglar that they have a weapon in their car because of the stickers they have on there? Because the criminals say yes.
Peter Biello: So overall, Scott, what policies or laws do you think law enforcement people in your industry would like to see that could incentivize better stewardship of firearms?
Scott Sweetow: I think trying to advocate for a law to say you are negligent, for instance, if you put a firearm in your car and it's stolen. I think that is possible. I certainly would be up to the federal court system where something like that would be litigated to see if it was constitutional. But I think we do have to try harder because clearly with the number of guns coming from cars skyrocketing, it's a problem that's going to result in a lot of crimes. I mean, when it comes to vehicles, it's completely preventable.
Peter Biello: That's got Scott Sweetow. He's a retired ATF executive and former special agent in charge of the Atlanta Field division. Scott, thank you so much for speaking with me.
Scott Sweetow: Peter, You're very welcome. Thank you.
Story 5
Peter Biello: State environmental regulators have released a plan for how mineral mining could take place just outside Georgia's famed Okefenokee Swamp and its federally protected wildlife refuge. The draft, released this week, puts the mine a step closer to being approved by the state's Environmental Protection Division. It also triggers a 60-day public comment period. Some scientists have warned that mining less than three miles from the swamp could harm its ability to hold water. The draft documents say regulators believe the titanium oxide mine would have a minimal impact on water levels.
Peter Biello: India Arie realized a dream yesterday in her new role as artist in residence at Georgia State University. The Atlanta-based singer and songwriter has released eight albums, won four Grammy awards, and toured the world. She has volunteered with global charities, traveled to Africa to bring awareness to the AIDS crisis, and wrote a theme song for Good Morning America. She is beloved by celebrities such as Stevie Wonder, Oprah and Ariana Grande, and by millions of fans who appreciate her candor and velvet voice. But working with students has always been a goal for her. And today, as part of a keynote address in honor of Dr. Martin Luther King Jr., she debuted her first song reception for young adults at Georgia State University's Creative Media Industries Institute. GPB's Leah Fleming sat down with India Arie earlier this week.
India.Arie (Singing): There's hope. It doesn't cost a thing to smile, you don't have to pay to laugh. You better thank God for that.
India Arie: I've been literally praying for opportunity to be in a teaching capacity for my whole career, because whenever I would really get tired of my career and all the stuff that comes with it, I thought, "I could be a teacher." I would say it all the time. So I guess I don't have a background in teaching, but I am a natural teacher and anybody who's seen me in concert knows that.
Leah Fleming: So, you were invited to give a keynote address at Georgia State in honor of the Rev. Dr. Martin Luther King Jr. In what ways has he shaped your music? As I hear your music, I can hear elements of him, you know, and his messages. 
India Arie: Thank you for saying that. There are a lot of things, growing up as a Black person in America, and for a lot of us, he was a North Star. Not that we wanted to be martyring ourselves or anything, but he made us feel like it was possible for one person to make a change. I do have a song where I say his name, "What If?" It asks, 'What if Martin didn't stand out? What if Rosa didn't sit down? What if Malcolm didn't matter? Where would we be now?' 
My mission all these years had been to spread love, healing, peace and joy in the power of words and music. My mission has changed a little bit since COVID. But the whole reason for me that I thought it was even possible to make your craft —because Martin Luther King was a preacher, right? The whole idea that I thought it was possible to make your craft and be able to shape any part of the world you can touch with a song or anything else, photography or to be a journalist. Or to think that we could shape the world, that definitely came from Martin Luther King.
Leah Fleming: You said your mission has evolved over the years. It's changed a little bit. 
India Arie: Oh, yes. 
Leah Fleming: How so? 
India Arie: I think I can confidently say that we all had some sort of big lesson or two or 10 from 2020 to today, just the things that come up in our personal lives. And for me, one of the main things that came up was disillusionment around who we are as a humanity. I had a really naive view. I think I needed to make the music I made. And I think that's where I needed to be. Then 2020 really woke me up. My mission was to spread love, healing, peace and joy through the power of words and music. And I said it every I was on a stage, in an interview, on TV, on radio ... thousands of shows. I always said it. Always. So 2020 came around, and I saw things and I understood things a different way.
I read this quote from the East Indian poet, polymath Rabindranath Tagore. And it struck me ... and it healed me. I might get it a little wrong,.. but the quote is: "The one who plants a seed knowing that he will never sit in its shade is at least beginning to understand the meaning of life."
Leah Fleming: Hmm.
India Arie: The one who plants a seed knowing he will never sit in its shade is at least beginning to understand the meaning of life. And the reason why that struck me is because I understood that all the healing I wanted to give to people and I wanted them to take it like, "Take this healing. I'm trying to show you something!" You can't make people do anything. And so my mission became to plant seeds. And I pray that they flower when and where they're supposed to. And that's all I can do. And I'm doing it because I want to, not because I think I'm going to see the fruit. And so that's where I am these days. 
Leah Fleming: Oh, that's beautiful. You're in an industry that focuses a lot on hardware and winning these awards. But, you know, I know that you have also talked about that struggle, you know, with having a night at the Grammys where you were nominated quite a bit and didn't win any that particular year. And that can be hard, I would imagine, for up-and-coming artists that look toward the Grammys and other awards ceremonies as being the pinnacle of success and that they should, or that they will dictate whether or not you should continue on in your music. And so I'm wondering what your thoughts are on that. And I would imagine there will be students that will have musical talent that may not ever get recognized with a Grammy. 
India Arie: Yes, I have stories to tell. I have lots. And that's why I started the [Songversation Podcast] and why I'm excited about doing this keynote, because I have things to say to artists. I'm on my 23rd year in the industry. And it's not just my 23rd year, it's the 23rd year of a person who lives an examined life. So when you win Grammys, it increases your value because touring is very hard. So you want to get paid as much as you can for each show because it's hard. And so it increases your value and increases your opportunity. So you get invited to those television shows and you get invited to do the Christmas specials or whatever, because you're a Grammy winner. So we want them to advance our career, but you don't always need it, because if you have an audience who loves you and is listening to you, those things that are the pinnacle of success unfold over time.
So for me, after eight albums and 23 years in the business, I have experienced something that I think is really the pinnacle of success for artists, which is to make this thing from your heart that did not exist — and people appreciate it. They cry. They play it at their weddings. They play it when they have to cut their hair because they have cancer. They play it for their kids to teach their daughters about beauty. They play your music, and they appreciate you. 
Leah Fleming: This has been an absolutely lovely conversation. I thank you so much for taking some time with us. India.Arie is a Grammy Award winning musical artist and an artist in residence at Georgia State University in Atlanta. This is GPB.
Story 7
Peter Biello: If you are a baseball fan and you're going to be looking for a summer job, well, consider this pitch. Pun very much intended. The Atlanta Braves are inviting you to audition to be the next voice of the Braves. That's the person who announces, who's batting and other such things to keep the game moving and the crowd informed. The Braves have been accepting online submissions since October, and so far more than 135 people have sent in audition videos. Tomorrow, during the team's annual Braves Fest celebration, you could audition at Truist Park. The team is going to set up an interactive booth where you can read a script and then hear your voice through the loudspeakers. Quite an experience. Braves fans will then have a chance to vote on their favorite P.A. announcer in February. The deadline for submissions overall is Sunday, and the team plans to make a selection before the start of the season.
And that is it for today's edition of Georgia Today. We hope we knocked it out of the park. We'd love to hear your feedback. Let us know if we did send it by email. The address is GeorgiaToday@GPB.org. And remember, the best way to stay current on all the top stories in the Peach State is to subscribe to this podcast. Do it now and we will pop up in your podcast Feed on Monday afternoon. I'm Peter Biello. We'll see you on Monday. Have a great weekend.
GPB's Georgia Today newsletter hits your inbox on Tuesdays, Wednesdays and Thursdays with top stories from around the state. Featuring news, politics and more. Subscribe here.
Secondary Content
Bottom Content