Section Branding
Header Content
Gun theft from cars is 'completely preventable,' former ATF exec says
Primary Content
LISTEN: The number of guns stolen from cars is on the rise. GPB's Peter Biello speaks with Scott Sweetow, a retired ATF executive and former special agent in charge of the Atlanta Field Division, about guns stolen from cars in Georgia.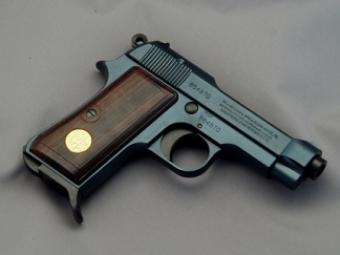 The number of guns stolen from cars is on the rise. In Chatham County, for example, that number was higher than in any of the previous four years–and most of those guns came from unlocked vehicles. A report by the group Everytown for Gun Safety found that in the decade ending in 2020, Warner Robbins, Georgia had the fifth highest rate nationally of guns stolen from cars. The other four cities on that list were in Georgia's neighbors, South Carolina and Tennessee. Scott Sweetow, a retired ATF executive and former special agent in charge of the Atlanta Field Division, spoke with GPB's Peter Biello.
Peter Biello: What's your sense of why there are more guns being taken from cars? Is it because there are simply more guns around nowadays?
Scott Sweetow: That's a tough question to answer exactly. And I know a lot of people are studying it, but I think that, really, kind of is at the root of what's going on. If you just look at the number of thefts that occur, it stands to reason that if you have more firearms that are out there, that a would-be thief is going to be more successful just because there are more weapons out there.
Peter Biello: I see. What does the law say about a gun owner's responsibility to secure these weapons and not just leave them in unlocked cars as seems to be happening more and more often?
Scott Sweetow: There's no federal law on the books right now that says anything about the need to secure firearms. In fact, even federal firearms licensees who are regulated by my old agency, the Bureau of Alcohol, Tobacco, Firearms and Explosives, or ATF, even they are not required to physically lock up guns. So with the exception of a couple of states — I know Massachusetts is one of them — most states have no laws at all requiring you to actually secure a firearm, whether you're storing it in your house, your business, or in your car.
Peter Biello: What happens when someone reports their gun stolen? What information are police officers going to need?
Scott Sweetow: The most important thing is going to be the serial number and then certainly a description of the gun, because within different types of firearms, for instance, a particular revolver and a semiautomatic pistol might have the same serial number. So you're going to need that serial number, certainly, and you're going to need the description of a firearm.
Peter Biello: And if the gun owner doesn't know their serial number, what then?
Scott Sweetow: They're in trouble. When I was an ATF agent, we used to get calls periodically from people who said that they had a weapon that was stolen from them and they wanted us to check the federal database. The the problem is there is no federal database of firearms like that. So if you do not have that serial number, really you have a couple of options. Hopefully you still have the paperwork or the box that ... that firearm came in and you can reconstruct the data like that or you can try to go to the dealer what are you bought the firearm from. So for instance, if you bought it from a sporting goods store, you can try to go there and say, "Hey, this is my name. I bought this firearm X number of years ago, could you please get me the serial number?" And then hope for the best.
Peter Biello: When you debrief people who have been caught stealing guns, what did they tell you? What did you learn from them?
Scott Sweetow: So it was kind of interesting. Criminals work as hard as their law enforcement counterparts sometimes, it seems, when it comes to robbing people and burglarizing people. And what they told us is that they would look for cars that had decals on them that gave them some indication that the person might have a gun. So it might be a hunting vehicle, it might be a Glock sticker, it might be an NRA sticker. And they told us that very often they would get lucky by targeting those particular cars. So that's something else for the listeners to think about: Are they sending a signal to a would-be burglar that they have a weapon in their car because of the stickers they have on there? Because the criminals say yes.
Peter Biello: So overall, Scott, what policies or laws do you think law enforcement people in your industry would like to see that could incentivize better stewardship of firearms?
Scott Sweetow: I think trying to advocate for a law to say you are negligent, for instance, if you put a firearm in your car and it's stolen. I think that is possible. I certainly would be up to the federal court system where something like that would be litigated to see if it was constitutional. But I think we do have to try harder because clearly with the number of guns coming from cars skyrocketing, it's a problem that's going to result in a lot of crimes. I mean, when it comes to vehicles, it's completely preventable.
Secondary Content
Bottom Content