Section Branding
Header Content
Lawmakers: Speaker Jon Burns looks ahead at prominent issues in the 2023 legislative session
Primary Content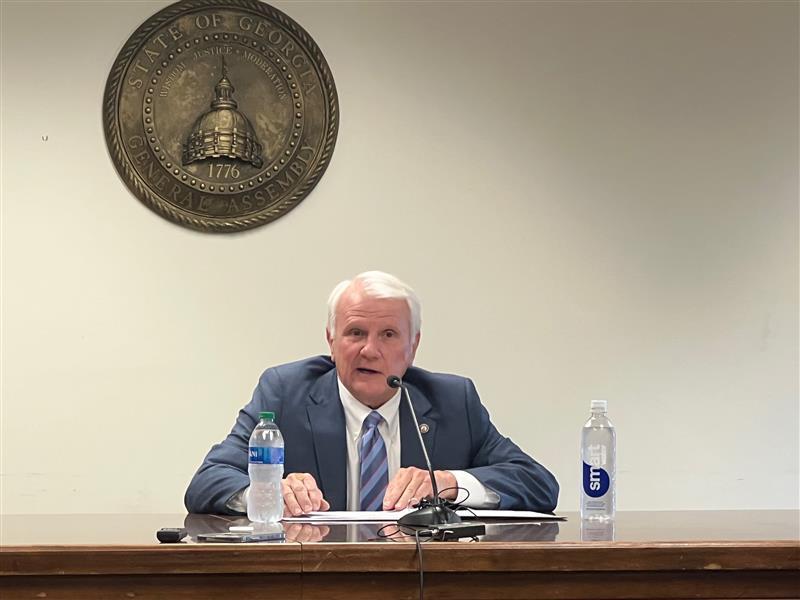 Georgia Speaker of the House Jon Burns (R-Newington) spoke Thursday about key issues the House of Representatives will address throughout the 2023 legislative session. 
Burns announced that he is making changes to some House committees. The former Health and Human Services committee will be split into two committees, and a special committee on health care has been added.
Health care policy, especially mental health care, will be up for debate in the Georgia House this year. The late Speaker David Ralston pushed for mental health care expansion last year.
"If we look at an issue and it impacts almost every family in this state, I can't think of any that I know that haven't been impacted by mental health issue," Burns said. "So, it's on the forefront for us. It's a front burner issue, if you will."
Burns noted that he is interested in working to fix the medical professional shortage nearly every county in Georgia is facing.  The speaker said that he will work with medical school facilities to create more educational opportunities and residency programs for future Georgia doctors. 
Burns sided with Gov. Brian Kemp on full-scale Medicaid expansion, saying he opposes it. 
He also gave his opinion on another controversial health care topic, abortion, saying the House will "wait and see exactly what comes with the legislation we passed," noting that he personally supports Georgia's fetal heartbeat abortion ban. The law is being challenged in the Georgia Supreme Court. 
The speaker also made a name change to the former House Science and Technology Committee. It is now named the Technology and Infrastructure Committee. Burns said the committee will handle innovation like electric vehicles. 
"I'm convinced that Georgia can lead the nation when it comes to technology," he said. "Certainly I believe with the production of electric vehicles in the state." 
Kemp has outlined workforce housing as a key issue Georgia needs to tackle, especially with the influx of electric vehicle manufacturing jobs. Burns said workforce and affordable housing will be considered by the House. While Burns is not sure what the solution to the housing shortage will be, he said the House will prioritize working with local and municipal governments to solve it.
Burns said he keeps one mission in mind as a leader: improving Georgia.
"As long as anything we do leads to one thing, and that's a better life for Georgians," he said. "As we always like to say, we want to leave this place the best place to work, live and raise a family, and, I'll add, have a little fun." 
Secondary Content
Bottom Content