Section Branding
Header Content
India Arie gives keynote address at Georgia State University's MLK Commemoration
Primary Content
India Arie realized a dream yesterday in her new role as artist-in-residence at Georgia State University.
The Atlanta-based singer and songwriter has released eight albums, won four Grammy Awards and toured the world. She has volunteered with global charities, traveled to Africa to bring awareness to the AIDS crisis and wrote a theme song for Good Morning America. She is beloved by celebrities such as Stevie Wonder, Oprah and Ariana Grande — and by millions of fans who appreciate her candor and velvet voice.
But working with students has always been a goal for her, and Thursday, as part of a keynote address in honor of Dr. Martin Luther King Jr., she debuted her first "songversation" for young adults at Georgia State University's Creative Media Industries Institute (CMII).
For Arie, a "songversation" is a life lesson wrapped in the lyrics to her music. Quoting (and later performing) her 2019 song, "What If," Arie instructed GSU students in the audience to remain true to themselves, as King had done. "There's only one you."
Opening the event with a prayer to ancestors, Arie asked students to put away their phones and said, "Imagine that you were of age during the civil rights movement of the 1960s; what role would you have played?"
She talked about her grandmother attending the 1963 March on Washington, D.C., where King gave his "I Have a Dream" speech, and Arie said if she had been there, she hopes she would have been one of the performers who sang for the crowd of hundreds of thousands.
She then answered students' questions.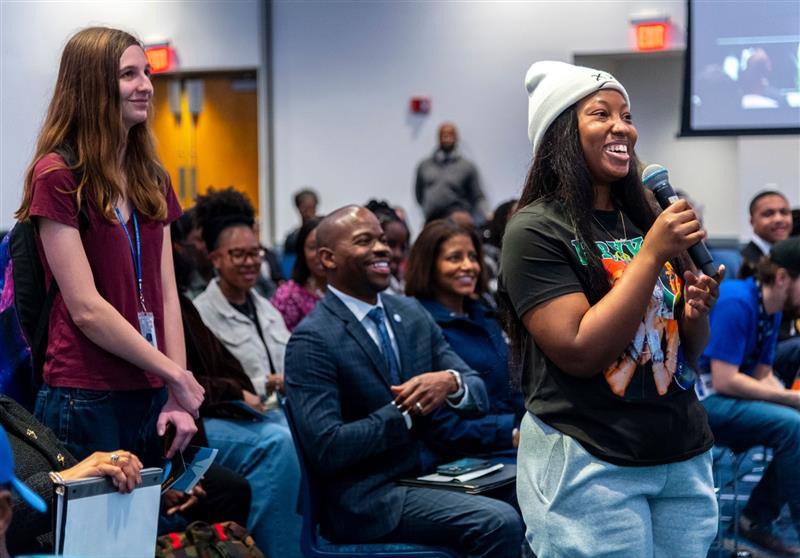 Before her presentation, GPB's Leah Fleming spoke with Arie about GSU, the influence of Dr. King and how developing her own personal mission shaped her career.
Leah Fleming: What does it mean to you to work with college students? 
India Arie: I've been literally praying for opportunity to be in a teaching capacity for my whole career, because whenever I would really get tired of my career and all the stuff that comes with it, I thought, "I could be a teacher." I would say it all the time. So I guess I don't have a background in teaching, but I am a natural teacher and anybody who's seen me in concert knows that.
Leah Fleming: So, you were invited to give a keynote address at Georgia State in honor of the Rev. Dr. Martin Luther King Jr. In what ways has he shaped your music? As I hear your music, I can hear elements of him, you know, and his messages. 
India Arie: Thank you for saying that. There are a lot of things, growing up as a Black person in America, and for a lot of us, he was a North Star. Not that we wanted to be martyring ourselves or anything, but he made us feel like it was possible for one person to make a change. I do have a song where I say his name, "What If?" It asks, 'What if Martin didn't stand out? What if Rosa didn't sit down? What if Malcolm didn't matter? Where would we be now?' 
My mission all these years had been to spread love, healing, peace and joy in the power of words and music. My mission has changed a little bit since COVID. But the whole reason for me that I thought it was even possible to make your craft —because Martin Luther King was a preacher, right? The whole idea that I thought it was possible to make your craft and be able to shape any part of the world you can touch with a song or anything else, photography or to be a journalist. Or to think that we could shape the world, that definitely came from Martin Luther King.
Leah Fleming: You said your mission has evolved over the years. It's changed a little bit. 
India Arie: Oh, yes. 
Leah Fleming: How so? 
India Arie: I think I can confidently say that we all had some sort of big lesson or two or 10 from 2020 to today, just the things that come up in our personal lives. And for me, one of the main things that came up was disillusionment around who we are as a humanity. I had a really naive view. I think I needed to make the music I made. And I think that's where I needed to be. Then 2020 really woke me up. My mission was to spread love, healing, peace and joy through the power of words and music. And I said it every I was on a stage, in an interview, on TV, on radio ... thousands of shows. I always said it. Always. So 2020 came around, and I saw things and I understood things a different way.
I read this quote from the East Indian poet, polymath Rabindranath Tagore. And it struck me ... and it healed me. I might get it a little wrong,.. but the quote is: "The one who plants a seed knowing that he will never sit in its shade is at least beginning to understand the meaning of life."
Leah Fleming: Hmm.
India Arie: The one who plants a seed knowing he will never sit in its shade is at least beginning to understand the meaning of life. And the reason why that struck me is because I understood that all the healing I wanted to give to people and I wanted them to take it like, "Take this healing. I'm trying to show you something!" You can't make people do anything. And so my mission became to plant seeds. And I pray that they flower when and where they're supposed to. And that's all I can do. And I'm doing it because I want to, not because I think I'm going to see the fruit. And so that's where I am these days. 
Leah Fleming: Oh, that's beautiful. You're in an industry that focuses a lot on hardware and winning these awards. But, you know, I know that you have also talked about that struggle, you know, with having a night at the Grammys where you were nominated quite a bit and didn't win any that particular year. And that can be hard, I would imagine, for up-and-coming artists that look toward the Grammys and other awards ceremonies as being the pinnacle of success and that they should, or that they will dictate whether or not you should continue on in your music. And so I'm wondering what your thoughts are on that. And I would imagine there will be students that will have musical talent that may not ever get recognized with a Grammy. 
India Arie: Yes, I have stories to tell. I have lots. And that's why I started the [Songversation Podcast] and why I'm excited about doing this keynote, because I have things to say to artists. I'm on my 23rd year in the industry. And it's not just my 23rd year, it's the 23rd year of a person who lives an examined life. So when you win Grammys, it increases your value because touring is very hard. So you want to get paid as much as you can for each show because it's hard. And so it increases your value and increases your opportunity. So you get invited to those television shows and you get invited to do the Christmas specials or whatever, because you're a Grammy winner. So we want them to advance our career, but you don't always need it, because if you have an audience who loves you and is listening to you, those things that are the pinnacle of success unfold over time.
So for me, after eight albums and 23 years in the business, I have experienced something that I think is really the pinnacle of success for artists, which is to make this thing from your heart that did not exist — and people appreciate it. They cry. They play it at their weddings. They play it when they have to cut their hair because they have cancer. They play it for their kids to teach their daughters about beauty. They play your music, and they appreciate you. 
Leah Fleming: This has been an absolutely lovely conversation. I thank you so much for taking some time with us.
Secondary Content
Bottom Content