Section Branding
Header Content
Battleground: Ballot Box | 2023 sees Georgia on the rise in Washington
Primary Content
LISTEN: On this special episode, we travel to Washington, D.C., and speak with Georgia lawmakers who'll play an important role in Congress.
Election season in Georgia is finally over, and the new year brings new prominence for the state's elected representatives in Congress. Both the Republican-controlled House and the Democratic-controlled Senate have narrow margins after voters rejected extreme candidates in competitive races during the 2022 midterms.
Democratic Sen. Raphael Warnock begins a full six-year term after a bruising campaign that saw bipartisan appeal in a new political landscape, while in the House, redistricting helped Republican Rich McCormick flip a seat. McCormick, along with Republican trucking company executive Mike Collins, are the state delegation's two new members aiming to draw upon their backgrounds to bring new perspectives in tackling big issues.
But that will have to wait until the House elects a speaker. Two Georgia Republicans are leading figures on opposite sides of the fight to vote for California's Kevin McCarthy, as the party's narrow majority in the chamber is destined for gridlock with even the smallest amount of dissension.
On today's special episode, we take you to Washington, D.C., to look at Georgia's rising bipartisan importance in our nation's capital.
A full term
After five elections, two years and hundreds of millions of dollars raised and spent, Raphael Warnock will finally start a full six-year term in the U.S. Senate.
After the late Republican Sen. Johnny Isakson stepped down before the end of his term and Gov. Brian Kemp appointed Republican Kelly Loeffler, the pastor of historic Ebenezer Baptist Church in Atlanta finished first in a November 2020 special election and won a January 2021 runoff to help give Democrats control of the Senate.
He easily won the Democratic primary in 2022, finished just under 50% in the general election, and for the second time in as many years emerged victorious in a runoff.
I caught up with him on Tuesday in the Russell Senate Office Building a stone's throw from the Capitol, where he had just been sworn into office with family and friends in attendance.
"Well, let me just say, it's a real honor for the people of your state to say that as we take stock of our families, we'd like for you to represent us in the Senate," he said. "It's something, quite honestly, that still gives me goosebumps because our families are what matter to us the most."
The 51-49 Democratic Senate majority was expanded by one seat in the midterms, meaning Vice President Kamala Harris might no longer have to cast a tie-breaking vote on many bills. But Arizona's Kyrsten Sinema, who sometimes votes with Republicans, announced in December she would officially become an independent, making Warnock an even more important member in approving legislation.
Working across the aisle will be a political necessity the next two years in Congress, with razor-thin margins in both the House and Senate and different parties controlling the chamber. A December Marist poll also found a majority of Americans want to see members of Congress work together.
"I'm the 18th most bipartisan senator in the Senate, according to the Lugar Center, a center named after Republican Sen. Richard Lugar of Indiana," he noted. "So I've been very intentional about working with Republicans in the places where I think we can get some work done together."
On the campaign trail, Warnock said he was up to the task, citing collaborations with everyone from Alabama Sen. Tommy Tuberville to Texas Sen. Ted Cruz. For example, abortion access and reproductive rights have been a lightning rod of controversy, with strong feelings on both sides of the aisle.
"I said to Republican Sen. Marco Rubio, 'Look, we don't agree on the issue of reproductive health care, but if the issue is life — and I believe in life — then we certainly ought to be concerned about the high rates of maternal mortality in this country, which are abysmally high, especially in a state like Georgia,'" Warnock recounted. "And for Black women, it's three to four times the rate of white women. And so Marco Rubio — with whom I disagree almost all of the time — and I got together and we did a maternal mortality bill to try to safeguard the health care of Georgia women. And I look forward to doing more of that kind of work."
Warnock serves on key committees at a key time, like the Committee on Agriculture, Nutrition, and Forestry, which will tackle the once-every-five year "Farm Bill" that covers national policy around things like nutrition assistance, conservation and, rural development.
And he'll continue his push for lowering the cost of health care. As of the beginning of this year, Medicare recipients will have the cost of insulin capped at $35 based on legislation that Warnock championed. He's hopeful now that election season is behind him, lawmakers could approve a similar cap for those on private insurance, as well.
Even though he won't have to be on the ballot for the next six years, Warnock will play a crucial role for Georgia Democrats, as he was the only one to win statewide in 2022 and provides a roadmap for the overall party to be competitive in battleground states.
 
'Georgia is such an important state'
Warnock first joined the Senate in 2021, winning a January runoff alongside fellow Democrat Jon Ossoff, who won't have to be on the ballot again until 2026.
"Those two Senate runoffs two years ago in January 2021 laid the foundations for everything that's been achieved in the last two years," Ossoff said in an interview Thursday. "There have been more bipartisan achievements in the Senate in the last two years than any time in the last decade."
That includes things like a bipartisan infrastructure law and veterans health legislation, which Ossoff says is the type of results-oriented legislation voters want to see.
"Those are significant bipartisan achievements, and it can perhaps be overlooked given the sound and the fury of partisan politics on Twitter and on cable news," he said. "How much has been achieved with support from both Democrats and Republicans in Congress in the last couple of years?"
He's made his mark in Congress, too, in a short time, like spearheading legislation stemming from a months-long investigation into federal prison conditions.
"I chaired in this most recent Congress, the Senate's Investigations Subcommittee, and led multiple long term bipartisan investigations of crime, corruption and abuse in the federal prison system," he said. "On the basis of our findings and those investigations passed into law this bipartisan legislation to strengthen security at federal prisons."
There's also legislation tackling the opioid epidemic, solar power manufacturing, affordable military housing and more, stemming in part from Georgia's elevated political clout and the politicians that wield it.
"All of this is facilitated by the fact that Georgia is such an important state, it helps me to reach across the aisle," Ossoff said. "All of that has been done with Republican and Democratic support."
It's quite a different time from 2017, when he lost a special election for the 6th Congressional District, the first race following the election of President Donald Trump and then the most expensive House race ever. But even though all eyes are on Georgia's politics, Ossoff is doing his part to make sure it's for good reasons and not grandstanding.
"You will rarely find me on national cable news, courting controversy or posting something outrageous on social media," he said. "I have focused on building strong working bipartisan relationships in the Senate to pass legislation that serves my constituents in Georgia and in every part of Georgia, and that approach has paid off for the state. It's enabled me to pass into law more legislation than any other member of the freshman class in the Senate."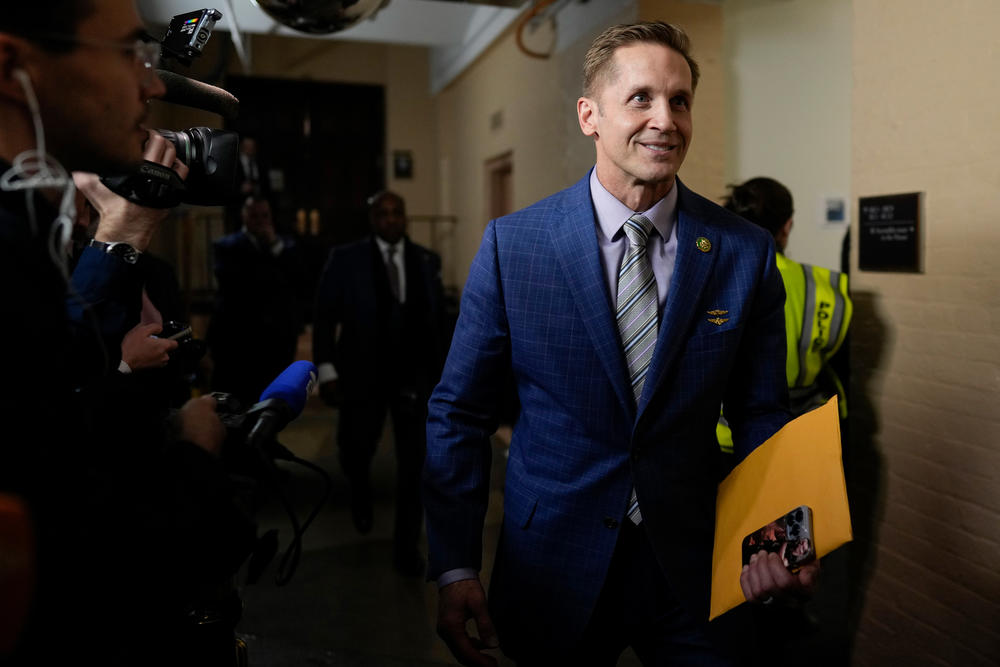 On the House side, there are two new faces joining the ranks of Georgia's lawmakers, Rich McCormick and Mike Collins.
McCormick is an emergency room doctor who first ran for Congress in 2020 and is one of the Republicans who flipped a seat to give the party its slim majority in 2023.
Tuesday morning, before the first day of Congress, he expressed optimism and hope that his fellow Republicans wouldn't get too divided over the speaker vote or with other issues as they take control of the chamber.
"We're one body of many parts, just like a church; we have a lot of people who have different opinions, that's okay," he said. "You're never going to influence somebody inside the party by calling them names. You're never going to influence them to vote the way you want them to vote by doing anything other than having a strong relationship."
McCormick added it was important that lawmakers be respectful towards each other and their constituents. 
"We have some really big things to tackle, and if we're sitting here pointing fingers at each other and calling each other RINOs and crazies and everything else, we won't be able to get that done," he said.
McCormick was buzzing with excitement about joining the esteemed halls of Congress, rattling off dozens of different policy areas he's interested in and that he says Congress should be more proactive on, ranging from health care to government spending to manufacturing and the country's relationship with China.
"90% of the pharmaceuticals that we use in basic life such as Amoxicillin and Augmentin are created in China," he said. "Jackson Healthcare just took over the only remaining factory in America that produces Augmentin and Amoxicillin. Why is it important? Because if you don't have that, what are you going to do when things go wrong? If you have a bad relationship with China now, you don't have a substantially important drug we're not looking for."
McCormick is conservative, as is his district, which runs from north Fulton County up through the deep red exurbs of Forsyth, Cherokee and Dawson counties, but he's also a realist who acknowledges he serves all of the people in his district, not just Republicans.
"Relationships matter; it trumps politics," he explains. "It allows us to influence people without being political. Now it has a political outcome because we want what's best for people to happen in legislation. But ultimately, I can't convince you to vote for me unless I have a relationship with you. I can't convince you that what I'm trying to pass is good unless I have a relationship. Because you're not going to hear me if I don't have a good relationship with you, if I don't have some sort of background and experience. You're not going to believe what I'm going to say to you. And if I don't put it to you in a message that's loving, we're not going to have a good conversation that's going to influence and change America."
So coming from a closely divided state into a closely divided House in a split Congress, he's also clear-eyed about what Republicans could — or should — attempt these next two years, starting with electing a speaker
"We really have some ability to effect real change, but we have to be realistic," he said. "We are the minority in the Senate, we don't have the White House, so where can we get gains in incremental amounts? And we can't be all or nothing. This is one of the problems that some idealistic people have. I respect that. But we are one body in many parts, we have to respect each other and we can't kick people out of church because we don't all believe in one thing... that's called a cult. We're not a cult, we're a church."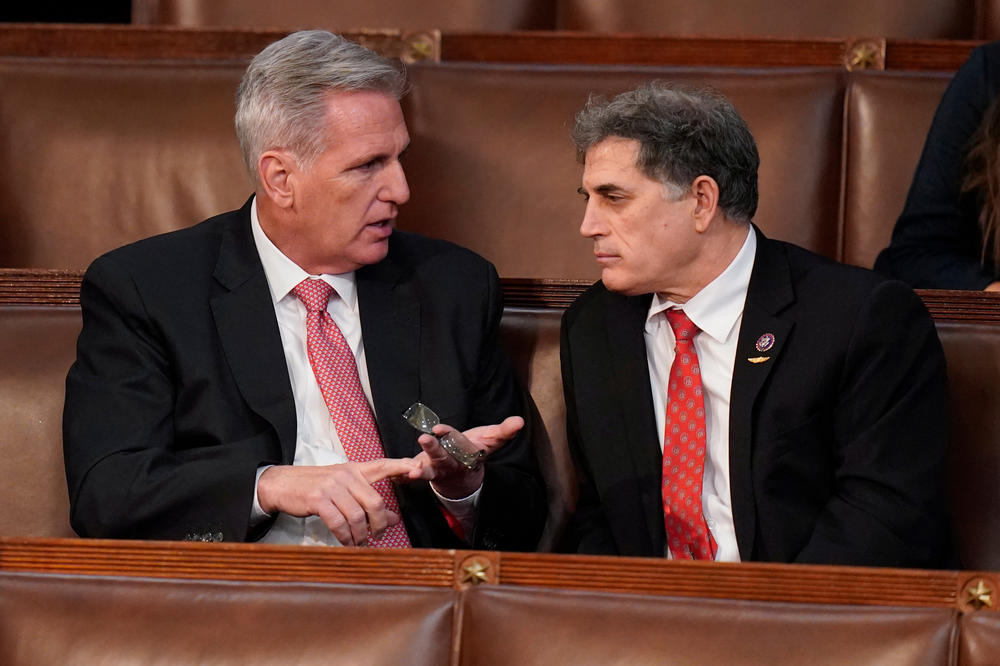 Stuck without a speaker 
As of the time this podcast was produced, the House held 12 different votes for Speaker of the House — all failed since there was no majority winner.
California's Kevin McCarthy, most recently the House Minority Leader, did not get support from about 20 hardline conservatives in a vote where he can only afford to lose four. One of those was Andrew Clyde of Northeast Georgia, who so far hasn't indicated what would make him change his mind or why he's holding out.
But Friday afternoon, Clyde and several others flipped to support McCarthy after ongoing negotiations over rules and procedures, though we don't know what offers spurred the change, and there are still enough holdouts that McCarthy lost a 12th ballot.
Without a speaker, there is no House, no rules, no committees and plenty of other things ground to a halt. The typical pomp and pageantry of Tuesday where families get to witness the swearing in of members hasn't happened yet, and some families went home with no resolution in sight.
One of the more surprising developments in recent months has been Northwest Georgia's Marjorie Taylor Greene emerging as a vocal ally of McCarthy after spending her first term in office stripped of committee assignments and a thorn in the side of leadership due to her constant controversial statements and actions.
But after the House adjourned Tuesday following three failed votes, she was angry at her colleagues and acted as a voice of reason.
"I hope they're talking tonight, I think they should keep talking, because it's our job," she told me. "It's not a popularity contest. It's not who we like and who we don't like ... that is the failure of Republicans. The Republicans are the party of 'never,' and it's always 'never' when they don't like somebody, and that's how we failed the country."
Greene stands to gain potential plum committee assignments if McCarthy is elected speaker, but she has also emerged as a critic of Republicans who won't work together with the party to accomplish goals — an ironic twist from her first term.
At some point, someone will get elected Speaker of the House and Republicans will move forward with their efforts to shape things in the House.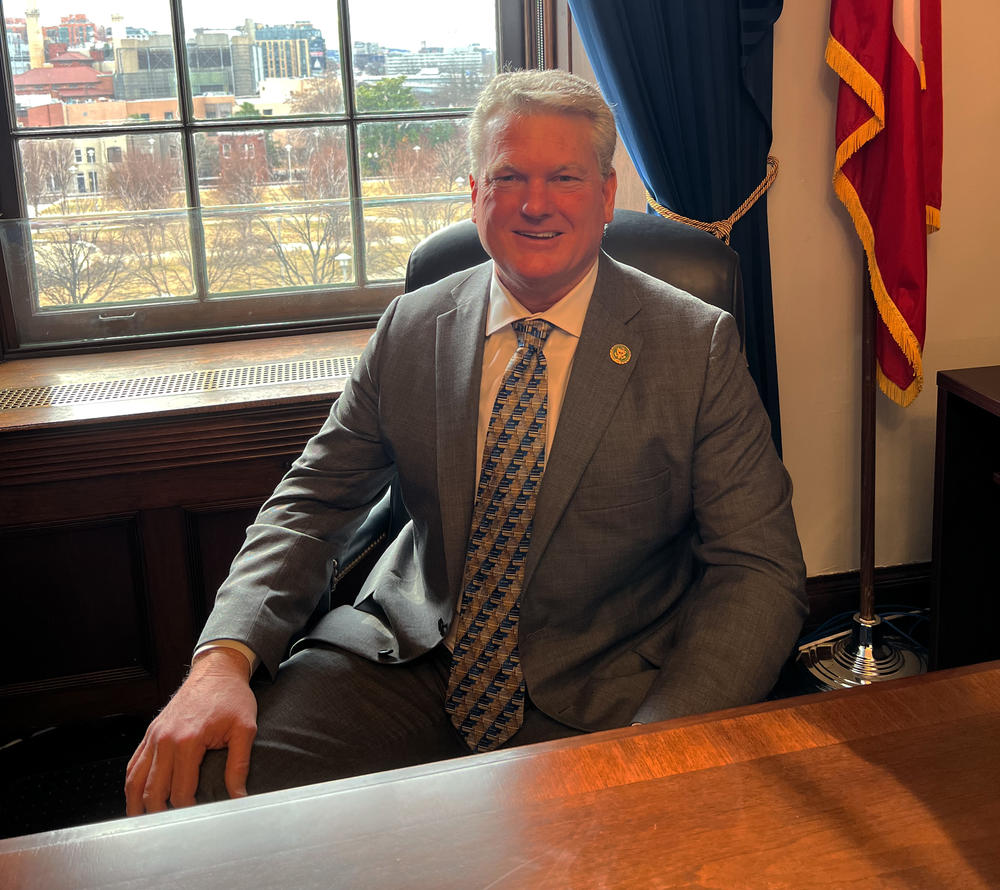 'We've got the right people'
In between the third and fourth failed vote for speaker, I ended my time in Washington by interviewing Georgia's other new member of Congress, Mike Collins, in his office.
A trucking company executive, the Jackson Republican has always been familiar with politics as the son of former Congressman Mac Collins, who also served in the state Senate and as a county commissioner.
"I've been around the political arena pretty much all my life, not as an insider, but just an outsider real close to the inside," he said. "So I saw what it meant to be able to serve, to actually put your business to the side, your personal life on hold and go serve your constituency. And I always thought that was a neat thing to do."
When Rep. Jody Hice announced he would run for Secretary of State, Collins jumped into a crowded primary field and emerged victorious in a runoff against Trump-endorsed Vernon Jones.
Collins said he's pretty sure he's the only member of Congress that owns and operates a trucking company, and his background as a conservative Christian businessman who's also worked in financial services means he's primed to contribute once sworn in.
"You don't have to look back any further than a year or two to see the problems that we've had in the supply chain and with the pandemic," he said. "You see trucks on the road, you see our industry, but you don't know anything about it. And to be able to bring that insider knowledge to Congress, just in that industry alone, will be a big help."
He's got a lot of thoughts about health care, like how he says the Affordable Care Act is making health insurance too expensive for his company and employees.
"The other part is the fact that we've got just runaway nuclear verdicts and we are such a suit-crazy country," he said. "Now we've got to have tort reform. Tort reform is tearing up these these doctors to the point where most of them are becoming corporate doctors just to get under that umbrella. And that's two easy fixes right there that you go in and help the health care industry and get group insurance back affordable for people."
It's a big task to represent hundreds of thousands of people in Washington, but Collins is looking forward to it, even some of the congressional quirks, like the tradition around office selection involving picking numbers from a box ("I think that box was built in the late 1800s," Collins says) in a lottery to determine the order to pick available space.
"You pull out a button, and that button's got a number on it, and that's the number that you get to go and pick your room," he said from his desk with a nice view of the Capitol power plant. "I pulled number 30 out of the hat, so we had we had already been going around looking at rooms. And naturally, being number 30, my top five were somebody else's top five too."
During the primary, Collins said he wouldn't vote for McCarthy as speaker, but has supported him in every vote so far. His opponents have tried to call it flip-flopping, but he disagrees.
"You know, early on I was upset just like everybody about wanting to hold people accountable, wanting to see things done that we didn't think were being done," he said. "And as we moved forward, I've seen a lot of movement as far as moving to the right from leadership."
Collins said he also asked what was more important, the House rules package, or the speaker?
"Everybody that I talked to said as long as we got the rule package that we need, we can operate and we'll be good," he said. "The other thing is, no one has stepped up to run for speaker. So your options were the Republican or Democrat, if you want to be practical about it."
Even if McCarthy is elected speaker, or another more moderate Republican, the rules package governing how the House operates is way more conservative as a compromise to unite the caucus' widely different views.
While Collins is not yet technically a congressman and gridlock dominates headlines, he's confident the next two years will be successful.
"I think if you put together the right rule package, which we did, you put together the right agenda, which we are seeing, the right agenda is coming forward," he said. "Then my job is not only to pass it, but to sell it and to make sure that the American people understand exactly what we're doing. I mean, we we know we've got to cut expenses up here, so you've got to be able to explain to people exactly what you're doing, why you're doing it, and what the end product is going to look like, what the what the end game is. I think we've got the right people up here to do that."
And even though we are just days into this new year and nobody knows what exactly will happen, it's clear that Georgia's time in the spotlight is only beginning.
Battleground: Ballot Box from Georgia Public Broadcasting is produced by Stephen Fowler. Our editor is Josephine Bennett, our engineer is Jake Cook and Jesse Nighswonger wrote our theme music. You can subscribe to the show on Apple Podcasts or anywhere you get podcasts. Thanks for listening.
Secondary Content
Bottom Content