Section Branding
Header Content
Mike Collins Launches 10th Congressional District Bid In Trump's Image
Primary Content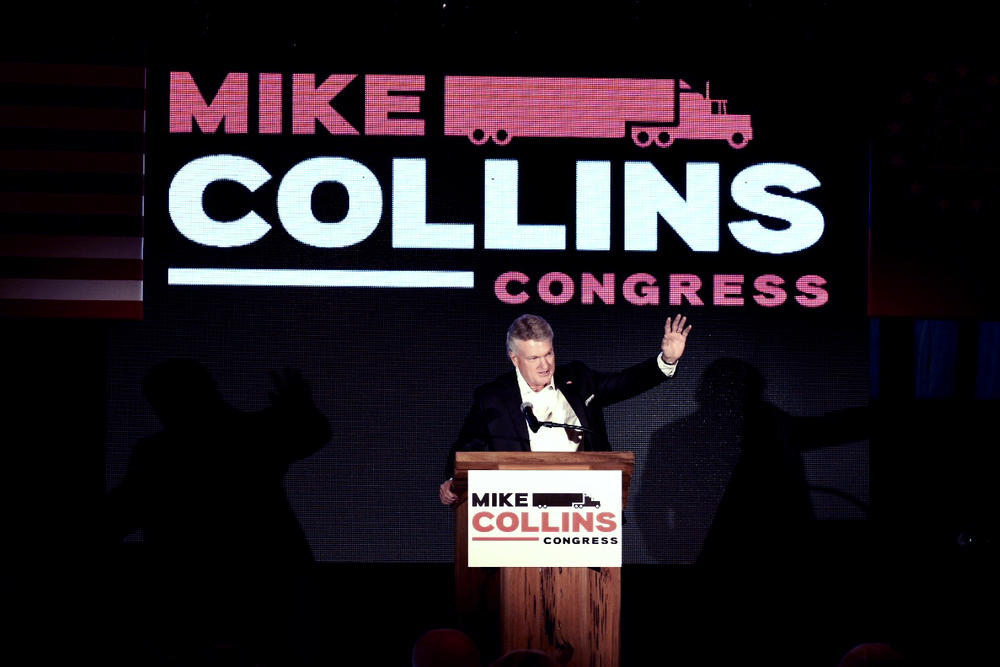 The direction of the Republican Party in Georgia and across the U.S. is sitting at a crossroads, but trucking executive and congressional candidate Mike Collins only sees one lane forward: supporting former president Donald Trump full speed ahead.
Collins is one of more than a dozen people running in the Republican primary for Georgia's 10th Congressional District, vacated by Rep. Jody Hice who's primarying Georgia Secretary of State Brad Raffensperger. His is also one of countless campaigns being run in the brash, nationalist America-first style of Trump's four years in office, banking on a base that has moved farther to the right and has become less tolerant of "RINOS" that are seen to be "Republican in name only" for not emulating Trump enough.
At a packed campaign kickoff in Jackson, Collins, son of former congressman Mac Collins, promised to stand up to "liberal left-wing wackos, RINOS, elites — and even the Republican establishment," including Minority Leader Kevin McCarthy (R-Calif.), promising to vote against him becoming Speaker of the House if Republicans take control of the chamber in 2023.
"And if by some odd chance he becomes speaker and he doesn't want to give me a committee assignment, then I'm fine with that," he said. "I'll make a great teammate for Congresswoman Marjorie Taylor Greene."
Greene, who released a video this week promising to give away a 50-caliber sniper rifle she used to apparently blow up a Toyota Prius representing a sweeping Democratic climate change proposal, was stripped of her committee assignments this year after a seemingly unending string of controversies and inflammatory comments.
While Collins has similarities to Greene, his campaign videos, website and stump speeches focus slightly more on policies than triggering liberals or attacking President Joe Biden. As the owner of a successful trucking company, Collins talked about lowering the cost of health care, establishing term limits for lawmakers and reworking immigration. His website mentions a desire to pass a balanced budget amendment, support of constitutional carry of weapons and expanding school choice options.
But his campaign ads come equipped with a Trumpian bluster that includes guns, explosions and confrontational language.
"The time for civility, the time for compromise, that's over with; the time for bipartisanship is done," he said. "There is no compromising."
Collins is not without some controversy: He's slated to speak at the "Justice for J6" rally in Washington, D.C., this weekend, where a group plans a peaceful protest of ongoing criminal cases of some people who participated in the insurrection attempt at the U.S. Capitol in January. The central Georgia Republican is also calling for the removal of Georgia's electronic voting equipment and for an "audit" of the 2020 election that was counted three separate times.
He said his attendance at the D.C. rally is about fighting back against political persecution and tweeted that "America should not have a government that holds political prisoners."
"These people deserve their day in court; everybody deserves their day in court," he told the Atlanta Journal-Constitution. "And I'm going up there to say to these people need their day in court, and it's time for it to happen."
Collins, who leads the fundraising race in the 10th District, also said there are two paths ahead for the GOP in the midterms and beyond, and knows which one he thinks Georgians will take.
"We can take the path of Mitt Romney, Liz Cheney and crying Adam Kinzinger, or we could take the path of the Jim Jordans, Matt Gaetzes, the Marjorie Taylor Greenes and the Donald Trumps: true conservative fighters. That's the party I want to be a part of."
Hice, who beat Collins in a primary runoff in 2014, endorsed Gwinnett-based state Rep. Timothy Barr for the seat in the comfortably conservative district, which could see substantial alterations to its boundaries during redistricting in the coming months.
Secondary Content
Bottom Content