Section Branding
Header Content
Web-based apps will offer a simple way for doctors to provide postpartum care for Georgia moms
Hero Image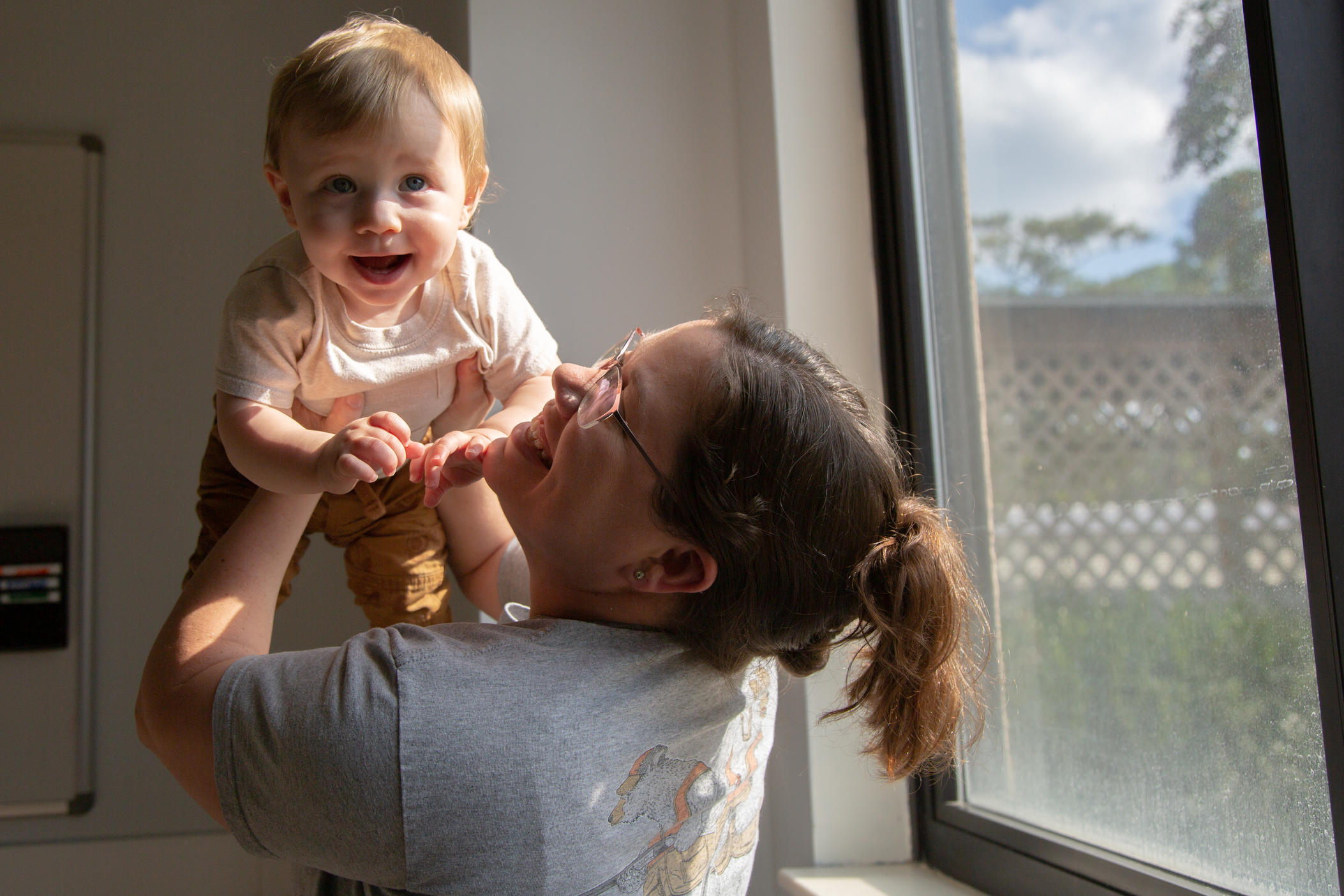 Primary Content
LISTEN: By remotely monitoring and educating new moms after they go home, health care providers are catching potentially fatal conditions, like heart failure and stroke, that often go undetected because doctors say mothers aren't prioritized after pregnancy. GPB's Sofi Gratas reports. 
——
Pregnancy-related deaths are going up in the United States, and most of them are preventable. Doctors say that's because new moms aren't prioritized after pregnancy, which allows cardiac complications, the leading cause of death for new moms in Georgia, to go undetected. 
But more and more, simple, virtual tools are offering a solution.
Toni Ivey was two weeks postpartum when she started experiencing what were, unbeknownst to her at the time, classic symptoms of hypertension.  
"I just, I couldn't sleep," she said. "I lay down and I could just feel my heartbeat through my head and I couldn't breathe." 
But Ivey was lucky. Her friend is a cardiac nurse. And that friend, Sandy Wells, made sure Toni Ivey got to the hospital.
Wells says what happened to Ivey was part of a larger pattern she had seen over the last five years –– new mothers kept ending up in the cardiac rehabilitation program at Liberty Regional Medical Center, a small hospital in Hinesville in Southeast Georgia, where Wells works.
"And this was alarming to me because there was no reason behind why these young mothers were having such an issue," Wells said. 
Wells said even now, she sees moms come in with fatal pregnancy-related heart conditions, up to one year after they have given birth. 
So in 2019, Wells partnered with Director of Perinatal Services, Heather Daniels, to create a pipeline for postpartum moms into cardiac follow-ups. 
But for comprehensive and personalized care during the riskiest postpartum period, these new moms needed an easier way to get in touch with their doctors. 
"So we started following and tracking moms," Daniels said. "And Mom's Heart Matters was formed that day." 
Through Mom's Heart Matters, high-risk postpartum moms at Liberty Regional have direct communication with their providers in the cardiopulmonary and prenatal departments. The program was developed through a partnership between the hospital, the Georgia OB-GYN Society, Georgia Family Connection Partnership and Amerigroup. 
Starting next year, a new web-based app from GoMo Health will make remote monitoring pretty easy for the most at-risk postpartum patients enrolled in Mom's Heart Matters. 
Some will receive Bluetooth-enabled blood pressure cuffs which will push readings to their phones.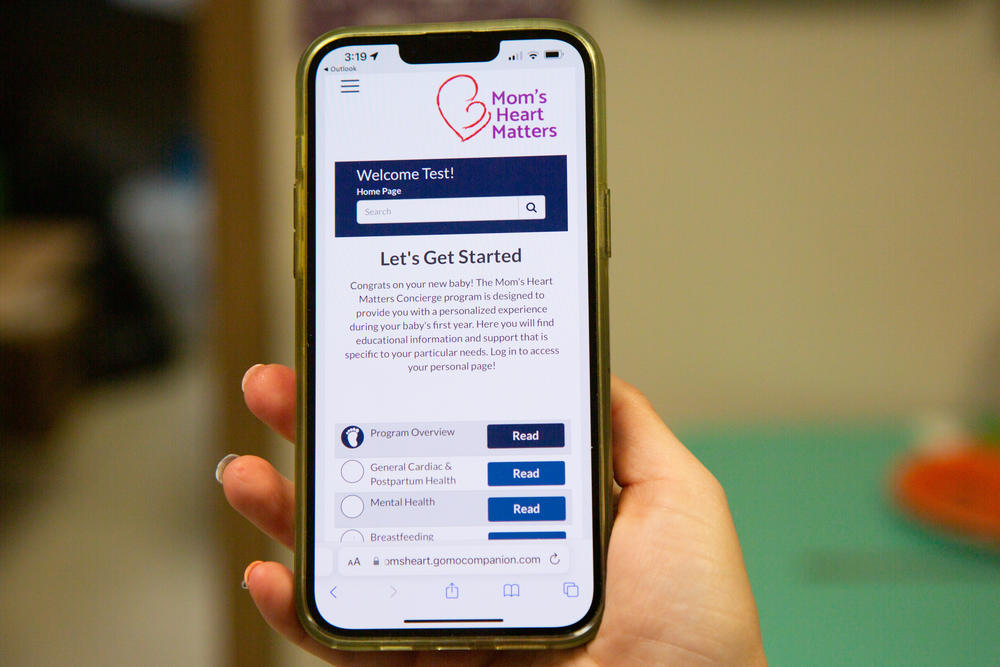 "They can be in the middle of nowhere and it will still dump to the app," Daniels said. "And we can see in real time."
Using cellular data or Wi-Fi, those blood pressure readings get sent straight through the web-based app and to nurses like Daniels. 
New moms who enroll will also be able to chat directly with their providers and get text reminders tailored to their needs for up to six weeks postpartum. They'll also be automatically enrolled in the home visit program, Healthy Families. 
Fatal outcomes from disproportionate care
Cardiac complications are the leading cause of pregnancy-related deaths among birthing people in Georgia. 
According to aggregate data from 36 states, if deaths from pregnancy-related heart failure, heart disease and hypertension are combined, they account for 27.8% of total maternal deaths. That's more than mental health, infection and hemorrhage, other leading causes of death. 
Contrary to maternal mortality, which only counts for deaths during pregnancy or within 42 days after, pregnancy-related deaths are counted up to one year after pregnancy. 
Within that one year, symptoms of cardiac complications among new moms are often ignored. 
In part, that's because monitoring for cardiac complications among postpartum women isn't a standard of care yet. Laura Divoky is a cardiologist with the Georgia Heart Institute at Northeast Georgia Health Systems.
"It's a rarity that we are consulted on the inpatient side in order to take care of these women," Divoky said. 
That also puts minorities at risk. 
Non-Hispanic Black people are more likely to experience hypertension, which can lead to heart disease and stroke. And Black mothers are also far more likely to die from pregnancy-related cardiac complications than any other group, and die more often from every other leading pregnancy-related cause. 
"There is now growing recognition of racism as a public health emergency, an underlying driver of inequitable outcomes," said Rose Molina, OB-GYN and assistant professor at Harvard Medical School. 
Poor outcomes for people of color are also represented in maternal morbidity: unexpected complications directly related to pregnancy and delivery that aren't fatal, but can be long lasting, like heart or kidney failure. 
From 2016-2017, non-Hispanic Black people were two times more likely to experience severe maternal morbidity than white people. 
"For many, many years, we told women who had high blood pressure during pregnancy, or pre-eclampsia, or whatever, … you know, this is part of pregnancy," Wells said. "You just had a baby. You're supposed to feel bad. And we never looked deeper."
Education, accountability, and access
About three hours north of Hinesville at Augusta University, Marlo Vernon, assistant professor at the Medical College of Georgia, is also getting ready to test her own app for postpartum moms — VidaRPM. 
"People think that finding solutions to these kinds of problems is complex and difficult," Vernon said. "And sometimes the simplest answer is really the best option and the best approach."
Through a partnership with the state Department of Public Health, the VidaRPM program will allow providers at Augusta University to monitor new moms up to six months postpartum. 
The web-based algorithm will rely on blood pressure readings communicated via internet or text message to trigger immediate, automatic responses. That could be a request for another reading, questions about symptoms, or advice to visit the emergency room. 
Vernon said making this technology as accessible as possible is really important, because often, new mothers in rural areas don't have access to maternal health specialists and often forgo postpartum treatment. 
In the case of VidaRPM, all participants need is access to a cellphone. Of the 25 women from rural and underserved areas surveyed about the app, all reported texting as a common form of education. 
For those without a cellphone or reliable internet access, Vernon said they knew "exactly" where to go. 
 "Where to drive on the highway … Or they would go to the grocery store in the town and use the Wi-Fi from the grocery store," Vernon said. 
The VidaRPM app will go live next year. Those who enroll will also learn how to self-monitor their health through different education modules. 
"By empowering them with this knowledge, they'll be able to really advocate better for themselves and for other women that they know," Vernon said. 
The education modules will address mental health as well. 
For Toni Ivey back in Hinesville, having access to education is life changing, she said.
"I knew blood pressure and pregnancy was a thing, but I didn't know how big of a thing it was," Ivey said. "I could have had a heart attack, which is something I don't want to think about." 
Through the Mom's Heart Matters application, Ivey will get daily reminders about exercise, diet and, if necessary, blood pressure monitoring. 
Although Ivey is one of the first moms at Liberty Regional to be remotely monitored, prenatal nurse Heather Daniels said her team has sent countless new moms with high blood pressure or other risk factors to cardiology follow-ups. 
"Something as simple as that can be started and it can make a difference," Daniels said. 
Because regardless of access to funding or technology, hospitals can still develop partnerships between maternal health providers, Daniels said. That way, those providers can catch heart issues before they turn life-threatening. 
Correction
An earlier version of this story read: New moms who enroll will also be able to chat directly with their providers and get text reminders tailored to their needs for up to six weeks postpartum. They'll also be automatically enrolled in two home visit programs –– First Steps Georgia and Georgia Family Connection Partnership.
Secondary Content
Bottom Content