Section Branding
Header Content
Georgia farmers brace for Hurricane Ian. Tropical storm winds are forecast as soon as Wednesday
Primary Content
LISTEN: With much of the state's agriculture concentrated in South Georgia, farmers are bracing for Ian's arrival as it travels north toward the Gulf Coast of Florida. GPB's Benjamin Payne reports.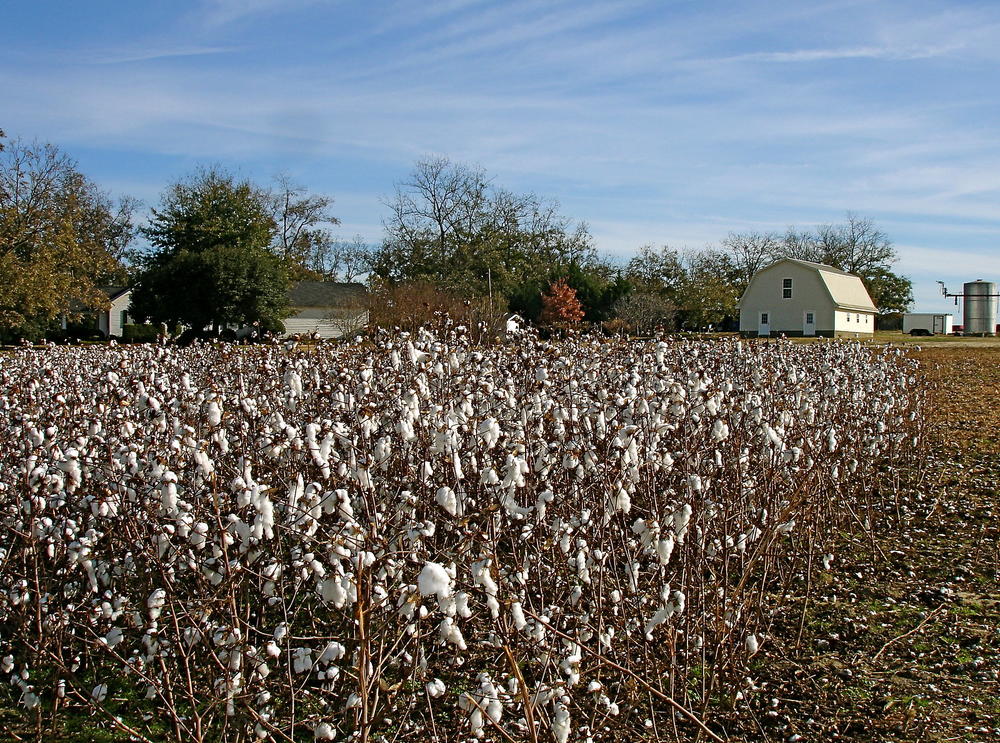 Hurricane Ian could deal a big blow to Georgia's largest industry, as farmers prepare for tropical storm-force winds to arrive in the state as early as Wednesday.
"Really, all we can do is go ahead and make sure all irrigation is turned off so the ground's not saturated when the wind gets here, and try to harvest whatever we can before [Ian] arrives," said University of Georgia horticulture professor Lenny Wells, who also farms pecans in Tifton.
The National Hurricane Center has forecast that by the time Ian's center reaches Georgia on Friday or Saturday, it will likely have weakened to a tropical storm (wind speed between 39 and 73 mph) or a tropical depression (wind speed less than 39 mph).
Even with relatively slower winds, Wells cautioned that if Ian lingers, it could still spell trouble for Georgia farmers.
"It may be moving slowly, and if if it's blowing 40- [to] 50-mile-an-hour winds for 48 hours or so — especially if it's dumping a lot of rain — that's a bad scenario because the more saturated the ground gets, the more easily those trees blow over," Wells said. "And, of course, the more prolonged period that wind blows, the greater the chances of that."
While Georgia's peanut harvest is in full swing, much of the state's cotton crop has yet to be harvested, leaving yields "extremely vulnerable to tropical systems," according to Georgia Cotton Commission executive director Taylor Sills.
"That cotton can blow out of the burr and, beyond that, once it gets a bunch of rainfall in it, that's not good for the quality of the cotton; it's not as easy to harvest," Sills said. "As for our cotton that's not open, during that opening process excess moisture can make it hardlock. It can also lead to further boll rot, which is something our earlier-planted cotton has seen a lot of this year."
Recent forecasts from the National Hurricane Center have seen Ian's projected path shift eastward. Sills and Wells agree that such a trajectory is preferable, given the heavier concentration of farmland in Southwest Georgia.
"The further west [that Ian] goes, the more impact it will have on acreage in the state," Wells said. "The further east it goes, it will still have some impact ... but it would be much less than it would be if it was further west."
Sills stressed that farmers are far from the only Georgians who stand to hurt financially from Ian's potential impact on agriculture. Rather, he said, "ripple effects" from lost farm income could reverberate throughout the state, especially in rural areas.
"As those dollars generate back through our local communities, that has a much more significant economic impact," Sills said. "A farm dollar changes hands like seven times — paying for equipment, paying for vehicles, paying for seed and chemicals, things like that."
Hurricane Michael devastated farmland when it hit Southwest Georgia in October 2018, causing more than $2.5 billion in losses to the state's agriculture industry.
Secondary Content
Bottom Content