Section Branding
Header Content
Coronavirus variant-specific boosters will soon be available in Georgia. Here's who needs a shot
Primary Content
The FDA has given the green light to a new COVID-19 booster that targets newer variants of the virus. With the CDC's endorsement, shots could be available in a few days. But one Atlanta area doctor says he is not recommending it for everyone. GPB's Ellen Eldridge reports.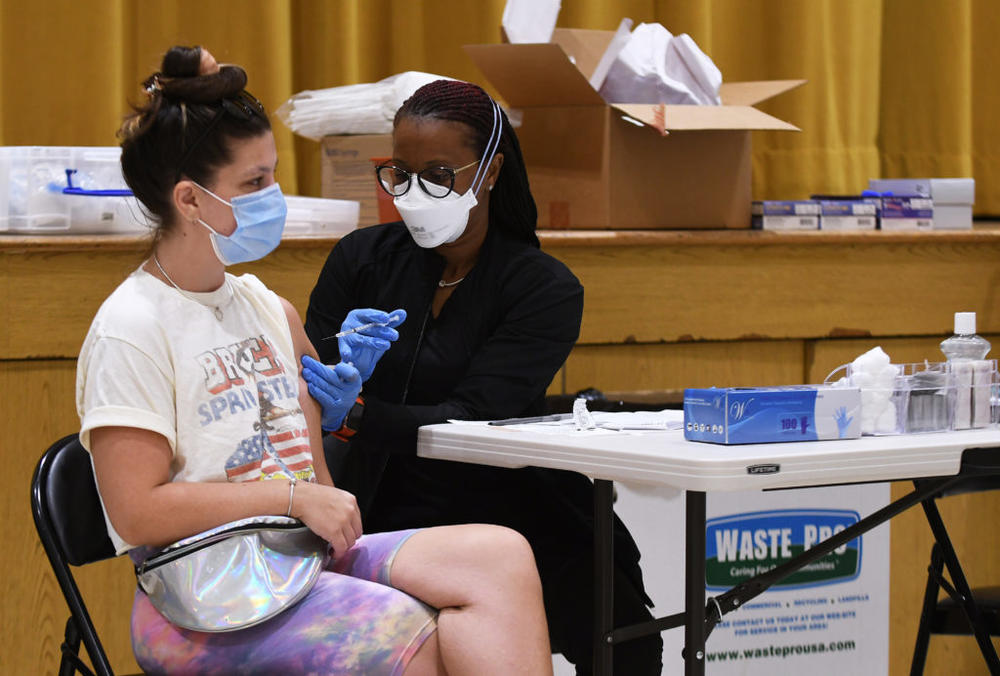 Coronavirus variant-specific vaccine boosters will soon be available.
The Food and Drug Administration earlier this week authorized the updated Pfizer-BioNTech booster shots, and the endorsement from the Centers for Disease Control and Prevention came Thursday, hours after advisers to the CDC voted to recommend reformulated versions of the Moderna and Pfizer-BioNTech COVID-19 vaccines.
"The updated COVID-19 boosters are formulated to better protect against the most recently circulating COVID-19 variant," CDC Director Dr. Rochelle Walensky said in a written statement announcing the recommendation.
The new booster shot is a bivalent vaccine, meaning that it targets two versions of the coronavirus: the original strain, and the omicron subvariants BA.4 and BA.5.
PREVIOUS COVERAGE
The previous booster shot targeted only the original version of the virus, and the F.D.A. no longer authorizes the original booster for people in the approved age groups.
The Moderna COVID-19 Vaccine, Bivalent, is authorized for use as a single booster dose in individuals 18 years of age and older. The Pfizer-BioNTech COVID-19 Vaccine, Bivalent, is authorized for use as a single booster dose in individuals 12 years of age and older. 
The C.D.C. advisory committee voted to recommend the same eligibility guidelines as the F.D.A.
"If you are eligible, there is no bad time to get your COVID-19 booster and I strongly encourage you to receive it," Walensky said.
Dr. Cecil Bennett of Newnan Family Medicine said he will examine each patient's individual situation when making recommendations about who should seek one of these updated booster shots.
"I have different segments of the population," Bennett said. "Those who are fully immunized and boosted, those who are immunized but did not want to get a booster, those individuals who are unvaccinated, and then those individuals who are unvaccinated and actually have natural immunity."
Bennett said distributing these variant-targeting booster shots is not "one size fits all."
"I think everyone is different and we (health care practitioners) should be having conversations with their patients individually about what's best for them."
According to data from the state health department, 56% of Georgians are fully vaccinated against COVID, and 23% have had at least one original booster.
Nationwide, 475 people a day are still dying of the virus.
Secondary Content
Bottom Content