Section Branding
Header Content
A new wave of COVID cases is growing. Georgia DPH says variant BA.5 is fueling it
Primary Content
Georgia's Department of Public Health says the state is headed into a new wave of COVID-19 cases fueled by the highly contagious BA.5 variant of the coronavirus. GPB's Ellen Eldridge reports.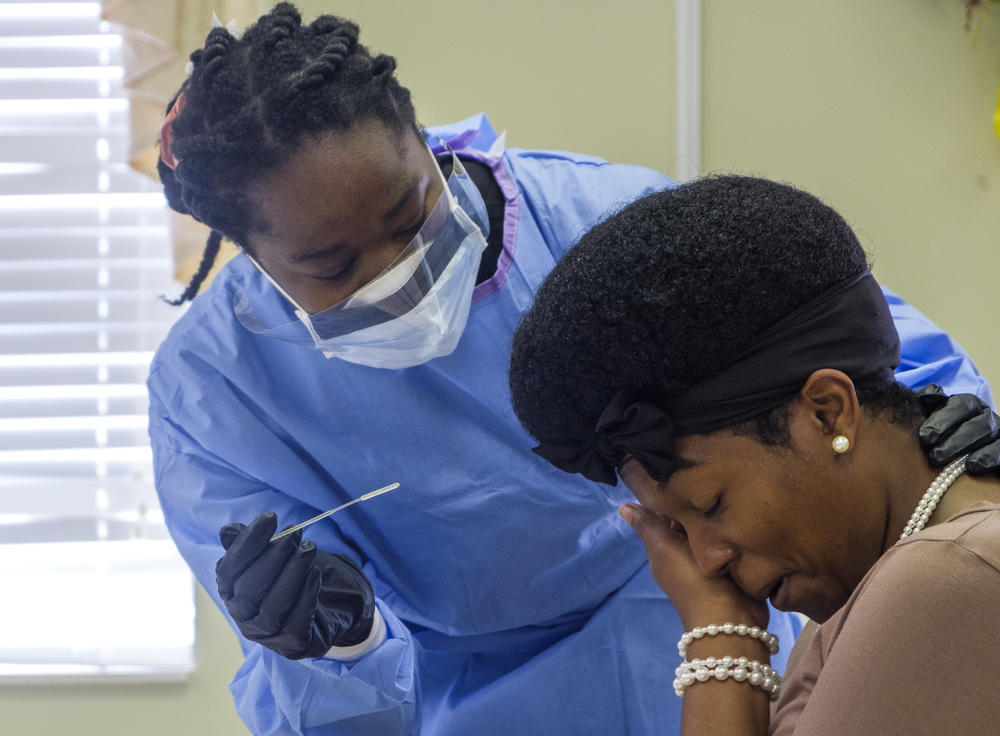 COVID-19 case numbers had been mostly flat back when the older BA.2 subvariant of omicron was dominant in the state. 
But now epidemiologists with the Georgia Department of Public Health say the state is heading for another wave.
That's because of an even more transmissible variant, BA.5, DPH's Dr. Cherie Drenzek said.  
"The pandemic is far from over," Drenzek said, adding that the rise in cases over just a few weeks is remarkable. 
Ahead of the July 4 holiday, COVID expert Amber Schmidtke warned travelers about disease spread.
"Nationwide, we are seeing that about 95% of U.S. counties are in either the high or substantial transmission category for COVID-19," she said. "So, even though you don't see a lot of people wearing masks, there is a lot of disease out there."
Data released Tuesday from the Centers for Disease Control and Prevention shows BA.5 already makes up 65% of all circulating SARS-CoV-2 virus.  
But tracking cases is more difficult than ever. 
"The magnitude of this wave is, again, greater than the numbers show because of home testing and other factors," Drenzek said.  
Preventative measures such as masking and, most importantly, getting fully vaccinated and boosted are still important. 
While second booster shots for COVID have not yet been available for people under the age of 50, Drenzek believes this may be a new strategy to fight disease spread. 
Hospitalizations have increased about 20% over the past two weeks, but Drenzek said deaths from COVID are down.  
DPH Commissioner Dr. Kathleen Toomey acknowledged the fact that COVID is here to stay, and that health officials must pivot to other important issues, such as the effects of misinformation on childhood vaccination efforts.  
"We recognize not only the lifelong importance of [childhood vaccinations] but also that COVID itself, paradoxically, may have led to some of the vaccine questioning throughout the country," Toomey said. "This isn't just a Georgia issue. it's a national issue." 
Another important issue for state health department officials is monkeypox, which has risen to more than 40 confirmed cases, mostly in the metro Atlanta area. 
Secondary Content
Bottom Content